Buffalo Soldiers in The National Cemetery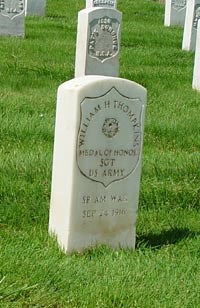 The San Francisco National Cemetery is the final resting place for over 450 African American soldiers known as the Buffalo Soldiers.
Most are buried in the West Section of the cemetery which was being filled during and shortly after the Spanish American War. Among them is Medal of Honor recipient, William H. Thompkins. During that war, Thompkins and three Buffalo Soldier comrades voluntarily went ashore in the face enemy fire to rescue trapped and wounded U.S. and Cuban soldiers at Tayabacoa, Cuba.
There is an outdoor exhibit panel with information on notable figures buried at the cemetery, including Thompkins, near the entrance gates.
Use the links below to view lists of the Buffalo soldiers buried at the cemetery.
Last updated: February 28, 2015