1906 Earthquake: Medical Care and Sanitation
On April 19th, Lieutenant Colonel George H. Torney, commanding officer of the Presidio's Army General Hospital, telegrammed Washington, D.C. with the alarming news, "Medical Supply Depot was destroyed totally." He requested immediate shipment of first aid supplies. The Army General Hospital fared better than those in the city and opened its doors to civilians. An Army Field Hospital sent from the East and 26 medical dispensaries also provided free medical care to thousands of civilians throughout the city.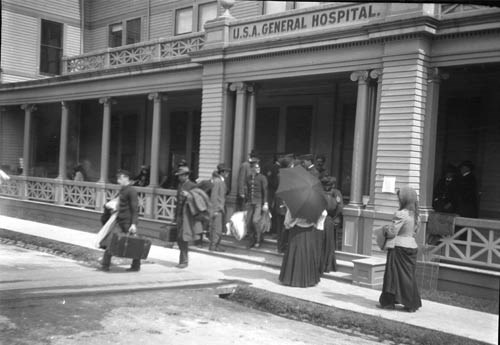 Army nurses and doctors at fourteen tent wards of Field Hospital No. 1 set up in Golden Gate Park treated over 5,000 patients, the majority of whom were women and children. As the numbers swelled, Captain Gilchrist requested the services of White Cross Society female nurses to assist the medical corps men at the temporary hospital. Gilchrist estimated that in the operating tent "an average of 50 dressings were made daily, most of which were burns, fractures and wounds in general." By early June, "the health conditions in the city and refugee camps became greatly improved," and Field Hospital No. 1 was gradually dismantled.
Though treating the injured was a priority, the Army was very concerned about the possible outbreak of epidemic disease. This fear was compounded as temporary shelters sprang up across San Francisco in the aftermath of the earthquake. Though an Army medical officer was assigned to each of the military-based camps, enforcement of sanitation standards in the unofficial encampments fell to Lieutenant-Colonel Torney. Torney eventually became the Chief Sanitary Inspector in both the official and unofficial refugee camps and was later appointed Surgeon General of the United States Army.
Torney's district inspectors combed the city to investigate garbage, cisterns, latrines, and other sanitary concerns. Their reports paint a poignant picture of San Francisco in the aftermath of the earthquake. On April 22, for example, Officer Charles Clark, M.D., reported: "(On) Gavin Street there are two children with sore throats which appear suspicious of diphtheria. There are about 100 families here with no shelter and no bedding whatsoever." Clark noted a variety of informal camps; including a camp at the foot of Hyde Street "composed of about 45 people" and one at Stewart and Folsom held about 60 people. At another, Clark found "About 500 people. No bedding or tentage observable."
As Chief Sanitary Inspector, Torney strictly enforced regulations and expelled those refugees who did not maintain sanitary standards. As a result of the Army's sanitation efforts, there were no epidemics or outbreaks of disease to compound the damage of the earthquake. Indeed, the Army had the supplies, manpower, expertise, and authority to confront the medical emergencies caused by the earthquake and its aftermath.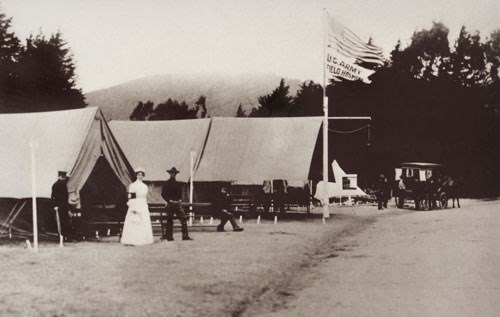 Last updated: February 28, 2015