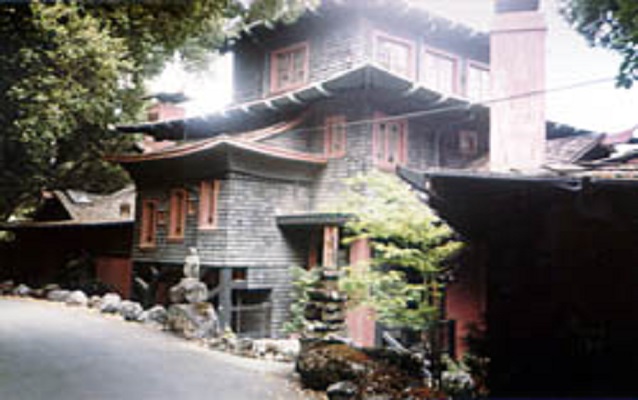 Quick Facts
Location:

16660 Cypress Way

Significance:

ENTERTAINMENT/RECREATION LITERATURE POLITICS/GOVERNMENT ARCHITECTURE

Designation:

83001240

OPEN TO PUBLIC:

No
Nestled in the picturesque hills above Los Gatos is the unique and eclectic Yung See San Fong House, a combination of oriental decorative motifs and pagoda roofs together with western massing and layout. Yung See San Fong, "Young's Home in the Heart of the Hills," was completed in 1917 by Ruth Comfort Mitchell Young, a writer, and her husband, Sanborn Young, a gentleman farmer, conservationist and later California State Senator.
Ruth Comfort Mitchell was born in San Francisco in 1882. Summers were spent in Los Gatos, where her parents and grandparents had summer homes. At the age of 14 her first poem was published in the Los Gatos Mail newspaper, thus launching her literary career, which continued throughout her lifetime. In 1914 literary friends in San Francisco introduced Ruth to Sanborn Young. A native of Chicago and a graduate of Northwestern University, Young had recently sold his grain business and was traveling. The couple were married in October 1914 in the Grand Canyon and moved to New York, where Ruth continued her literary pursuits, and he studied photography. In 1916 her play The Sweetmeat Game opened at the Palace Theatre on
Broadway starring Olive Wyndham. With a Chinese setting the successful play toured the Orpheum circuit around the country for two years.

Sanborn Young devoted his energies to politics, photography, raising racing dogs and beagles and investments. In 1925 Young was elected a California State Senator and continued to serve until 1938. A quiet, retiring man, it is said that he won the seat because of his wife's campaigning. While in the Senate his primary interests were the conservation of wild animals and narcotics control. In 1929 his bill to abolish saw-tooth traps was enacted. In the State Senate Sanburn Young was head of the Narcotics Committee and introduced legislation to control narcotics. Because of his expertise President Herbert Hoover appointed Young as one of the United States delegates to the International Conference for the Limitation of the Manufacture of Drugs in 1931, which was held in Geneva, Switzerland. Attended by 55 nations, the resulting treaty was partially drafted by Young. These political ties developed into a close friendship between the Youngs and the Hoovers, who resided in nearby Palo Alto. Among those who frequented Yung See San Fong were movies stars Joan and Constance Bennett, and Senator James Duval Phelan, one time mayor of San Francisco and United StatesSenator, whose nearby residence, Villa Montalvo, was the gathering place for the socially prominent, political and literary notables.