Place
Delicate Arch Trail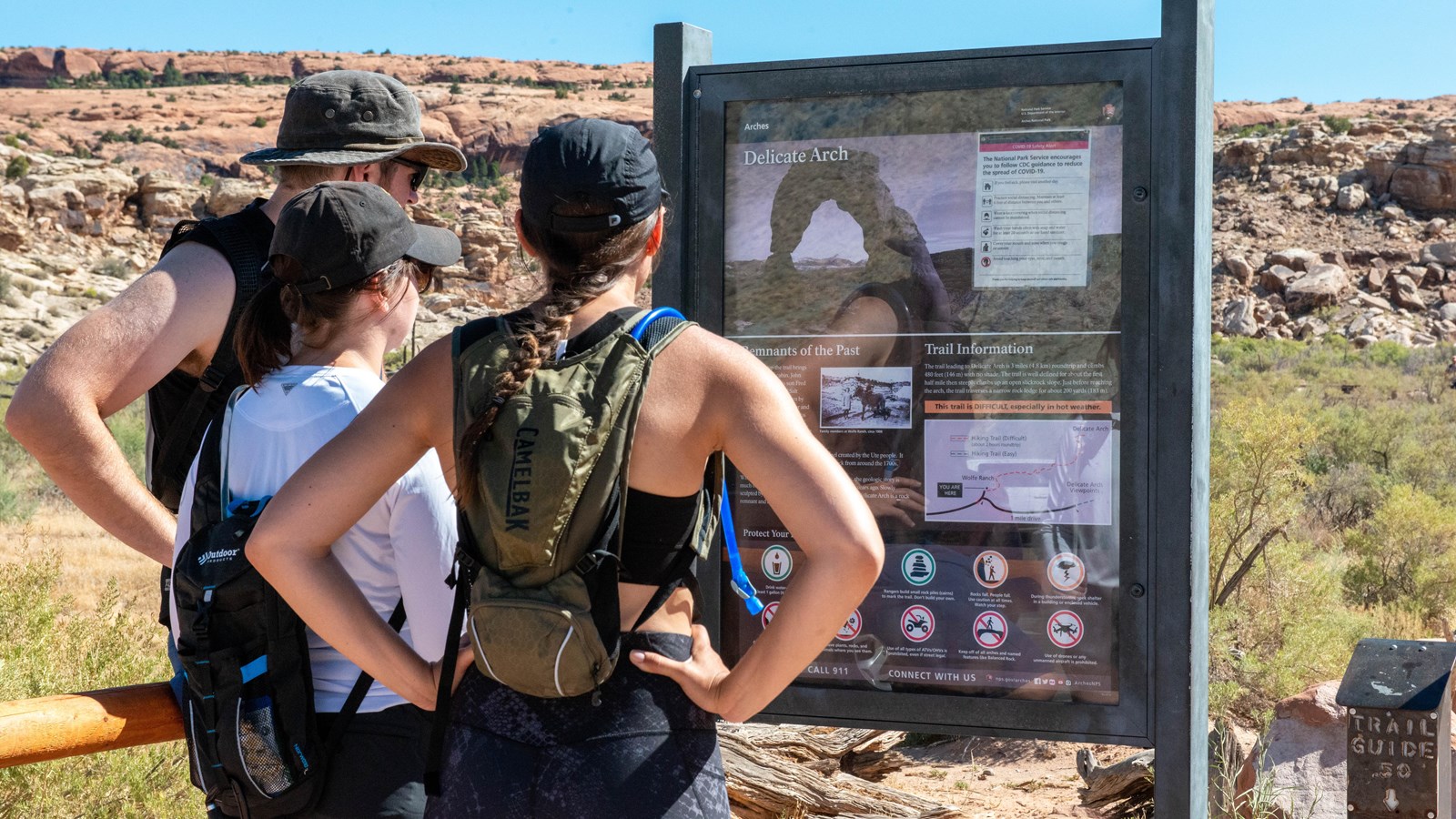 Location:
Arches National Park
Significance:
geologic feature, trail
Parking - Auto, Parking - Bus/RV, Toilet - Vault/Composting, Trailhead
This trail is strenuous and the arch is not visible until the end of the trail. For an easier view, try Delicate Arch Viewpoints.
Roundtrip Distance: 3 mi (4.8 km) 

Time: 2-3 hours 

Elevation Change: 538 ft (164 m) 

Difficulty: Strenuous 

Hike Description: Avoid this hike during midday summer heat. This trail climbs up a steep slickrock slope with no shade and some exposure to heights. Just before reaching Delicate Arch, the trail follows a narrow rock ledge for about 200 yards (183 m), which is often icy in winter. Watch carefully for trail markers to avoid getting lost. 

Bring: There is no drinking water at this trailhead. Bring at least 2 quarts (2 L) of water per person. Avoid wearing shoes with open toes, high heels, or slick soles. Sunset hikers: carry a flashlight or headlamp for each person. In winter, carry traction devices for your shoes to safely cross icy sections. 
Accessibility: The first section of trail to Wolfe Ranch cabin and the petroglyph panel is accessible to wheelchairs. Beyond, the trail climbs steeply up rock.

Parking: Limited oversize vehicle parking is available across the street from the main lot.
Dogs are not allowed on this trail. Service animals are allowed in national parks. What is a service animal? 
In a park with over 2,000 stone arches, this particular free-standing arch has become a widely recognized symbol of the state of Utah and one of the most famous geologic features in the world. The light opening beneath Delicate Arch is 46 feet high and 32 feet wide, making it the largest free-standing arch in the park.

It has had more than a few names in its history, from the colorful ("Cowboy's Chaps", "Old Maid's Bloomers") to the prosaic ("Salt Wash Arch"). The term "Delicate" first appeared in a January 1934 article about the Arches National Monument Scientific Expedition, which described it as "the most delicately chiseled arch in the entire area."
 
Last updated: January 31, 2023