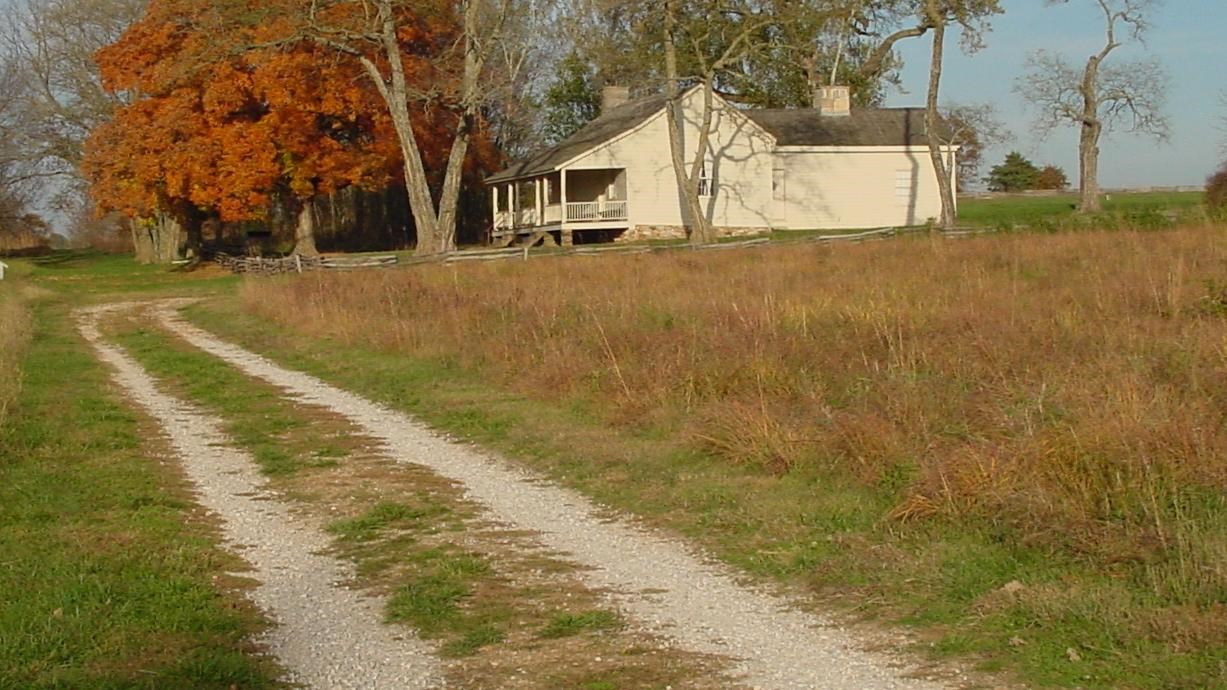 Location:
Wilson's Creek National Battlefield, Republic, Missouri
Significance:
Historic road that was a telegraph route and also main artery for troop movement between Missouri and Arkansas
Historical/Interpretive Information/Exhibits, Information, Parking - Auto, Parking - Bus/RV, Scenic View/Photo Spot, Trailhead
The Wire Road, which runs through Wilson's Creek National Battlefield, has a colorful history. Thousands of years ago, buffalo and other wildlife created natural paths across the Ozarks. Native Americans established migratory routes on these trails including the current Wire Road. French trappers, Spanish explorers and settlers from Tennessee and Kentucky used the route to access new areas and resources like iron, zinc, lead, timber, and stone. A portion of another Native American route, the Trail of Tears, lies just outside Wilson's Creek National Battlefield, a remnant of the tragic era of forced removal of tribes including the Cherokee.

By 1836, the young Missouri state government had established a formal road between Springfield and Fayetteville, Arkansas. Emigrants of European descent soon settled in the Wilson's Creek area on the rich bottomlands near this main thoroughfare.In 1846, Joseph Burdin began carrying mail on a route from Springfield, Missouri, to Fayetteville, Arkansas, using a two-horse stage. One of the stops was the home of postmaster and farmer John A. Ray, who lived near Wilson's Creek. The Ray farmhouse, which stands in the national park today, continued as a mail stop when John Butterfield founded the county's first transcontinental mail service – the famed Butterfield Overland Mail Co. Between 1858 and 1861, Butterfield stagecoaches spirited mail and passengers from St. Louis down to Arkansas and on to California on a 2800-mile journey lasting 25 days (traveling day and night). John Ray's home was the first unscheduled stop for Butterfield coaches after leaving Springfield. But the coming of railroad and telegraph ended the overland stages.

Telegraph revolutionized communications during the Civil War. The U.S. military installed telegraph wire along the road from Jefferson Barracks in St. Louis to Fort Smith, Arkansas. The Union depended on telegraph communications, and when Southern troops or sympathizers cut telegraph lines, Federal troops often responded by burning homes near damaged lines. On August 10, 1861, John Ray sat on the front porch of his home on the Wire Road and watched smoke rise from fighting in his cornfield during the battle of Wilson's Creek. His wife and children hid in the cellar during the fighting. Though the home survived and none of family was injured, their life changed dramatically, as the home became a field hospital and they lost much of their produce and livestock to soldiers. Over the next four years of the conflict, the Wire Road, also known as the Military Road, served as a major corridor for supplies and troops between Arkansas and Missouri. The road remained a mail route and Ray continued as postmaster until 1866.

Today, the "Old Wire Road" no longer connects one point to another, but traces may be found on farmland, in conservation areas and at Wilson's Creek National Battlefield. You can step onto the Wire Road in front of the John Ray Home at Tour Stop 2, and also may walk down the tour road a short distance west, where a marked walking trail continues along the old Wire Road route. The Wire Road trail also crosses the tour road near Tour Stop 5.
Last updated: June 16, 2023