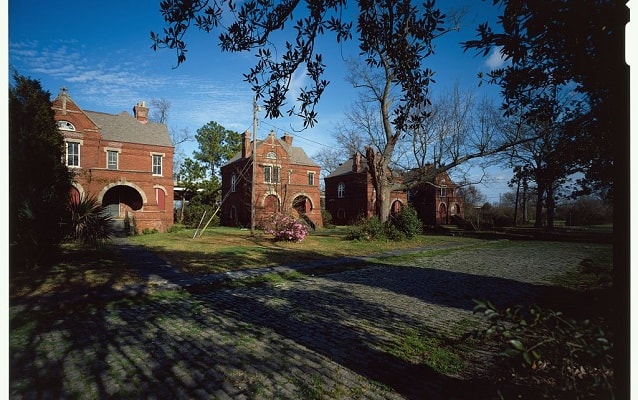 Quick Facts
Location:

900 King Street, Charleston, SC

Designation:

National Register of Historic Places

OPEN TO PUBLIC:

No
The William Enston Home is an early example of a planned community for the elderly. Developed in the late 19th century, the home is comprised of 24 residential cottages, a community building, an infirmary, an engine house, a water tower and an entrance gate. Designed in 1889, the water tower served as the centerpiece of a model waterworks system, and the spacious, landscaped grounds exemplified suburban planning ideals of the 19th century. The buildings also constitute a significant collection of Romanesque Revival architecture, a style rare in Charleston.
William Enston was the Home's philanthropic benefactor. An English immigrant to Charleston, Enston made his fortune in trade. Upon his death, he bequeathed the majority of his estate to the City of Charleston to establish a benevolent home for the city's aged and infirm residents which would "make old age comfortable." The Home was to be modeled on similar British institutions, specifically one Enston was familiar with in his native Canterbury. Enston specified that the complex be comprised of neat and convenient two-story brick cottages with at least eight acres of land. He also stipulated that potential residents be the old and sick, from 45 to 75 years old, of "good honest character," and not suffering from "lunacy."
Enston's estate at his death in 1860 was valued at $1 million, but reduced by half after losses from the Civil War. The project was delayed until after Mrs. Enston's death in 1886, when the City received the whole of the estate. Charleston Mayor William A. Courtenay corresponded with the mayor of Canterbury to develop the concept for the "model village."
The majority of the cottages were built in 1889 on 12 acres with shaded and stone-paved roadways, named after various English sites and historical figures. The remaining buildings were all added by the 1930s. Today the complex is owned by the Housing Authority of Charleston, and the restored cottages are home to persons of low to moderate income.
The William Enston Home is located at 900 King St., at the northeast corner of Huger St.