Place
Friends Meetinghouse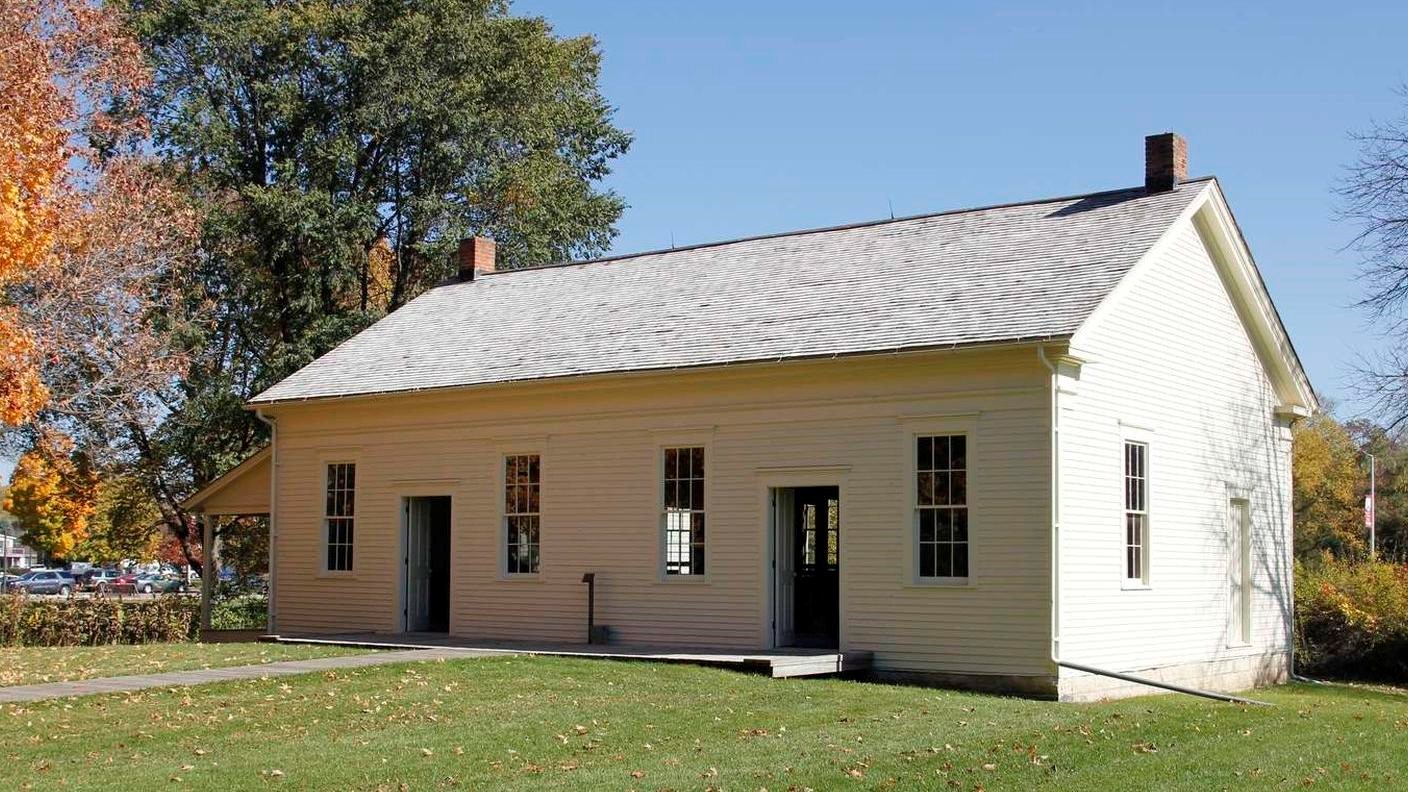 Location:
West Branch, Iowa
Significance:
Part of Herbert Hoover National Historic Site
Audio Description, Benches/Seating, Historical/Interpretive Information/Exhibits, Wheelchair Accessible
"All this may not have been in recreation, but it was strong training in patience."

Herbert Hoover
Herbert Hoover grew up in a religious community that valued peace, simplicity, integrity, and service to others. The plainly furnished Friends Meetinghouse, built by the Society of Friends, or Quakers, in 1857, is the physical expression of those values. Now two blocks from its original location, the Herbert Hoover Birthplace Foundation relocated and restored this meetinghouse in 1964.
Silent Waiting
Quakers held two meetings for worship each week. Men sat to the right of the partition, women to the left. The Quakers did not have a paid minister. They did not use music, symbols, or sacraments in their worship. Instead, they practiced "silent waiting," or worshipping in silence as they sat on the rows of long wooden benches.
Moved by the Inward Light
If moved by the "inward light", a man or woman could stand and share their insights or prayers. Those known for their inspired messages, like Herbert's mother Hulda, became "recorded ministers" and sat on the facing benches with the elders.
Equality Before God
The Quakers strongly believed all people were equal before God. During monthly business meetings the partitions were closed, allowing women a chance at leadership independent of men. Hulda, active in the West Branch meeting, helped conduct revivals, founded and led a young people's prayer meeting, and took an active role in temperance campaigns that aimed to discourage alcohol consumption.
"Long Hours of Meeting"
Herbert Hoover described the meetings in his memoirs, "Those acquainted with the Quaker faith, and who know the primitive furnishings of the Quaker meeting-house, the solemnity of the long hours of meeting awaiting the spirit to move someone, will know the intense repression upon a ten-year-old boy who might not even count his toes. All this may not have been in recreation, but it was strong training in patience."
Career of Conscience
Like his mother, Herbert Hoover, learned to put his beliefs into practice, as he demonstrated during decades of leadership. The Quakers' stress on the equal worth of all persons is evident in Hoover's global humanitarian work, his dedication to public service, and his faith in the opportunities afforded by American life.
Worshipping with the Friends

The Friends Meetinghouse is the physical expression of the values of the Quaker faith practiced by Herbert Hoover's family and the community of West Branch.

Credit / Author:

NPS

Date created:

01/15/2021
Last updated: November 7, 2021