Place
Volta Laboratory and Bureau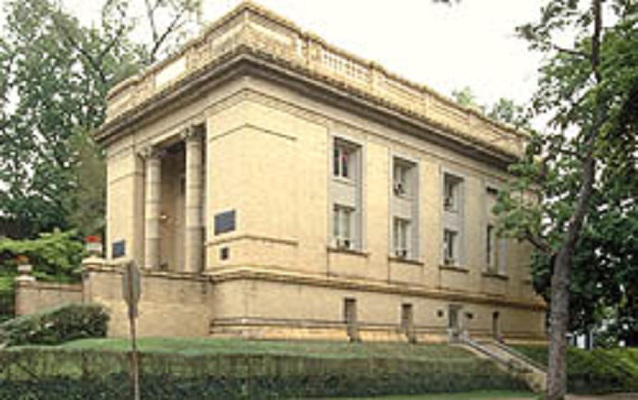 Location:
1537 35th St., NW, Washington DC
Designation:
National Register of Historic Places; National Historic Landmark
The Volta Laboratory and Bureau building, a National Historic Landmark, was constructed in 1893 under the direction of Alexander Graham Bell to serve as a center of information for deaf and hard of hearing persons. Bell, best known for receiving the first telephone patent in 1876, was also an outstanding figure of his generation in the education of the deaf. Both his grandfather and father were teachers of speech and young Bell worked with them. Born in Edinburgh, Scotland, Bell moved to Canada with his family in 1870 and a year later moved to Boston to teach at a special day school for deaf children. He became a renowned educator by opening a private normal class to train teachers of speech to the deaf and as a professor of vocal physiology and the mechanics of speech at Boston University. During this time he also invented the phonautograph, the multiple telegraph and the speaking telegraph or telephone.
In 1879, Bell and his wife Mabel Hubbard, who had been deaf from early childhood, moved to Washington, DC The following year, the French government awarded Bell the Volta Prize of 50,000 francs for the invention of the telephone. Bell used the money to found Volta Associates, along with his cousin Chichester A. Bell and Sumner Tainter, whose laboratory was focused on the research of recording and transmitting sound. In 1887, the Volta Associates sold the record patents they had developed at the laboratory to the American Gramophone Company, and Bell took part of his share of the profits to found the Volta Bureau as an instrument "for the increase and diffusion of knowledge relating to the Deaf." The Bureau, which was first housed at Bell's father's house at 1527 35th Street, worked in close cooperation with the American Association for the Promotion of the Teaching of Speech to the Deaf (known since 1956 as the Alexander Graham Bell Association for the Deaf), organized in 1890, of which Bell was elected President. The Volta Bureau officially merged with this Association in 1908. The work of the Bureau increased to such a volume that in 1893 Bell constructed this neoclassic yellow brick and sandstone building to specifically house the institution. Bell constructed the building across the street from his father's house, the first headquarters of the Bureau.
Last updated: July 26, 2017