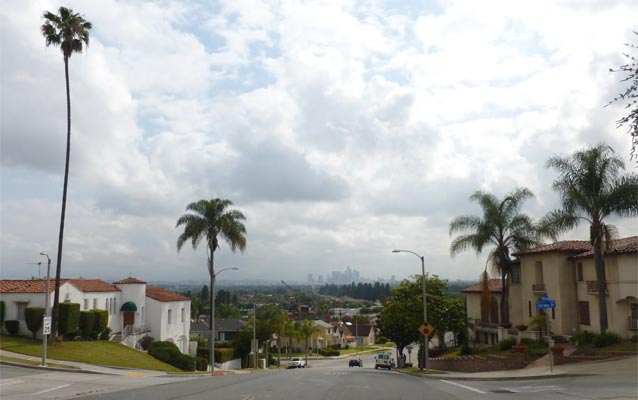 Quick Facts
Location:

Roughly bounded by Mt. Vernon, Enoro, Northland & Northridge Drs., Kenway S. Victoria & Floresta Aves.

Significance:

COMMUNITY PLANNING AND DEVELOPMENT, ETHNIC HERITAGE: BLACK

Designation:

Listed in the National Register of Historic Places 7/12/2016

OPEN TO PUBLIC:

No
The View Park Historic District is eligible under Criterion A at the local level of significance. It possesses significance in two areas: Community Planning and Development and Black Ethnic Heritage. The District contains a high percentage of contributing buildings within its borders and retains sufficient integrity to convey its significance despite some alterations to individual buildings and a small amount of infill. The period of significance is 1923-1970, from the initial development of the neighborhood through 1970, when the neighborhood's racial composition had transitioned from exclusively white to 75% African American. The property meets the requirements of Criteria Consideration G due to its exceptional significance in southern California history, a rare example of a racially exclusive suburb that transitioned to become an upwardly mobile African American suburb.
Criterion A: Community Planning and Development The buildings in the District were erected from the 1920s to 1960s during a period of rapid population growth in Southern California by one of Los Angeles' most prominent development companies, the Los Angeles Investment Company (LAIC). Developed in the Baldwin Hills with views of the city and mountains, View Park was constructed for middle-income and affluent homeowners. With the use of racially restrictive covenants, the neighborhood was initially restricted to white residents and remained homogeneous through the 1950s.
In the first half of the twentieth century, the population of Los Angeles increased rapidly and residential development occurred at a frenzied pace. Out of this grew powerful development companies with unique organizational structures and competitive marketing tactics. View Park was developed by one such company: the Los Angeles Investment Company, which was a significant player in the Los Angeles real estate development scene, recognized for greatly influencing the local housing market and landscape, as well as building and community development practices in the region and beyond. The physical manifestations of the company's organization and strategies are evident in View Park, one of the company's most important planned community developments, making the View Park Historic District a significant representation of a middle- to upper-middle class single-family residential neighborhood developed by an important development company to accommodate the influx of residents to Los Angeles during the first part of the twentieth century. Additionally, View Park has an unusually long, approximately forty-year building period, and offers within its boundaries a snapshot narrative of the building and community development trends that were occurring throughout Los Angeles during its primary periods of growth from the 1920s through the 1960s.)
Criterion A: Black Ethnic Heritage View Park is also significant in the area of Black Ethnic Heritage. The View Park Historic District is associated with the racially restrictive housing practices that left an indelible mark on our country's history, as well as the rise of the black middle- and upper-class in the United States after World War II and their role in combating housing discrimination and segregation.
View Park's history parallels the pattern of events that unfolded in Los Angeles and across the country as a result of discriminatory practices in the housing industry and federal policy which restricted housing opportunities from people of color and promoted segregation. After restrictive housing practices were declared unconstitutional, affluent African Americans had a significant role in breaking down housing barriers and promoting improved racial relations. Though early black residents of View Park promoted integration as part of the Civil Rights' era neighborhood stabilization movement, the neighborhood would become predominately black by the end of the 1960s. In doing so, however while retaining its prestige View Park became distinct as one of a small number of neighborhoods in Los Angeles and the country that was both African American and affluent. For this distinction, and for its ability to tell the story of the country's discriminatory housing practices and how those practices affected Los Angeles, the District is significant.
Property Name                View Park Historic District
Reference Number        16000434
State    California
County Los Angeles
Town    Los Angeles
Street Address Roughly bounded by Mt. Vernon, Enoro, Northland & Northridge Drs., Kenway S. Victoria & Floresta Aves.
Multiple Property Submission Name      N/A
Status Listed 7/12/2016
Areas of Significance     COMMUNITY PLANNING AND DEVELOPMENT, ETHNIC HERITAGE: BLACK 
The National Register of Historic Places is the official list of the Nation's historic places worthy of preservation. Authorized by the National Historic Preservation Act of 1966, the National Park Service's National Register of Historic Places is part of a national program to coordinate and support public and private efforts to identify, evaluate, and protect America's historic and archeological resources.