Place
View Park Historic District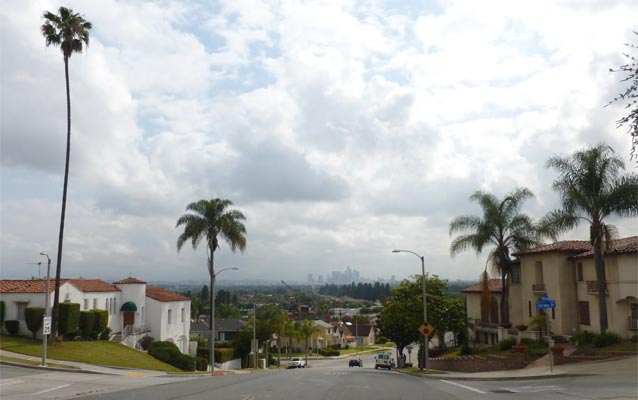 Location:
Roughly bounded by Mt. Vernon, Enoro, Northland & Northridge Drs., Kenway S. Victoria & Floresta Aves.
Significance:
COMMUNITY PLANNING AND DEVELOPMENT, ETHNIC HERITAGE: BLACK
Designation:
Listed in the National Register of Historic Places - Reference number 16000434
The View Park Historic District is a rare example of a racially exclusive suburb that transitioned to become an upwardly mobile African American suburb. 

The buildings in the district were erected from the 1920s to 1960s during a period of rapid population growth in Southern California by one of Los Angeles' most prominent development companies, the Los Angeles Investment Company (LAIC). Developed in the Baldwin Hills with views of the city and mountains, View Park was constructed for middle-income and affluent homeowners. With the use of racially restrictive covenants, the neighborhood was initially restricted to white residents and remained homogeneous through the 1950s. In the first half of the twentieth century, the population of Los Angeles increased rapidly and residential development occurred at a frenzied pace. Out of this grew powerful development companies with unique organizational structures and competitive marketing tactics. The physical manifestations of the company's organization and strategies are evident in View Park, one of the company's most important planned community developments, making the View Park Historic District a significant representation of a middle- to upper-middle class single-family residential neighborhood developed by an important development company to accommodate the influx of residents to Los Angeles during the first part of the twentieth century. 

The View Park Historic District is associated with the racially restrictive housing practices that left an indelible mark on our country's history, as well as the rise of the black middle- and upper-class in the United States after World War II and their role in combating housing discrimination and segregation. View Park's history parallels the pattern of events that unfolded in Los Angeles and across the country as a result of discriminatory practices in the housing industry and federal policy which restricted housing opportunities from people of color and promoted segregation. After restrictive housing practices were declared unconstitutional, affluent African Americans had a significant role in breaking down housing barriers and promoting improved racial relations. Though early black residents of View Park promoted integration as part of the Civil Rights' era neighborhood stabilization movement, the neighborhood would become predominately black by the end of the 1960s. In doing so, however while retaining its prestige View Park became distinct as one of a small number of neighborhoods in Los Angeles and the country that was both African American and affluent. The district has home of Ray Charles, Ike and Tina Turner, and Nancy Wilson.  For this distinction, and for its ability to tell the story of the country's discriminatory housing practices and how those practices affected Los Angeles, the District is significant.
Last updated: October 25, 2019