Place
United States Custom House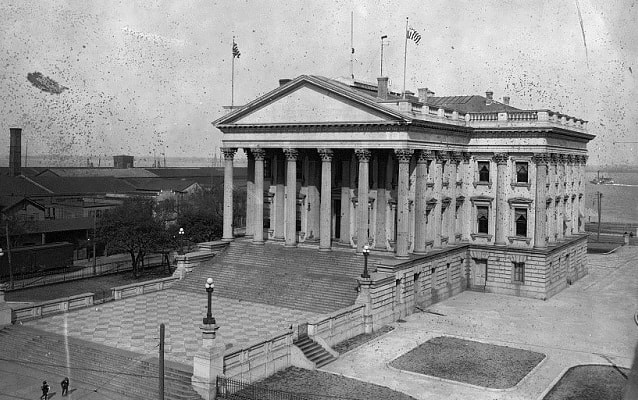 Location:
200 East Bay Street, Charleston, SC
Designation:
National Register of Historic Places
Majestically overlooking East Bay Street and the harbor, the United States Custom House is one of the most striking buildings in Charleston. It is an outstanding example of a public building and reflects the time when Charleston was one of the country's busiest port cities. The cruciform building, executed in the Roman Corinthian order, is monumental in scale, measuring 259 feet on its east-west axis and 152 feet on its north-south axis. Marble is used throughout the building and highlighted in details such as office fireplaces. The interior of the building revolves around a two-story center room, called the Business Room. Fourteen Corinthian columns support its second floor gallery, and most offices open onto this room. The ceiling is ornamented with artificial sky lights, a depiction of the American flag and other patriotic symbols, and stenciled classical motifs.
Prior to the construction of the Custom House, port business was transacted in the Exchange. In need of larger facilities, this site between East Bay and the Cooper River was purchased by Congress in 1849. It was formerly the site of Craven's Bastion, a colonial-era fortification. Although a competition for the design contract was won by Charleston architect Edward C. Jones, federal authorities awarded the project to Ammi Burnham Young. Young was the Supervising Architect of the U.S. Treasury Building, and one of 19th-century America's leading architects. His design for the Custom House apparently coordinated various elements of the competition drawings. Noted Charleston architect, Edward Brickell White acted as superintendent of construction which began in 1853. Hampered by unforseen engineering problems of the site, the building was unfinished at the outbreak of the Civil War. Construction was suspended until 1870, when architect A.B. Mullet arranged for further Congressional appropriations to complete the war damaged building. To reduce costs and hasten completion, Mullet's plan modified the east and west porticoes and omitted a dome and side porticoes of the original design.
Finally complete in 1879, this building has been used ever since as a United States Custom House. A new federal building that opened in the early 1960s threatened its continued use, but due to the united support of local preservationists, legislators, and U.S. Customs Officials, the building still functions today as it was originally intended.
Last updated: February 15, 2018