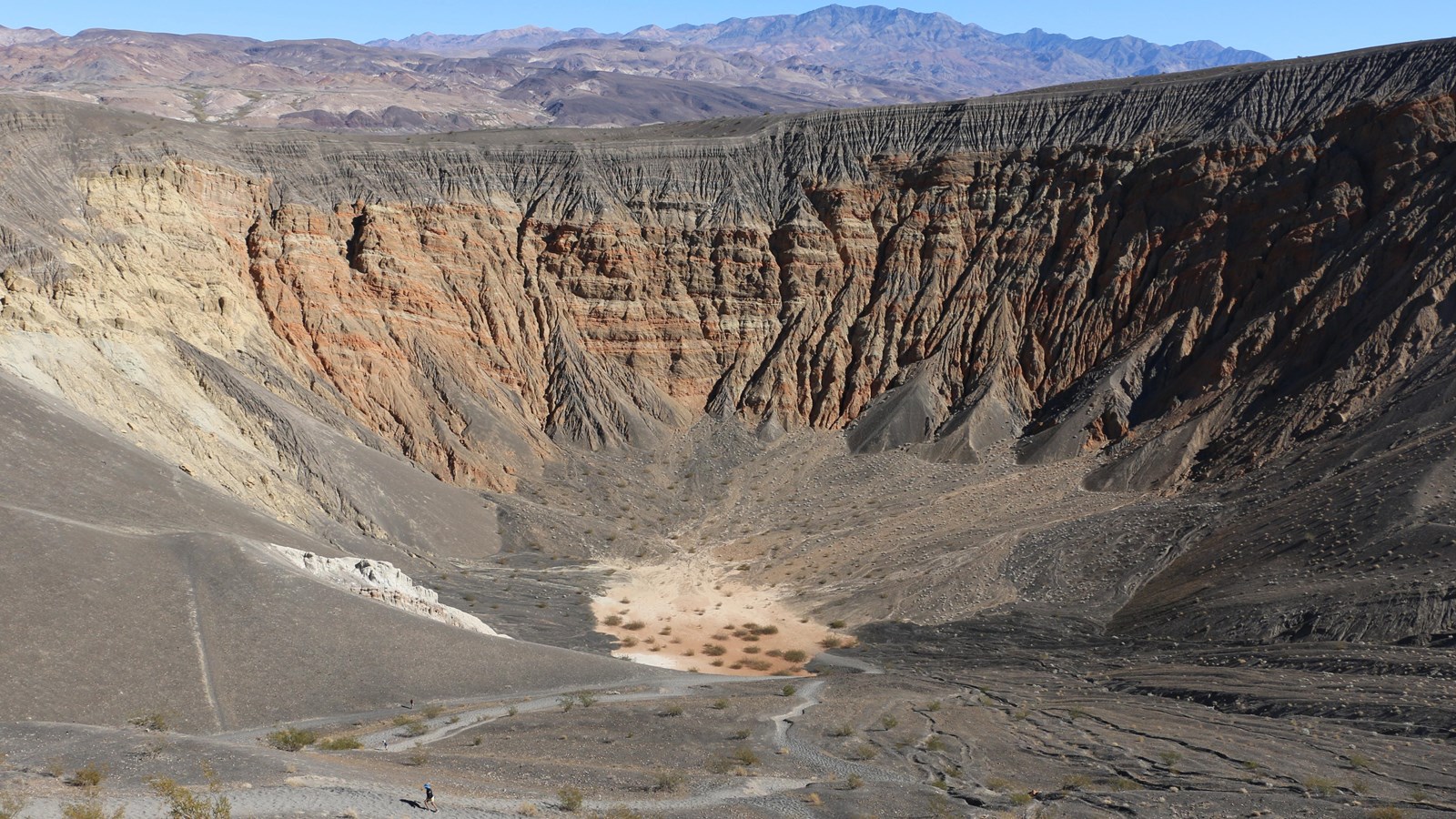 Location:
Death Valley National Park
Significance:
Maar Volcano
Parking - Auto, Parking - Bus/RV, Scenic View/Photo Spot, Trailhead
The earth shook, roared, and exploded. When the debris settled, a new crater appeared.
Ubehebe Crater in northern Death Valley National Park is an excellent place to explore the power of maar (explosion pit) volcanoes. It was here that molten lava came into contact with ground water, creating steam which eventually produced enough pressure to explode through the earth above and create a crater.

Although Ubehebe Crater is only one of about a dozen craters in the Ubehebe volcanic field, it is the largest and youngest at an estimated 2,100 years old. The crater is approximately 0.5 miles (0.8 km) in diameter, and ranges from 500-777 feet (152-237 m) deep, depending which ridge it is measured from. 

Ubehebe is easily viewed from the parking area, but an easy/moderate trail (1.5 miles/2.4 km) along the rim, allows hikers to marvel at the crater from all sides. Those wishing to explore farther can visit some of the other maars in the area, including Little Hebe Crater. Many visitors enjoy hiking into the depths of the crater, but remember that the hike back up is a difficult slog in ankle-deep debris, and should not be attempted during hot summer months.

Afternoon and sunset are particularly grand times to visit this spectacular site. In this lighting, the colorful layers of the sedimentary rock exposed by the explosion become quite obvious, along with the mantle of dark ejected material which caps these older deposits. Allow an hour drive time from Furnace Creek and come prepared for windy conditions. Please visit this area with respect, as it is an important cultural site for the Timbisha Shoshone people.   
 
---
HIKING NOT ADVISED AFTER 10 AM IN THE SUMMER

Ubehebe Rim Hike
Round Trip Length: 1.5 miles (2.4 km) 
Round Trip Time: 1 hour
Difficulty: Moderate
Elevation Gain: 500 ft (152m)
Trail Type: Official loop trail
Location: 8 miles (13km) west of Scotty's Castle
Parking: Paved lot directly overlooking the crater- large enough for buses and large RVs
Closest Restroom: No restrooms. Nearest restrooms are located at the unstaffed Grapevine Ranger Station 5 miles (8km) east of the crater. 
Route: Exposed edges! Not good for those with a fear of heights. Often done in a counter-clockwise direction, beginning with an uphill section. Little Hebe Crater comes into view in 0.5 mi (0.8km) and is a common destination for those looking for a shorter trip. 

Note: pets are not allowed on any trail in Death Valley National Park, even if carried. Do not leave your animal in your vehicle. Speak with a ranger about one of the incredible dirt roads where you may walk your pet.
Last updated: March 24, 2022