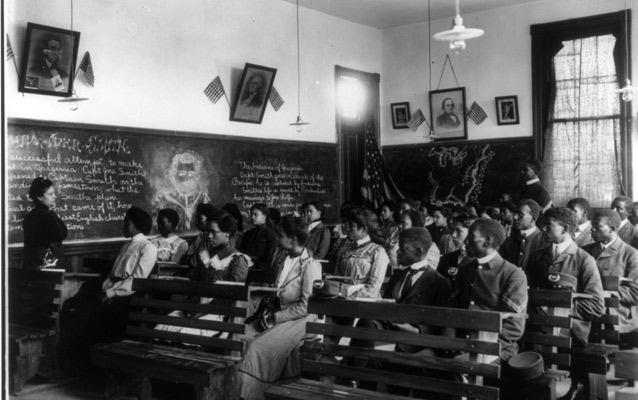 Quick Facts
Location:

Tuskegee, Alabama

Significance:

the home of Booker T. Washington, the building that housed George Washington Carver's laboratory, and the 50-acre Historic Campus District consisting of most of the original campus buildings

Designation:

National Historic Site

OPEN TO PUBLIC:

Yes
Tuskegee Institute National Historic Site, 40 miles east of Montgomery, Alabama, was authorized as a unit of the National Park Service on October 26, 1974. The site preserves the legacy and associated historic structures of the historic Tuskegee Institute, a college for African Americans founded in 1881.

On July 4, 1881, 30 eager students—mostly children of former slaves—celebrated their freedom by holding their first class at the newly formed Normal School for Negroes in Tuskegee, Alabama. Although those students did not know what to expect from their new school, its principal did. Booker T. Washington, a former slave, aimed to model this new school after Hampton Institute in Virginia where he had been a student and teacher.

Tuskegee Institute—as the school here came to be known—started with only $2,000 for teachers' salaries, but no funds for land, buildings, or equipment. In 1882, the school moved to 100 acres of abandoned plantation farm land (Bowen Estate), purchased with a $250 personal loan from the treasurer of Hampton Institute, J. F. B. Marshall, for the $500 down payment. From this humble start, Tuskegee grew from its initial emphasis on vocational training (most of the school's early buildings were built by its students) into the college degree-granting program that evolved into what is now Tuskegee University.

Tuskegee has been known as the Normal School for Colored Teachers (1881), Tuskegee State Normal School (1881–1887), Tuskegee Normal School (1887–1891), Tuskegee Normal and Industrial Institute (1891–1937), Tuskegee Institute (1937–1985), and Tuskegee University (1985 to the present). "Tuskegee" represents both the historic Tuskegee Institute and the current Tuskegee University.

The main features of Tuskegee Institute National Historic Site are The Oaks, the house and home of Booker T. Washington, and the building that housed George Washington Carver's laboratory, now the George Washington Carver Museum. These structures, along with an administrative office, are directly owned and managed by the National Park Service. While the park's 1974 enabling legislation included the residence called Gray Columns, the property was acquired by Tuskegee University in 1998 under Public Law 100-337, and therefore is no longer managed by the National Park Service. The historic site also encompasses a 50-acre Historic Campus District consisting of most of the original campus buildings, all of which are owned and still actively used by Tuskegee University. Every year close to 26,000 visitors to the Tuskegee Institute National Historic Site experience the history of Tuskegee Institute through guided tours of The Oaks, the Historic Campus District, and the George Washington Carver Museum's exhibits and audiovisual programs.