Place
Trail of the Shadows & Rampart Ridge Loop Trailhead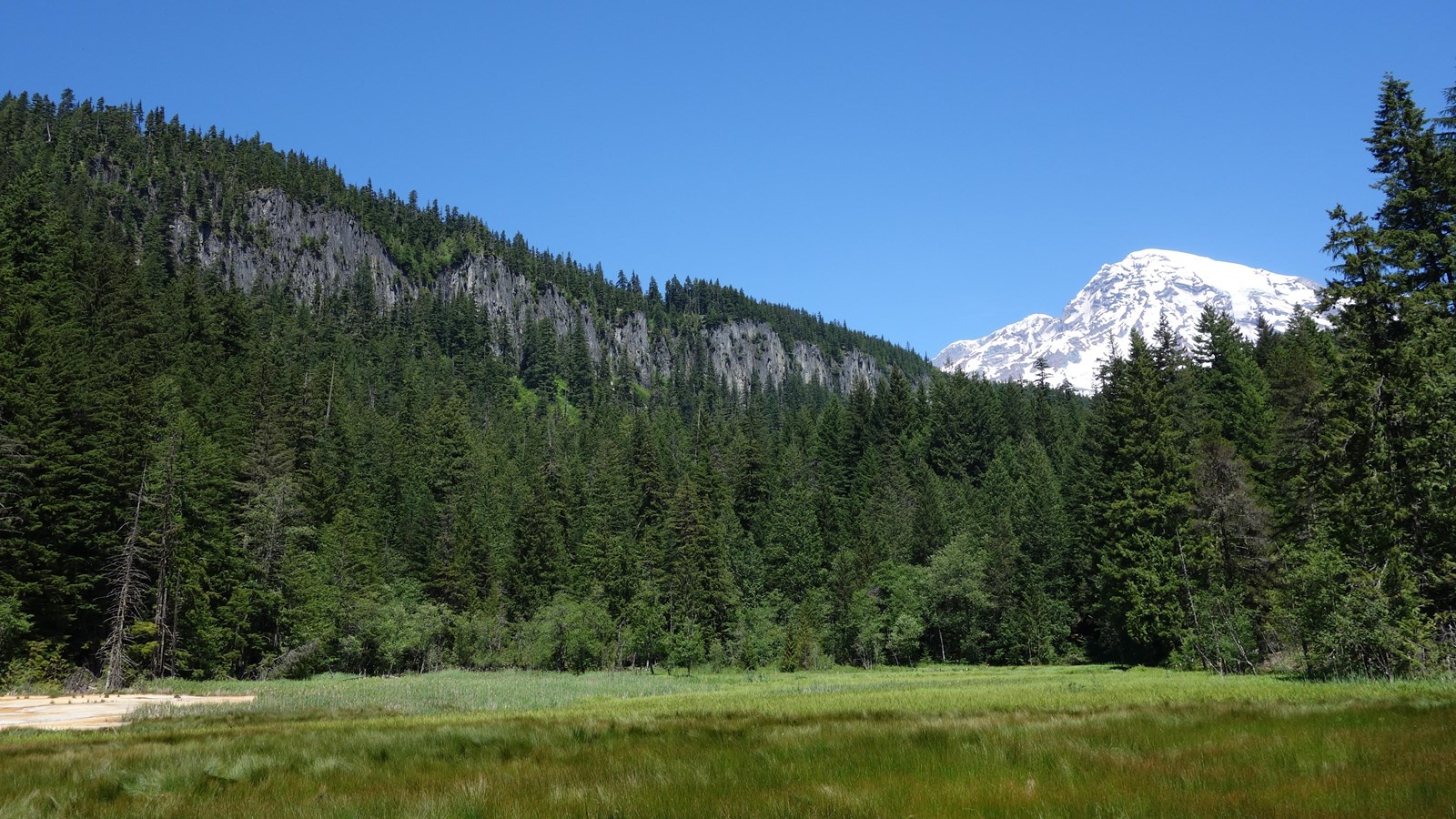 Historical/Interpretive Information/Exhibits, Scenic View/Photo Spot, Trailhead
Season: Year-round 

Trail of the Shadows
Human and natural history come together in the forest and meadows of Longmire along the easy Trail of the Shadows. The trailhead is located across the main road from the National Park Inn in Longmire. Along its 0.7 mile-length, view bubbling mineral springs and explore a replica of an early homestead cabin. Discover the plants and animals that call this area their home, including deer, birds, and beavers.

Rampart Ridge Loop Trail
This moderate loop trail passes through forests with glimpses of the surrounding mountain vistas. Also known as "The Ramparts," this ridge is the remnant of an ancient lava flow which originated at the summit of Mount Rainier.

Rampart Ridge Loop Trail is 4.6 miles long with 1339 feet of elevation gain. The trail begins at the west end of the Trail of the Shadows, approximately 0.2 miles from the trailhead if heading clockwise. The loop can be hiked in either direction, but going clockwise keeps Mount Rainier in front more of the time and is thus recommended. Walk up through an old growth forest as you make your way to the top of Rampart Ridge. At 1.8 miles, there is a viewpoint looking up the Nisqually River Valley. As you hike along the relatively level ridge, listen for the tapping of the woodpeckers or the booming of the grouse. Keep an eye out for deer and other wildlife. Notice the various mosses and lichen clinging to the trees. On a clear day, hikers are also rewarded with excellent views of Mount Rainier and the Nisqually River Valley from two viewpoints atop the ridge. At 2.9 miles, join the Wonderland Trail for the return to Longmire.

While Longmire is open year-round, snow can make this trail hazardous in winter. Winter hikers and snowshoers must have experience with navigation. 

Backpacking
There is no designated camp along this trail nor atop Rampart Ridge. Permits are required for camping. Permits and current trail conditions are available at park-wide from wilderness information centers, ranger stations, and visitor centers. Treat water before drinking. Fires are prohibited. No pets on trails.
Last updated: January 31, 2023