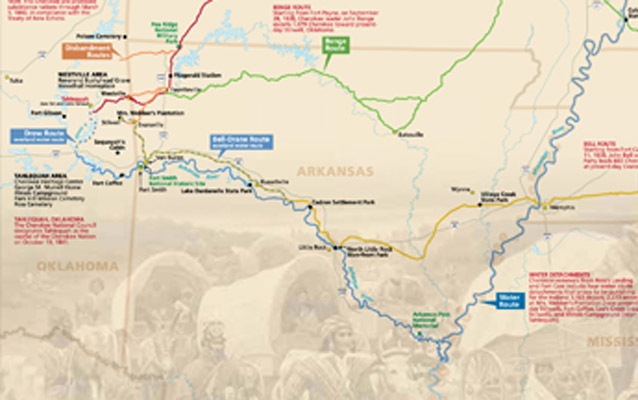 Quick Facts
Location:

Traverses nine states: MO, KY, AR, IL, TN, AL, NC, GA, OK

Significance:

The Trail of Tears National Historic Trail commemorates the removal of the Cherokee and the paths that 17 Cherokee detachments followed westward.

Designation:

National Historic Trail

OPEN TO PUBLIC:

Yes
In 1838, the United States government forcibly removed more than 16,000 Cherokee Indian people from their homelands in Tennessee, Alabama, North Carolina, and Georgia, and sent them to Indian Territory (today known as Oklahoma). The impact to the Cherokee was devastating. Hundreds of Cherokee died during their trip west, and thousands more perished from the consequences of relocation. This tragic chapter in American and Cherokee history became known as the Trail of Tears, and culminated the implementation of the Indian Removal Act of 1830, which mandated the removal of all American Indian tribes east of the Mississippi River to lands in the West.
The Trail of Tears National Historic Trail commemorates the removal of the Cherokee and the paths that 17 Cherokee detachments followed westward. Today the trail encompasses about 2,200 miles of land and water routes, and traverses portions of nine states.
The National Park Service, in partnership with other federal agencies, state and local agencies, non-profit organizations, and private landowners, administers the Trail of Tears National Historic Trail. Participating national historic trail sites display the official trail logo. The Trail passes through the present-day states of Alabama, Arkansas, Georgia, Illinois, Kentucky, Missouri, North Carolina, Oklahoma, and Tennessee. Due to the trail's length, you may decide to travel its entirety or just a few sites.