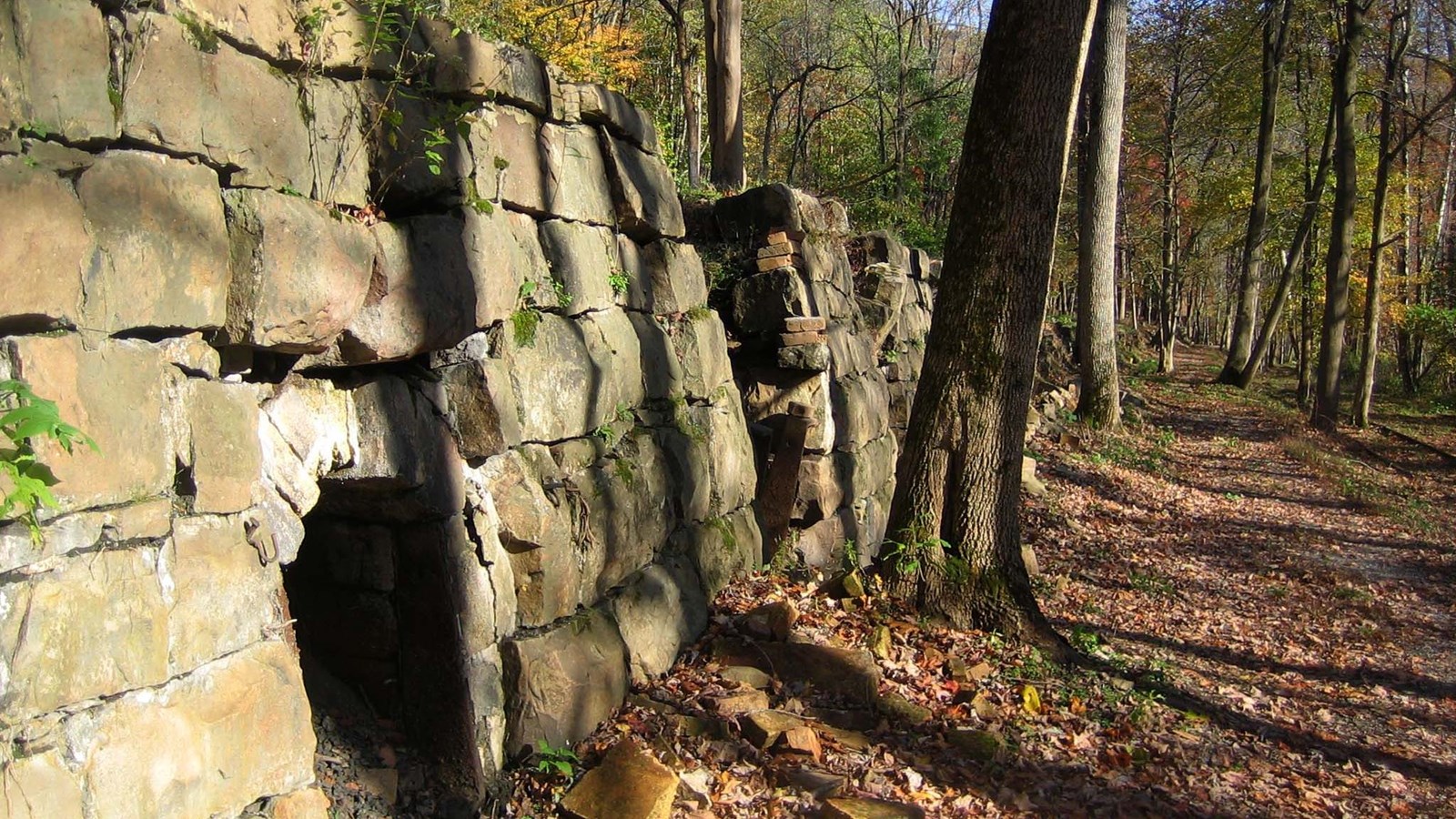 Labeled (6) on the Nuttallburg Area Trails map
Length
0.6 miles/0.96 km (One-way)
Difficulty
Easy
Trail type
Hiking and biking
Trail Description
This trail reveals both the industrial and community side of Nuttallburg through structures and exhibits along the trail. Travel down the trail (west) to see the conveyor and tipple system used in this operation, designed by Henry Ford in the 1920s. A long battery of coke ovens lies beyond the conveyor, where coal was processed into coke for use as fuel in steel production. You can also walk back on the road from the parking area to see remains of the clubhouse and site of the post office. Cross Short Creek bridge to get a glimpse into the life of African Americans who lived in this segregated community. Note: Climbing, sitting, or walking on walls and other constructed features weakens them. Please leave historic structures and artifacts as you find them, where they help tell the story of the past.
Note
Mountain bike riding is only permitted on the trail section that runs from the parking areas, crosses under the conveyor, and runs parallel with the top of the coke oven battery (see map). All visitors who want to see the front of the coke ovens or under the tipple structure must walk to these areas.

Lansing-Edmond Road and Keeneys Creek Road are both very small, curvy roads, including some single lane sections. Use caution while driving and be prepared to cooperate with other drivers; this may include backing up!
To reach the trailhead
Turn onto Lansing-Edmond Road (CO 5/82) off US 19 in Lansing, just north of Canyon Rim Visitor Center. Travel 6.0 miles to Winona, then turn right onto Keeneys Creek Road (CO 85/2). Travel 4.1 miles to the Nuttallburg parking area (accessible parking is located an additional 0.10 mile beyond the main parking area. 

Winona can also be reached by traveling US 60 to Lansing-Edmond Road (CO 5/82) in Lookout. Travel 2.1 miles down Lansing-Edmond Road to Winona, then continue straight ahead 4.1 miles on Keeneys Creek Road (CO 85/2) to the Nuttallburg parking area.
Last updated: May 7, 2022