Place
The "Potsdam" Worker Houses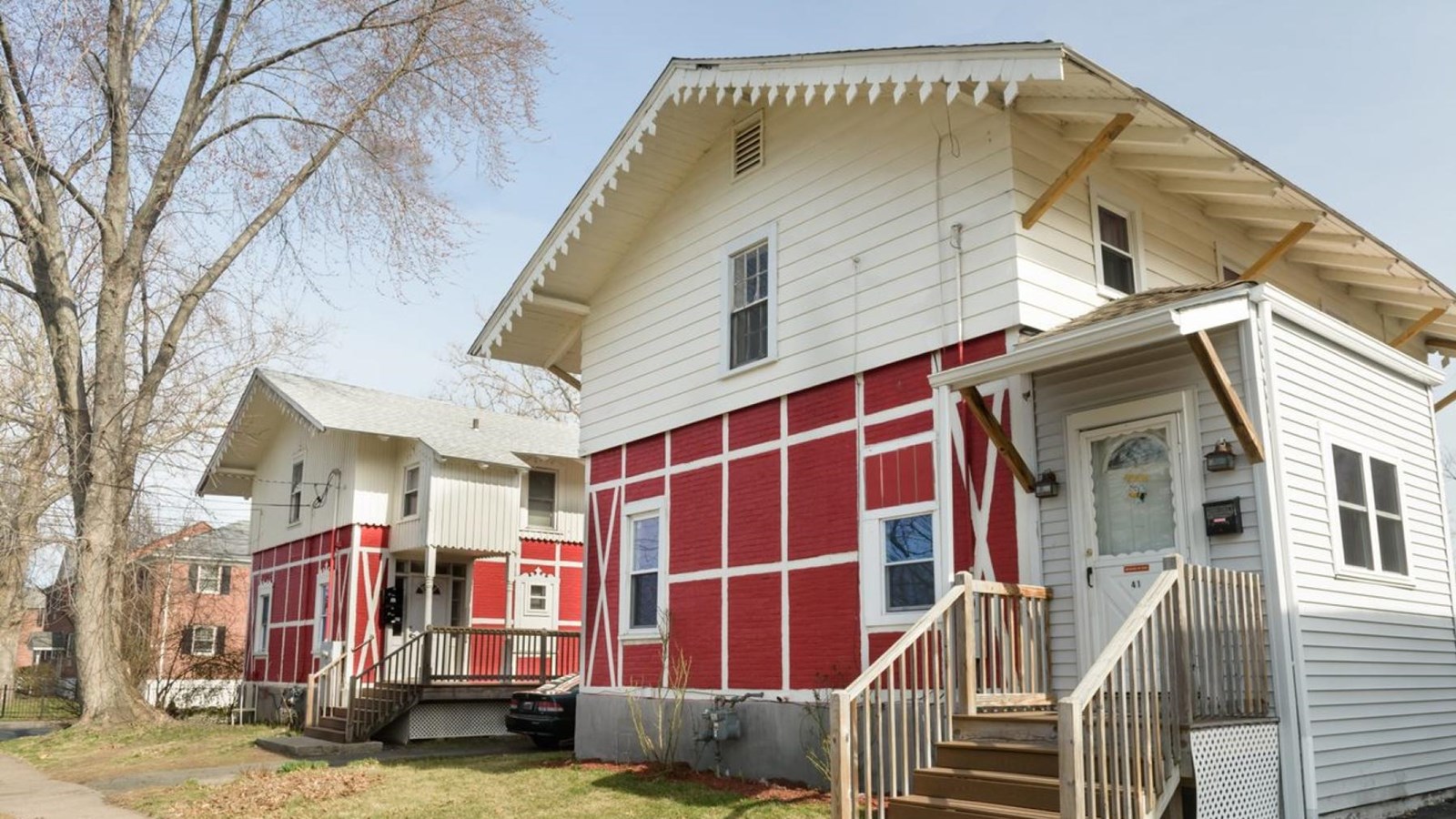 Location:
Hartford, Connecticut
Significance:
Industrialist, Samuel Colt, and his successors pioneered the development of the revolver which had cultural, historical, and geographic impacts on the City of Hartford. Samuel was a paternalistic employer and the Potsdam Cottages were an integral part of his industrial village.
Designation:
The Potsdam Cottages are contributing buildings to the Coltsville Historic District which is registered as a National Historic Landmark District.
Cellular Signal, Scenic View/Photo Spot
The "Potsdam" Worker Houses, or "Potsdam Cottages, were built in 1858 to house Samuel Colt's Willow Ware factory employees. 

The Colt Willow Ware factory was one of Samuel Colt's enterprising ideas meant to make use of the resources around him. To hold back the periodic flooding's of the Connecticut River, Samuel built a two mile dyke in 1855, to ensure that South Meadows would remain dry. To stabilize the dyke, French Osier Willow Trees were planted. In 1858, Samuel saw the opportunity for a new business adventure in the making of wicker furniture, by collecting the branches from the willow trees. 

Colt, wanting to ensure that his wicker work was top quality, looked to hire the best craftsmen who lived in Prussia. To entice the workers to move to Hartford, Colt had the houses and factory built to resemble houses found in Potsdam, Germany and were built in a 'Swiss Chalet' style. Frederick Kunkle, one of Samuel's trusted aids, traveled across Europe recruiting German workers to work at the Colt Willow Ware Factory  and move into the new Potsdam Village. 

The Potsdam Cottages were built of brick and set in a wooden frame with long overhanging cornices, exaggerated scallops and outdoor staircases leading to the second level. Each Cottage was built to house two families.

To help ease the new immigrants into their life in Hartford and to retain them as workers, Samuel not only built houses but he also opened an area for gardening and a raising livestock, built a beer hall and vineyard. The workers were encouraged to maintain their traditional lifestyle and ethnic heritage. 

The Colt Willow Ware Manufacturing Company opened in 1859 and for 14 years, the company produced top quality wicker items including baskets, chairs, wagons, and cradles. By 1863, the Colt Willow Ware Factory employed over one hundred workers and the products were being marketed not only across the United States, but in Cuba and South America as well.  In 1873, the factory was destroyed in a fire and was never rebuilt.

Twelve cottages were originally built, with nine remaining today, all under private ownership. In 1976 they were designated a part of the Colt Industrial District in the National Register of Historic Places and in 2008 they became contributing buildings to the Coltsville Historic District which is registered as a National Historic Landmark.

While all of the cottages have undergone various modifications, but they serve as a reminder to the immigrant culture that Samuel Colt celebrated. 

 Please be respectful of those who currently reside in these properties. 
 
Last updated: April 7, 2021