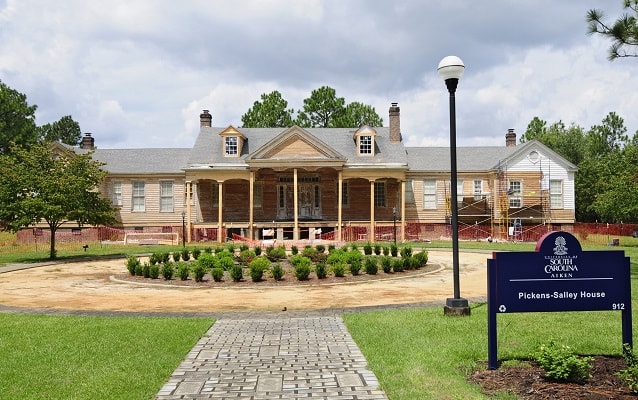 Quick Facts
Location:

Aiken County, SC

Significance:

Home of local suffragist.

Designation:

National Register of Historic Places

OPEN TO PUBLIC:

Yes
Built in 1829 by South Carolina Governor Andrew Pickens, this plantation-style house served as the home of the governor's son Francis. When Francis moved into the house, he was just starting a career as a lawyer. Like his father, he would go on to serve as Governor of South Carolina.

After Francis Pickens died, the house fell into disrepair. In the late 1920s, noted suffragist and businesswoman Eulalie Chafee Salley purchased the house and had it moved to Aiken County. She hired architects and contractors to dismantle, reconstruct, and preserve the home. Salley's efforts are significant as she was one of the first women actively involved in historic preservation in South Carolina. She was also well known for her dedication to women's rights.

Born in 1883, Salley grew up to be an untraditional woman. Due to her privilege as a white woman with wealth, she was well-educated and had free-time to devote to extra-curricular activities. Salley joined the South Carolina Equal Suffrage League of Women Voters and founded a local group called the Aiken County Equal Suffrage League. The women's rights activist also led the unsuccessful campaign to persuade South Carolina to ratify the 19th Amendment. Salley was so dedicated to the cause that she took a ride on one of the state's first airplanes and scattered suffrage pamphlets from the air.

To fund her work with the suffrage movement, Salley applied for a real estate license in 1915. She was the first female relator in South Carolina.