Place
The Lou Henry and Herbert Hoover House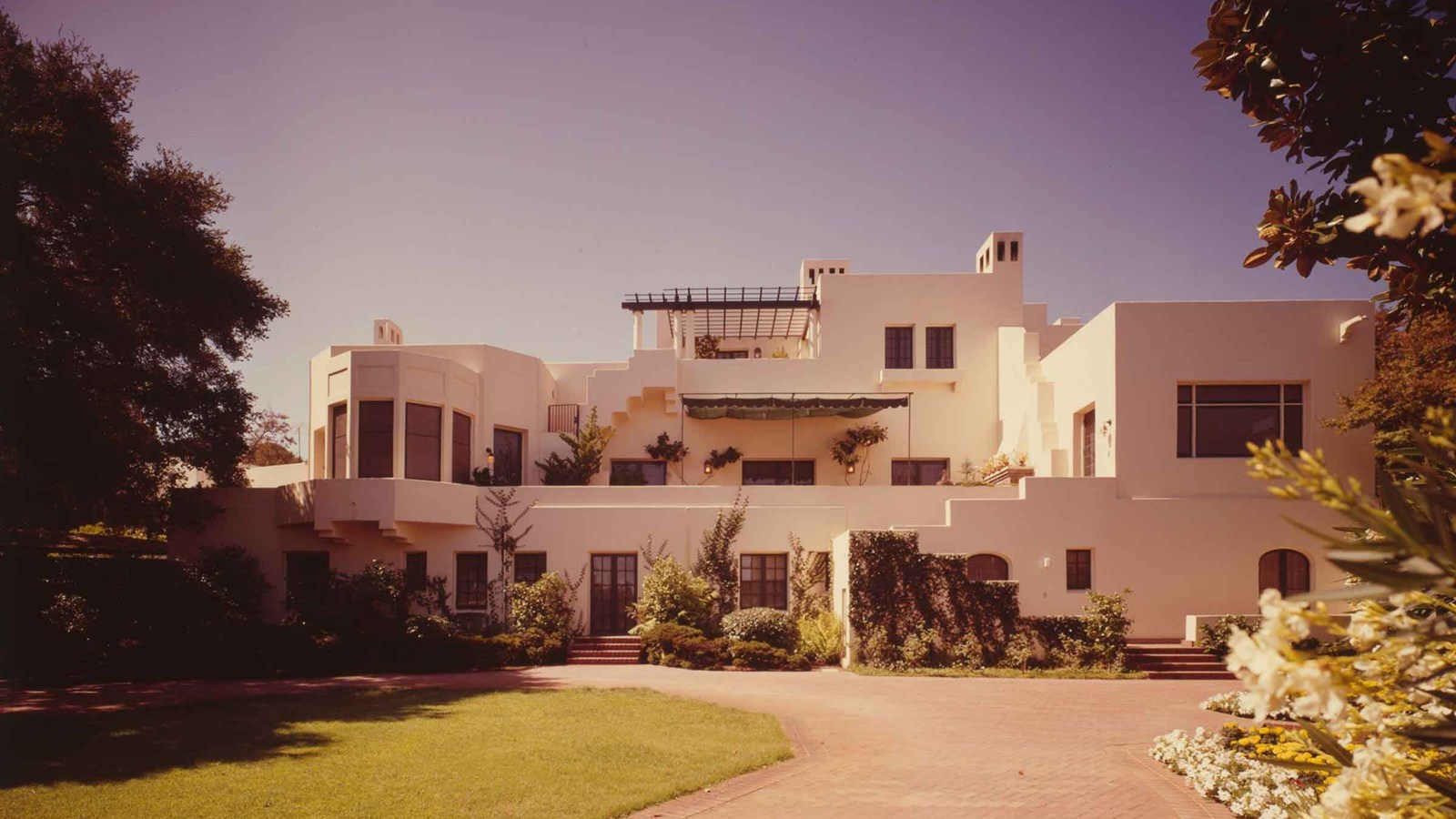 Location:
623 Mirada Road, Stanford, Calif.
Significance:
Home of President Herbert Hoover
Designation:
National Historic Landmark
MANAGED BY:
Stanford University
The Lou Henry and Herbert Hoover House, a National Historic Landmark, is a large, rambling International style house, resembling "blocks piled up." It was designed by Lou Henry Hoover, wife of Herbert Hoover, 31st President of the United States. Herbert Hoover's contribution was to order that the home be fireproof, and the walls were constructed of hollow tiles. Built from 1919 to 1920, the house was the couple's first and only permanent residence, and it was here that Hoover awaited the Presidential election returns in 1928, when he won against Alfred E. Smith, and 1932, when he lost the election to Franklin Delano Roosevelt. After Lou's death in 1944, her husband deeded the house to Stanford University to serve as a home for university professors.
Herbert Hoover, born in West Branch, Iowa in 1874, was a member of the first class of Leland Stanford, Jr. University. Opened in 1891 by former California Governor Leland Stanford and his wife in memory of their son, the University was located in Palo Alto, California, 30 miles south of San Francisco. Studying geology, Hoover met fellow student Lou Henry in a geology lab. Lou Henry, also born in Iowa in 1874, had moved to Monterey, California, with her family in 1884. She entered Stanford University in 1894. After graduation, Herbert Hoover worked for a while in the California gold mines and then in Western Australia, returning in 1899 to marry the recently graduated Lou Henry. For the rest of their lives the Hoovers would retain a strong affinity for their alma mater, maintaining residences on the campus despite travels and residences abroad in China, Ceylon, Burma, Siberia, Australia, Egypt, Japan, England, most of Europe, and finally Washington, D.C. Hoover played a highly publicized and praised role in relief efforts for some 33 million displaced and starving civilian victims of the First World War in Europe and was appointed Director General of Post War Relief and Rehabilitation in 1919 by President Woodrow Wilson. 

Prior to the end of World War I the Hoovers had commissioned architect Louis Mulgardt to design their Stanford Home; however Mulgardt publicized his appointment prior to the end of the war. Angering the Hoovers, who felt that it was an inopportune time in the waning months of a terrible conflict to announce the construction of a large home, Mulgardt was dismissed. After several consultations the Hoovers convinced Arthur B. Clark, a Stanford art professor who practiced freelance architecture during the summer, to be their architect. Clark agreed on the condition that Mrs. Hoover design the house and that Clark, aided by architectural draftsman Charles Davus and Clark's architect son, Birge, would serve in an advisory capacity. Mrs. Hoover sketched ideas, watching construction, but when anyone told her that any of her architectural ideas weren't done, she responded, "Well, it's time someone did." The problem of size (Mrs. Hoover not wanting the house to appear too large or ostentatious) was solved by the hillside site with the house disappearing into the slope of San Juan Hill and hence appearing much smaller. The irregularly shaped house was built on a reinforced concrete slab foundation and rises two stories in the front and three stories in the rear. Resembling early International style homes, it was the opinion of the architects that Mrs. Hoover's designs were modeled after North African Algerian homes she had seen.
Completed in June 1920, the Hoovers lived there only a short time before Herbert was appointed Secretary of Commerce by President Warren G. Harding in 1921, a role he continued under President Calvin Coolidge. During Hoover's presidency (1929-32), the Hoover family only made brief visits to their Stanford home. They returned to this house after 1932, while maintaining a New York apartment as a second residence.
Last updated: February 10, 2021