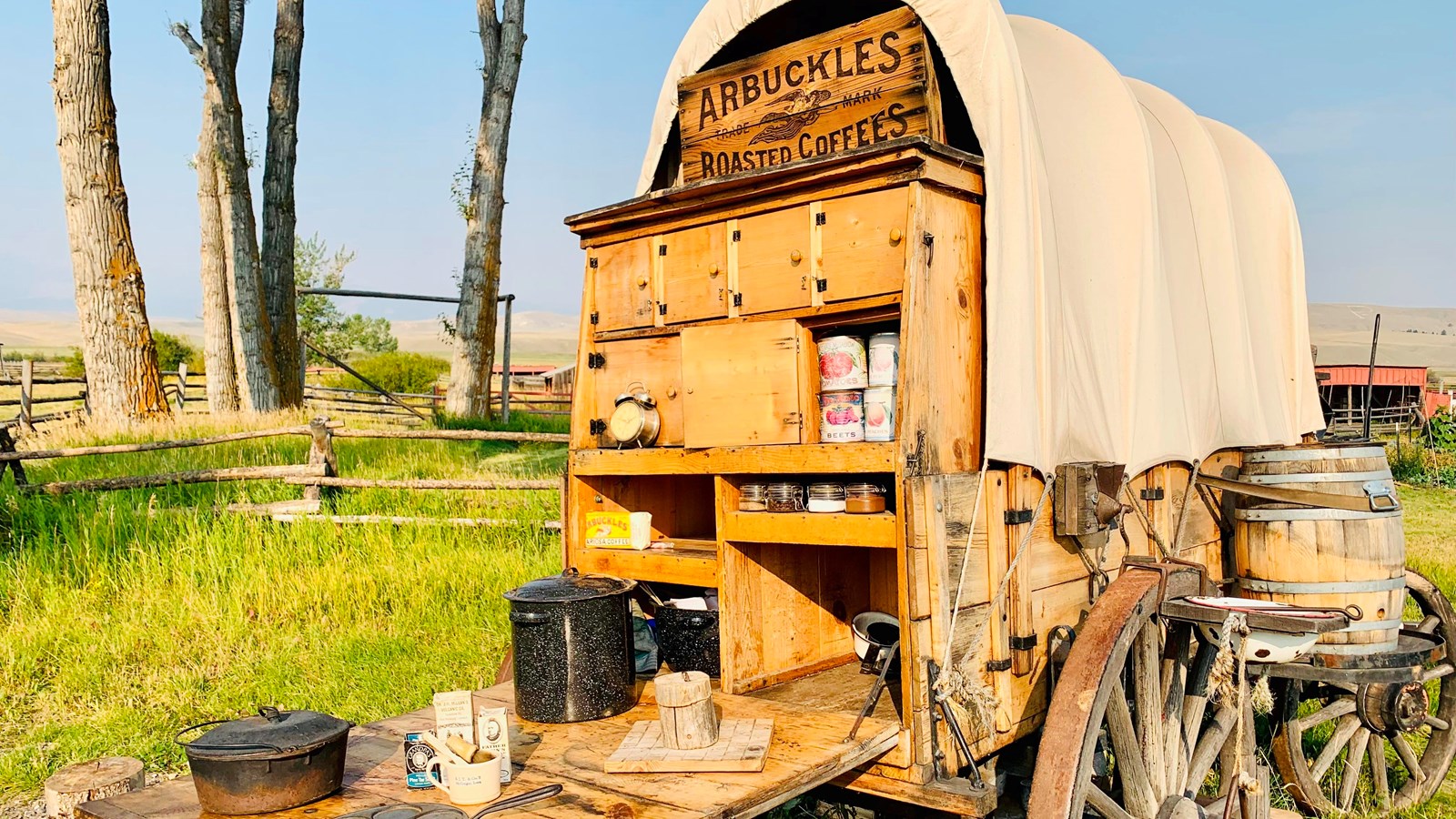 Location:
Grant Kohrs Ranch
Designation:
National Historic Site
Accessible Sites, Benches/Seating, Cellular Signal, First Aid Kit Available, Historical/Interpretive Information/Exhibits, Information - Ranger/Staff Member Present, Picnic Table, Scenic View/Photo Spot, Wheelchair Accessible
During the Open Range Era, a cattle drive could take anywhere from three to six months depending on the destination. Large groups of cattle were herded by cowboys and trailed directly from a range to a nearby market; from a range to a distant railhead; or between ranges to find better grazing opportunities.

On the earlier, shorter drives cowboys would eat what they could carry in their saddle bag, which typically consisted of dried meats, salt, and biscuits. As the distances increased it became harder for a cowboy to carry his own food. Texas cattleman Charles Goodnight solved this problem in 1866 by converting a surplus Army wagon into a mobile kitchen. Goodnight added a large pantry box to the rear with shelves, drawers, and a hinged door that laid flat to create a table. Heavier items like pots, cast iron skillets, and a Dutch oven were carried in a box mounted below the pantry called a "boot." The chuckwagon also carried tools, sewing supplies, first aid essentials, bedrolls, firewood, and water.

Life on the trail was exhausting work and the chuckwagon and the resourcefulness of the cook boosted the crews moral and played a vital role in the success or failure of the entire journey. Most cooks were ex-cowboys themselves that were often too old or injured to comfortably ride a horse. The cook lived a life of physical labor and maintained an exhausting daily schedule. He not only prepared three hot meals a day, but also drove the chuckwagon, pitched camp, and served as the banker, barber, doctor, dentist, or any other job that needed to be filled on the trail. His final task of the day was to locate the north star and point the tongue of the wagon facing north, which allowed the crew to know which direction to move the herd the next morning.

The food carried on the chuckwagon was both easy to cook and preserve. Some common items included "whistle berries" (beans), rice, dried meat, onions, potatoes, flour, lard, canned fruits and vegetables, and various spices and condiments. Sourdough was a main component of most meals and the cook took great care of the keg and starter. Fresh beef was never in short supply and was supplemented with wild game and fish. If time permitted and the cook was in a good mood, he might bake the crew a desert like peach cobbler, fruit pie, or spotted pup in a Dutch oven.

Most cowboys were devoted to coffee and demanded it a every meal. They preferred it hot, strong, black, and thick enough to float a horseshoe in! During the early years of driving cattle, coffee was not easily available on the trail because it was time consuming to roast the beans and they didn't preserve well. In 1865, the Arbuckles Coffee patented a method to roast and preserve beans that sealed in the flavor, aroma and came packaged in easy to store one-pound bags. Arbuckles became so popular with chuckwagon cooks that most cowboys weren't aware there was any other kind!

The chuckwagon not only carried food, equipment, and vital supplies, but it also became the only home and familiar sight that a cowboy knew in the vastness of the open range. It was a special place where you could socialize, receive care, enjoy a comforting meal, and lay your head down to rest after a grueling day on the trail.

 
Last updated: September 5, 2021