Place
Charlotte Forten Grimké House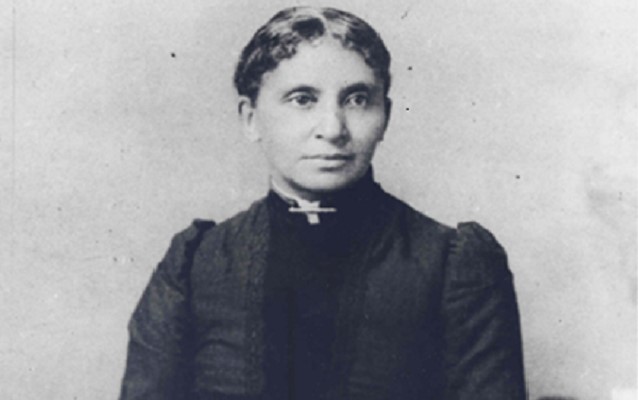 Location:
Northwest Washington, DC
Designation:
National Historic Landmark
Charlotte Forten Grimké was a prominent abolitionist and women's rights advocate. During the Civil War, Forten taught newly freed blacks on the Sea Islands of South Carolina. Her writings and poetry showed her commitment to battling racial and gender inequality. From 1881 to 1886, she resided in Dupont Circle, Washington, DC.  
Born free to activist parents in 1837, Charlotte Forten's family was part of Philadelphia's elite black community. Her father, Robert Forten, refused to send Charlotte to a state-mandated segregated school. She received early training from private tutors. Later Forten moved to Salem, Massachusetts to attend public school. While there she boarded at the home of Charles Lenox Remond, a leading black follower of abolitionist William Lloyd Garrison. At the age of seventeen, Forten joined the Salem Female Anti-Slavery Society. In 1856, she entered Salem Normal School to receive instruction in teaching. Upon graduation, Forten became the first black teacher at Epes Grammar School of Salem.
In the 1850s Forten became increasingly involved in the abolitionist movement. She published several poems in anti-slavery publications such as The Liberator, The National Anti-Slavery Standard and The Evangelist. Forten publically condemned slavery. She also called for black women's participation in the abolitionist crusade. She joined circles of significant abolitionists such as William Lloyd Garrison, Wendell Phillips, Lydia Maria Child, and John Greenleaf Whittier. Forten believed in the improvement of blacks through self-help and education.
In 1861, after Union troops occupied parts of the coastal Carolinas, Federal authorities recruited Forten and others to teach emancipated blacks on the Sea Islands of South Carolina. Forten forged a friendship with Robert Gould Shaw, the commander of the all-black 54th Massachusetts Infantry. In her diary she recounted the courageous efforts of the 54th's storming of Fort Wagner on the night of July 18, 1863. Forten also met Harriet Tubman. She described her own reaction to the meeting: "My own eyes were full as I listened to her—the heroic woman!"

Forten's role in the community reached beyond education. Forten was a song leader, storyteller, nurse, Sunday school teacher and companion to the elderly. She was one of the few northern black teachers to chronicle her time on the islands. The Atlantic Monthly published her work, "Life on the Sea Islands," in May and June of 1864.
After the war, Forten taught in Boston and Charleston, SC. In 1872, she moved to Washington, DC, where she taught at a preparatory school later known as Paul Laurence Dunbar High School. One year later she became a clerk in the Treasury Department. At 41 years old, she married the Reverend Francis J. Grimké, a former slave and minister of DC's Fifteenth Street Presbyterian Church. They had one child who died in infancy. The couple moved to Florida for a short time, but returned to DC in 1889. In 1896, Forten helped found the National Association of Colored Women. Throughout the 1890s, she published poems about DC, for example "At the Home of Frederick Douglass" and "The Corcoran Art Gallery." Forten remained active in the civil rights movement until her death on July 23, 1914. The brick townhouse where Charlotte Forten Grimké lived stands as a testament to her formative role in the early civil rights movement.
Sources: 
Stevenson, Brenda, ed. The Journals of Charlotte Forten Grimké. New York: Oxford University Press, 1988. 
Turkel, Stanley. Heroes of the American Reconstruction: Profiles of Sixteen Educators, Politicians and Activists. Jefferson, N.C.: McFarland and Company, Inc., 2005. 
National Historic Landmark Nomination of the Charlotte Forten Grimké House
National Historic Landmarks (NHLs) are historic places that possess exceptional value in commemorating or illustrating the history of the United States. The National Park Service's National Historic Landmarks Program oversees the designation of such sites. There are just over 2,500 National Historic Landmarks. All NHLs are also listed in the National Register of Historic Places.
Last updated: March 19, 2019