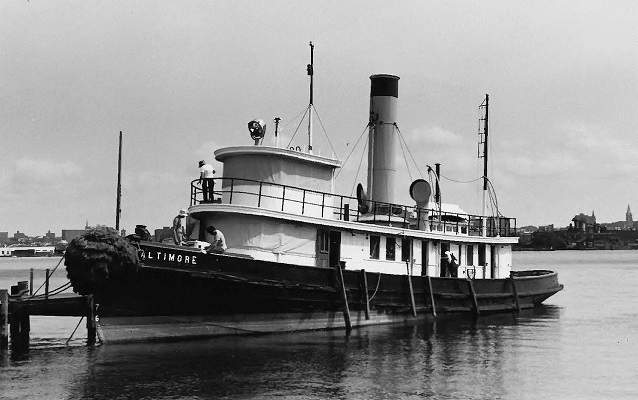 Quick Facts
Location:

Baltimore Museum of Industry, Baltimore, MD

Significance:

The Baltimore is the oldest operating steam-powered tugboat.

Designation:

National Historic Landmark

OPEN TO PUBLIC:

Yes

MANAGED BY:
Located on a harbor, the city of Baltimore relied on boats and ships to bring goods and people in and out of the region. Until the 1800s, maritime vessels relied on the wind to move through the water. Steam-powered tugboats became prominent in the early to mid-1800s, making it easier to bring ships into the harbor.
The Baltimore, a steam-powered tugboat, was built in 1906. It towed large barges and workboats into the harbor and helped break up ice during the winter months. The tugboat even carried school groups and VIP visitors on tours around the city.
In 1922, the Baltimore was damaged when a ship capsized on top of it. The vessel was repaired and eventually sold to private owners. The steam tug once again needed restoration when she sank in fifteen feet of water in the spring of 1979 as a result of thawing ice. The newly formed Baltimore Museum of Industry raised the tugboat using two floating cranes.
The Baltimore is the oldest operating steam-powered, coal-fired tugboat in the country. Now a National Historic Landmark, the tugboat was gifted to the Baltimore Museum of Industry where it is docked today. Skilled and dedicated volunteers continue to care for and preserve the vessel.
Stroll along the docks and see the Baltimore in its restored state. While you're in the area, check out the Baltimore Museum of Industry and explore the city's industrial history.
Return to the Travel Baltimore main page.
Sources:
https://www.nps.gov/nhl/find/statelists/md/Baltimore.pdf
http://www.thebmi.org/exhibitions-collections/permanent-exhibitions/steam-tug-baltimore/