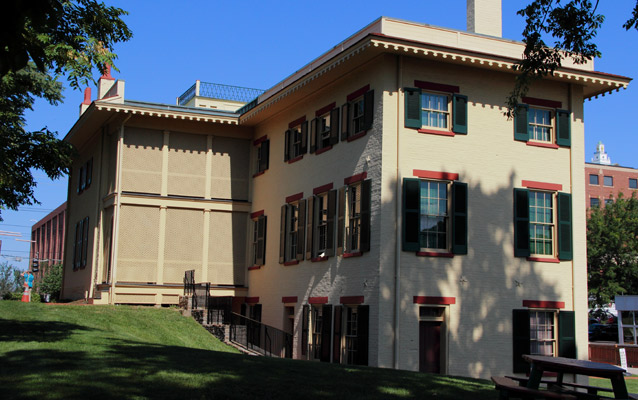 Quick Facts
Location:

Cincinnati, Ohio

Significance:

Birthplace of the nation's 27th President & 10th Chief Justice

Designation:

National Historical Site & National Historic Landmark

OPEN TO PUBLIC:

Yes
The Taft family house was built in two phases.  The original section of the house was the front portion of the house, constructed in essentially a two-story, squared shape, facing Auburn Avenue.  It was completed in 1840.  Eleven years later, Alphonso Taft, William Howard's father, purchased the house for he and his expanding family.  Not long after purchasing the house and additional property around it, he began expanding the home by adding the portion on the house's eastern side, transforming the house into an "L" shape.  The new rear section followed the contour of the land and added a level to the overall plan.
On September 15, 1857, William Howard Taft was born.  He and his siblings were raised in the home as the family played host to many social and political friends and events in the large house.  William would wind up leaving the family home when he entered Yale University in 1874.  The home would still house the Taft family for several more years, until 1889 when Alphonso and his wife moved to San Diego due to his declining health.
The Taft family attempted to sell the home several times after Alphonso's death in 1891 but it wasn't until 1899 that his widow did sell the house.  Years would go by with the home changing hands a few times until the National Park Service became involved in plans to set aside the house and property as a National Historic Site in the 1960's.  Together, with William Howard Taft's son, Charles Taft, the home would finally be set aside and protected on December 2nd, 1969 when President Richard Nixon signed the legislation authorizing William Howard Taft National Historic Site. 
Read the story of how the Taft family home became a National Historic Site in the park's Administrative History book.