Place
Benjamin Banneker and the Boundary Stones of the District of Columbia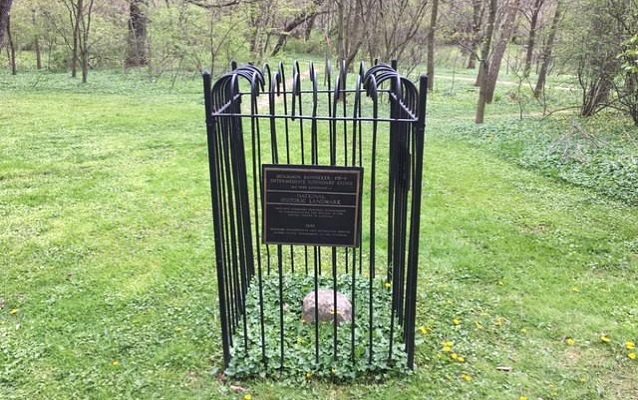 Location:
Arlington, Virginia
Designation:
National Historic Landmark
View yon majestic concave of the sky! Contemplate well, those glorious orbs on high— There Constellations shine, and Comets blaze; Each glitt'ring world the Godhead's pow'r displays!
-Banneker's Almanac for 1794
Benjamin Banneker was one of the most famous black men in colonial America. He was a farmer, a mathematician, an inventor, an astronomer, a writer, a surveyor, a scientist, and a humanitarian. When he surveyed the city of Washington with Major Pierre Charles L'Enfant, Banneker became one of the first black civil servants of the new nation. Along with a team, Banneker identified the boundaries of the capitol city. They installed intermittent stone markers along the perimeter of the District. The SW-9 Intermediate Boundary Stone of the District of Columbia, located in Arlington, Virginia, is still in place. The east side of the stone bears the engraving, "Virginia" and the north side, "1791," the year Banneker helped survey the city.
Benjamin Banneker was born free in 1731. He spent most of his life in Baltimore County, Maryland, where his grandparents settled in the seventeenth century. He attended school long enough to acquire basic knowledge of reading and writing. He excelled at mathematics. When he was old enough to work, Banneker quit school to help his father farm tobacco. He continued to teach himself, often borrowing materials from his friend George Ellicott, a white Quaker neighbor with professional surveying books and instruments.
In 1753, Banneker constructed one of the first entirely wooden clocks in America. He was also an avid reader and purchased his first book, the Holy Bible, on January 4, 1763. An important event for the scientist, he wrote this date on the title page.
Banneker's scientific research led him to write one of the first series of almanacs printed in the United States. In 1791, Banneker sent a draft of his 1792 almanac to then Secretary of State Thomas Jefferson, who responded by praising the text. Banneker used the correspondence to gain publicity for his publications.
In 1789 President George Washington gave personal orders to erect forty stones to mark the boundary of the intended capital city. In 1791, he appointed Major Andrew Ellicott to survey the new Federal City. In search of skilled assistants, Ellicott asked his cousin, George, to join his team. George declined, but recommended his friend Benjamin Banneker, who accepted the position. Already familiar with Banneker, Thomas Jefferson approved the appointment. In February 1791, Banneker left his 100-acre farm to mark the seat of the new nation. Despite the climate of a nation founded on race-based slavery, Banneker served as an official assistant surveyor and applied his self-taught expertise. In doing so, he defied extraordinary social barriers.
Shifting weather conditions, long hours and precarious terrain made the surveying slow and difficult. After the team completed their calculations, Major Pierre Charles L'Enfant prepared the drawings for the city. Due to increasing health problems, Banneker returned to his farm in Baltimore County, Maryland three months into the project. He never married and lived a largely solitary life. As his health declined, he continued his astronomical studies, but reduced his farming activities. 
In the following years he wrote five more almanacs ending with astronomical predictions for 1797. The 1795 almanac featured a woodcut portrait of Banneker. Scholars in both the colonies and in Europe respected Banneker's scientific findings. Neighbors often asked him to help with their calculations or letter writing.
On October 9, 1806, Banneker died at 74 years old and was buried in the family graveyard. The day of his burial, his home caught fire. The flames consumed most of Banneker's possessions, including the wooden clock he had fashioned forty years earlier.
Today an iron fence surrounds the SW-9 Intermediate Boundary Stone, which is approximately 15 inches tall. It is a sandstone slab one foot square. With few places left associated with Banneker, this boundary stone goes far beyond marking the former borders of Washington, DC. It and the other remaining boundary stones also serve as monuments to the life pursuits of a self-educated man who advanced scientific inquiry in colonial America.
Source:
Bedini, Silvio A. The Life of Benjamin Banneker. Rancho Cordova, CA: Landmark Enterprises, 1972. 
National Historic Landmark Nomination of the SW-9 Intermediate Boundary Stone of the District of Columbia.
NPS Nominations of Other Boundary Stones: Northwest #4, Northwest #5, Northwest #6, Northwest #7, Northwest #8, Northwest #9, North Corner, Northeast #2 , Northeast #3, Northeast #4, Northeast #5, Northeast #6, Northeast #7, Northeast #8, Northeast #9, East Corner, Southeast #1, Southeast #2, Southeast #3, Southeast #5, Southeast #6, Southeast #7, Southeast #9, South Corner, Overview 
National Historic Landmarks (NHLs) are historic places that possess exceptional value in commemorating or illustrating the history of the United States. The National Park Service's National Historic Landmarks Program oversees the designation of such sites. There are just over 2,500 National Historic Landmarks. All NHLs are also listed in the National Register of Historic Places.
Last updated: August 11, 2017