Place
St. Philips Episcopal Church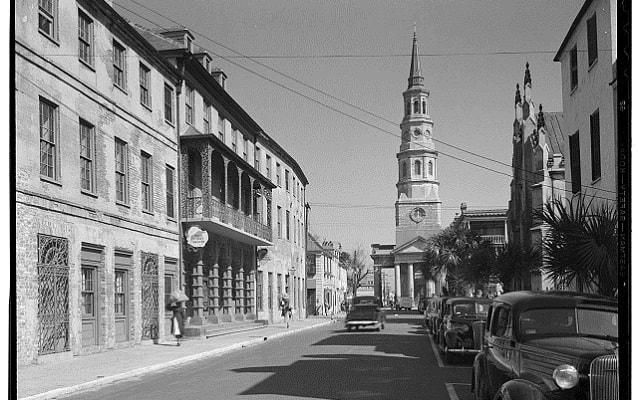 Location:
146 Church Street, Charleston, SC
Designation:
National Historic Landmark
St. Philip's Episcopal Church, a National Historic Landmark, houses the oldest congregation in South Carolina and was the first Anglican church established south of Virginia. This church is the third building to house the congregation, which was formed by Charles Town colonists. The first church, built in 1681, was a small wooden building located at the present site of St. Michael's Episcopal Church. In the early 18th century, the congregation built a second brick church at the site of the current church. It's construction was partially funded by duties on rum and enslaved Africans. After suffering from one fire that was extinguished by an enslaved man, who was given his freedom for this act, the church completely burned in 1835. The current St. Philip's was constructed from 1835 to 1838 by architect Joseph Hyde, while the steeple, designed by E.B. White, was added a decade later.

Hyde's design for the church incorporated some of the feature's of the former building, as the vestry proposed, while introducing new elements. St. Philip's, like the earlier church, extends into the center of Church Street, following the contemporary practice of parish churches in England. While planning for St. Philip's, the city proposed widening the street. A persuasive argument was made by the vestry that a steeple was more ornamental than a street. Compromising, the church was built slightly to the east, while the street curves around the projecting tower and steeple. A unique feature of the church's exterior are three separate Tuscan porticoes, one on each of its Church Street facades. Hyde added Roman columns and entablatures to the interior, as well as high Corinthian arcades and a chancel. The chancel was damaged during the Civil War, when St. Philip's steeple was used for siting during Union bombardment of the city. Bells once encased in the steeple were melted for Confederate cannon.

Many prominent people are buried in the graveyard, which is divided into two parts. The western yard was initially set aside for the burial of "strangers and transient white persons," but church members were later buried there. Several colonial Governors and five Episcopal bishops are buried here, as well as John C. Calhoun (former Vice President of the United States), Rawlins Lowndes (President of South Carolina in 1778-79), and Dubose Heyward (author and playwright). The view of Church Street punctuated by St. Philip's remains one of Charleston's most photographed spots.
Last updated: February 22, 2018