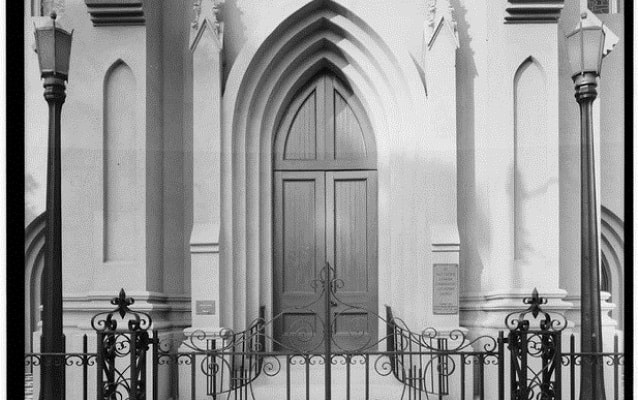 Quick Facts
Location:

405 King Street, Charleston, SC

OPEN TO PUBLIC:

Yes

MANAGED BY:
Patterned after typical German Gothic churches, St. Matthew's German Lutheran Church is a Gothic Revival church designed by local architect John Henry Deveraux and constructed between 1867 and 1872. An immigrant from Ireland, Deveraux became a noted architect in Charleston by the late 1860s. Its 297-foot steeple once made it the tallest building in South Carolina; it continues to possess the tallest spire. The congregation was founded originally by German-speaking Lutherans in 1840. Their first church was located at the corner of Hasell and Anson Streets, now St. Johannes's Lutheran church. As Charleston's German community grew quickly in the mid-19th century, so did the congregation, and the need for a larger church. Three thousand people gathered for the dedication ceremony of St. Matthew's in 1872.
In 1965, a fire destroyed much of the interior of the church and steeple, which crashed spectacularly into King Street. The damaged portions were carefully restored except for a finial on the steeple. The iron finial, designed by prominent Charleston ironworker Christopher Werner, was prohibitively expensive to replace at $500,000. The stained glass windows in the apse and under the balcony, as well as the pulpit, are original to the building. St. Matthew's is one of more than 1400 historically significant buildings within the Charleston Old and Historic District.