Place
St. Luke's Episcopal Church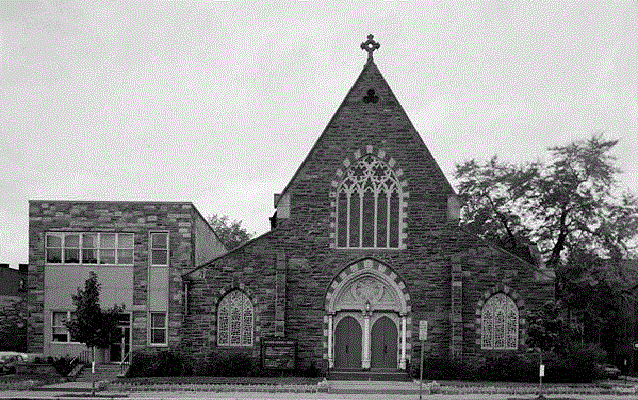 Location:
Northwest Washington, DC
Designation:
National Historic Landmark
MANAGED BY:
St. Luke's Episcopal Church
In the late 19th and early 20th centuries, St. Luke's Episcopal Church was a central hub of black education and activism in Washington, DC. In 1879, it was the first black Episcopal church established in the nation's Capital. Its rector was Reverend Alexander Crummell. A pioneer in black activism, Crummell preached that through education and hard work, black Americans could secure civil rights and economic success. The message of St. Luke's reverberated throughout the nation, influencing luminaries such as W.E.B. DuBois and Paul Laurence Dunbar.
Alexander Crummell was born in New York City in 1819. Along with their ardent abolitionist beliefs, Crummell's parents emphasized the importance of education on to their son. Crummell inherited his parents' deep religious faith, but experienced racial discrimination in his interactions with the Episcopal Church. In 1839, he was barred admission to New York's General Theological Seminary because of his race. Still, with the help of several sympathetic clergymen, Crummell became an ordained priest in 1840. He struggled to find work. In 1847, Crummell traveled to Great Britain to garner support for black civil rights. He then enrolled in Cambridge University and began to solidify his theories of Pan-Africanism, which explains the interconnectedness of black people across the world bound by kinship and social experience.
In 1853, Crummell moved to Liberia, Africa as a missionary. There he helped found a school and a church. A supporter of the American Colonization Society, Crummell became disillusioned when few American black educators and leaders answered his call to emigrate. He eventually decided to move back to the United States in 1872.
Back in America, Crummell settled in Washington, DC where there was a growing black population and a need for education. In 1873, he became rector-elect of the St. Mary's Chapel for Colored People, the black branch of the white St. John's Episcopal Church in Foggy Bottom. Following a growing trend, the black congregation wanted to break from St. John's and build their own church. Crummell's previous experience creating a church aided the fundraising process. In 1875, St. Mary's bought three acres of land for their new church, which became St. Luke's Episcopal Church. Crummell chose a gothic architectural style reminiscent of old churches he observed in England. Calvin T.S. Brent, the first professional black architect in Washington, DC, designed the sanctuary. Crummell led the first service on Thanksgiving Day, 1879. There were about 35 parishioners.

In 1895, Crummell left St. Luke's, but continued to lecture about the need for talented cadre of African-American scholars to spearhead the fight for black civil rights. In 1897, he opened the American Negro Academy (ANA) to foster black intellectual thought. Initial society members would later become influential political and cultural leaders including W.E.B. Du Bois, Archibald and Francis Grimke, Kelly Miller and Paul Laurence Dunbar.  Crummell wished to dispel the notion of black inferiority. He encouraged both sexes to enroll in industrial schools. Crummell abandoned African emigration and embraced the idea of black self-sufficiency on American soil. His teachings influenced the views of both W.E.B. Du Bois, who valued the black academic, and Booker T. Washington, who supported manual training. Crummell stressed the importance of community. His work foreshadowed Du Bois's foundation of the National Association for the Advancement of Colored People (NAACP) and the Pan-Africanism movement of Marcus Garvey.
St. Luke's became one of the most important black Episcopal churches in the nation. From here, Crummell articulated his intellectual and moral teachings both in sermons and written articles. As one of DC's oldest still-standing buildings erected for a black congregation, the church stands as a reminder of the long fight against racial discrimination and the importance of education and community in that struggle. It remains an active Episcopal congregation.
Sources:
Fitzpatrick, Sandra and Mark Goodwin. The Guide to Black Washington: Places and Events of Historical and Cultural Significance in the Nation's Capital. New York: Hippocrene Books, 2001. 
Franklin, V.P. Living Our Stories, Telling Our Truths: Autobiography and the Making of the African-American Intellectual Tradition. New York: Scribner, 1995. 
Jones, Angela, ed., The Modern African American Political Thought Reader: From David Walker to Barack Obama. New York: Routledge, Taylor & Francis Group, 2013. 
National Historic Landmark Nomination of St. Luke's Episcopal Church
National Historic Landmarks (NHLs) are historic places that possess exceptional value in commemorating or illustrating the history of the United States. The National Park Service's National Historic Landmarks Program oversees the designation of such sites. There are just over 2,500 National Historic Landmarks. All NHLs are also listed in the National Register of Historic Places.
Last updated: August 11, 2017