Place
St. John's Lutheran Church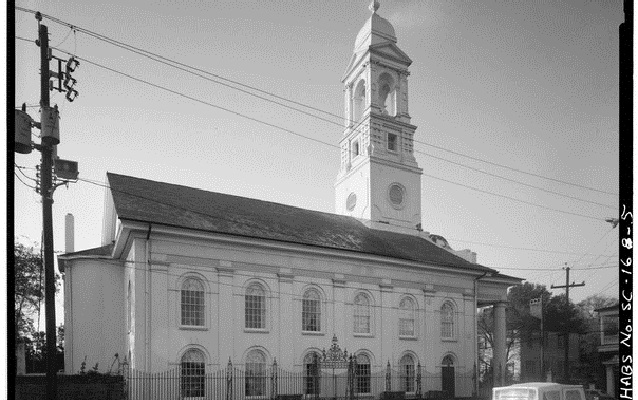 Location:
5 Clifford Street, Charleston, SC
St. John's Lutheran Church houses Charleston's oldest Lutheran congregation. Built from 1816 to 1818, the design of the church is attributed to well-known Charleston architect and church member Frederick Wesner. Numerous other Charleston craftsman and builders contributed to its design and construction. The rectangular, stuccoed brick building combines Federal and Baroque elements. The Italianate steeple with bell-shaped roof was not added until 1859, and was built by David Lopez, contractor for the Kadal Kadosh Beth Elohim Synagogue. While it is not clear who designed the steeple, famous miniaturist and architect Charles Fraser submitted several steeple designs to the church prior to its construction. The church was damaged in the Charleston earthquake of 1886 and the 1891 hurricane, after which a recessed chancel with memorial windows was also added. The church also was damaged by Hurricane Hugo in 1989 but has been restored.

The first Lutheran congregation had been formally organized in Charleston by 1752, and their first building dedicated by 1764. This wooden building with a steeple stood behind the site of the current church on Clifford Street, which was known in 1788 as "Dutch Church Alley." The pastor of the church during the American Revolution, Reverend John Nicholas Martin, was expelled from the city by the British as he refused to pray for the King of England. Dr. John Bachman, from Rhinebeck, New York, became St. John's pastor in 1815, and directed the construction of the current church. He led the organization of the South Carolina Synod, the Lutheran Theological Southern Seminary, and Newberry College and trained the first black ministers in Lutheranism. Bachman was pastor until 1874, including the tumultuous years surrounding the Civil War. While reluctant to see South Carolina secede from the Union, Bachman also believed that the southern cause was just, and made the opening prayer at the Secession Convention. Two of Bachman's daughters married sons of John James Audubon, with whom he collaborated on the famous books Birds of America and The Quadruped of North America. St. John's is one of more than 1400 historically significant buildings within the Charleston Old and Historic District.
Last updated: February 15, 2018