Place
St. Charles Historic District, Missouri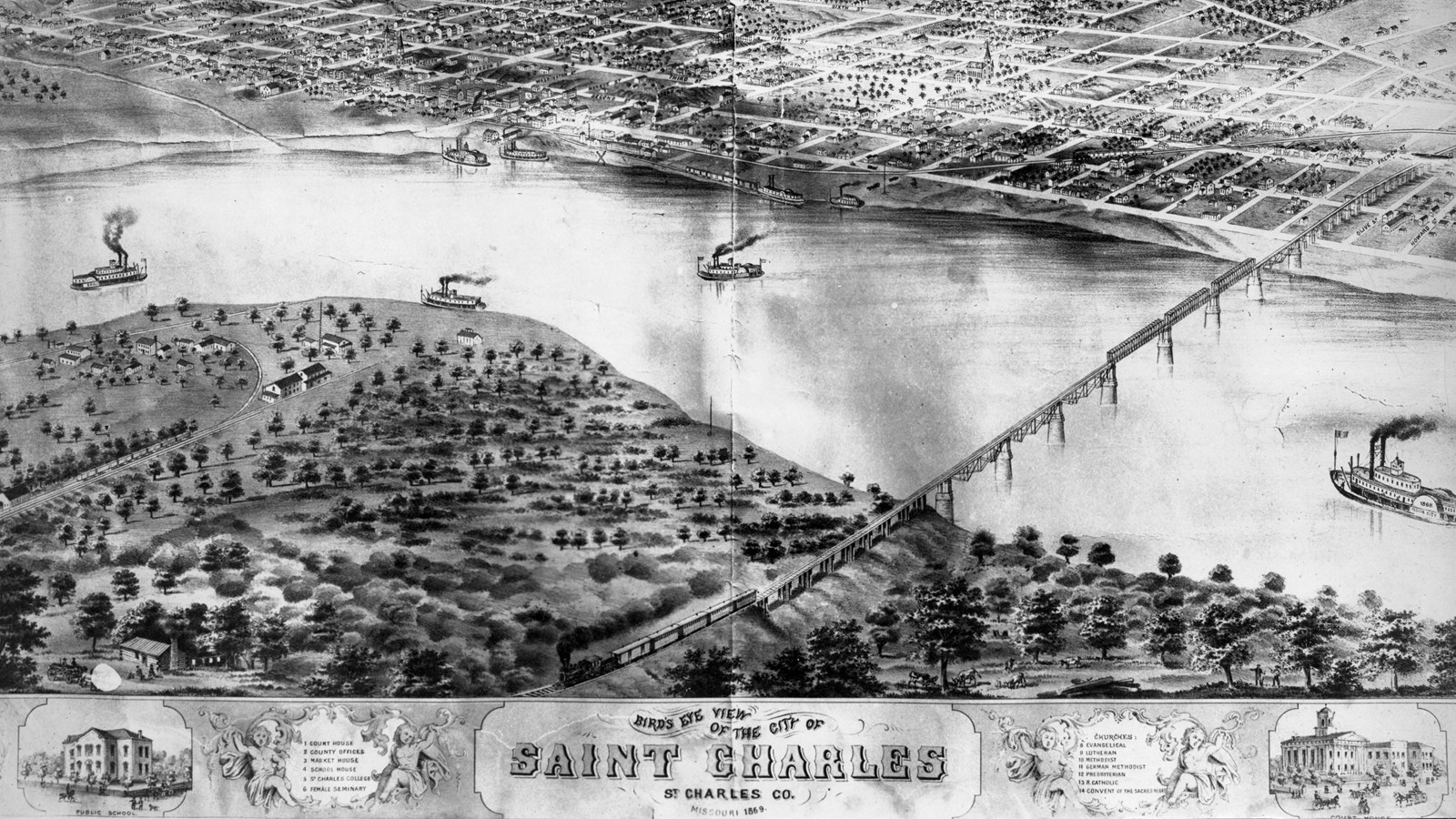 Location:
1050 S Riverside Dr, St Charles, MO 63301
Significance:
Several French-Canadian and Métis boatmen joined the Lewis and Clark Expedition in St. Charles in 1804.
Designation:
Lewis and Clark National Historic Trail, National Register of Historic Places
Accessible Rooms, Beach/Water Access, Benches/Seating, Gifts/Souvenirs/Books, Historical/Interpretive Information/Exhibits, Parking - Auto, Restroom - Accessible, Restroom - Family, Wheelchair Accessible
Lewis and Clark NHT Visitor Centers and Museums
Visitor Centers and Museums along the Lewis and Clark National Historic Trail
After departing Camp Dubois, William Clark led the expedition twenty miles upriver to St. Charles, where they waited for Meriwether Lewis.  
St. Charles was the last major European-American settlement on the Missouri River. The village consisted of about a hundred houses inhabited by mostly French-Canadian settlers. There were also Osage and Kickapoo towns nearby. According to Clark, when the boats arrived in St. Charles about noon on May 16 "a number Spectators french [sic] & Indians flocked to the bank to See the party." The group remained in St. Charles until Lewis arrived on May 20.  
While in St. Charles, the captains hired about a dozen mostly French-Canadian boatmen, or engagés, including Pierre Cruzatte and François Labiche. Many of the engagés had traveled and traded on the Missouri. They knew the river and could help navigate its trickier sections. Cruzatte, who Clark called "our principal waterman," was especially skilled at reading river waters and saved the party from disaster on many occasions. 
The engagés also served as hunters and interpreters. Cruzatte and Labiche were Métis, people with both Indigenous and European, mainly French, heritage. Cruzatte and Labiche each had a French-Canadian father and an Omaha mother. They spoke multiple languages and had first-hand knowledge of many of the Indigenous communities along the river.  
For example, Labiche had experience trading with Otoe communities and spoke some Chiwere, the Siouan language spoken by Otoe people. When the expedition encountered a group led by the Otoe leader We 'ar ruge nor (Little Thief), Labiche served as an envoy and interpreter. Cruzatte, Labiche, and the other French and Métis boatmen helped to ensure the success and safety of the expedition from beginning to end.

About this article: This article is part of series called "Pivotal Places: Stories from the Lewis and Clark National Historic Trail."
Last updated: February 17, 2023