Place
SS Jeremiah O'Brien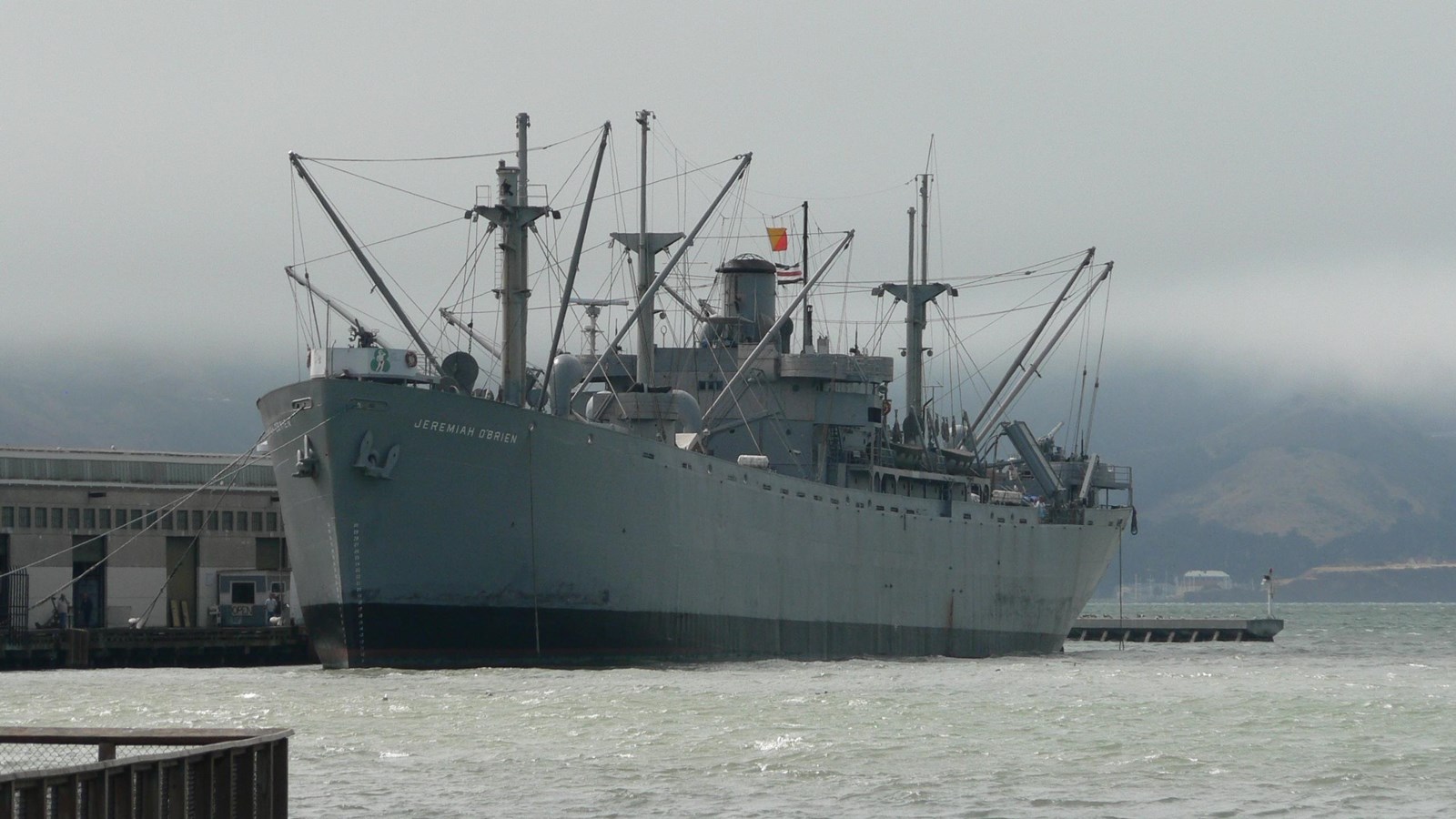 Location:
Pier 45, at the foot of Taylor St., in San Francisco.
Designation:
National Historic Landmark
Launched on June 19, 1943 from South Portland, Maine, where the ship was built at the West Yard of the New England Shipbuilding Corporation, the SS Jeremiah O'Brien is the sole survivor of the 6,000-ship armada that stormed Normandy on D-Day, 1944. It is one of two extant Liberty ships of the 2,751 in service during World War II. Liberty ships were usually manned by quickly-trained merchant seamen. The standard Liberty ship, including the SS Jeremiah O'Brien, was 441 feet and six inches in length, with a beam of 56 feet, gross tonnage about 7,176 and displacement tonnage 14,300. Named for the first American to capture a British naval vessel during the Revolutionary War, the O'Brien made seven World War II voyages, ranging from England and Northern Ireland to South America, to India and Australia. The vessel also made 11 crossings of the English Channel carrying personnel and supplies to the Normandy beaches in support of the D-Day invasion. After the war, the O'Brien was "mothballed" and laid up in the Reserve Fleet at Suisun Bay, north of San Francisco.

Thirty-three years later, skillful maneuvering by a U.S. Maritime Administration official (himself a former Liberty ship sailor) saved the O'Brien from the scrap yard. In 1979, following dry-docking, generous donations of money and supplies by numerous individuals and companies and thousands of hours of restoration work by her volunteer crew, the old ship entered service on San Francisco Bay in like-new condition. She is a steaming memorial to the seamen of the U.S. Merchant Marine who served on Liberty ships in World War II, to their Navy gun crews and to the civilian men and women who built the largest single class of ships in history.

In 1994 the O'Brien, in what was to be an epic eighth voyage, steamed through the Golden Gate, down the west coast, through the Panama Canal, and across the Atlantic to England and France, where the O'Brien and its crew (a remarkable collection of old salts whose average age was 70 and a few cadets from the California Maritime Academy), participated in the 50th Anniversary of Operation Overlord--the Allied invasion at Normandy that turned the tide of World War II in Europe.

SS Jeremiah O'Brien, a National Historic Landmark, is permanently moored at Pier 45, at the foot of Taylor St., in San Francisco. 
Discover more history and culture by visiting the World War II in San Francisco Bay Area travel itinerary.
Last updated: September 3, 2020