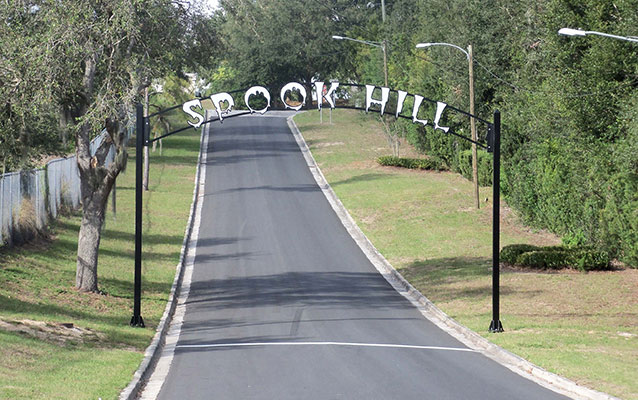 Location:
North Wales Drive between Burns Avenue and Spook Hill Elementary, Lake Wales, Florida
Significance:
Entertainment/Recreation
Designation:
Listed in the National Register – Reference number 100003585
MANAGED BY:
City of Lake Wales, Florida
"SEE! THE SPIRITS BATTLE TO THE DEATH!" - Advertisement for Spook Hill

Spook Hill, located in Lake Wales, Florida, is classified as a type of optical illusion commonly referred to as a gravity hill. A gravity hill optical illusion presents visitors with the feeling of driving uphill when they are truly going downhill,  According to psychological science researchers Paola Bressan, Luigi Garlaschelli, and Monica Barracano, gravity hills, also commonly known as spook hills, "are natural places where cars put into neutral are seen to move uphill on a slightly sloping road, apparently defying the law of gravity. Typically, the "spooky" stretch of road is rather short (50-90 m), only a few meters wide, and surrounded by a natural hill landscape, without nearby buildings." This description fits the Spook Hill site. Visitors are asked to stop and put their cars in neutral at a spot that is a large sloping hill which blocks the visitor's view of the horizon. The site is not completely undeveloped, with Spook Hill Elementary School visible to the southwest, and a housing development to the east, but the overall sense of place is defined by an uninterrupted view of trees and sky, especially if the visitor chooses to stay looking forward. 

Starting around 1950 Spook Hill became a significant local tourist attraction. The site was well-suited to the post-Second World War automotive age. Since nearly every visitor to Spook Hill would have been in an automobile, roadside attractions would have been an especially appropriate service to advertise, especially ones within driving distance. Expressed through signage, advertising brochures, and even a locally-produced play, the legends of Spook Hill are an excellent example of the craft of legend-building applied to a local tourist attraction. With an expansive lore consisting of a series of narratives which increasingly connected the site to the pivotal aspects of Florida history, the stories of Spook Hill show the ways that successful branding imbued a site with increased meaning and appeal.  One legend explains that a Florida pirate (Captain Sasparilla) is buried at the hill and pushes cars away. Another legend claims that the spirit of a giant alligator inhabits the area. The veracity of these claims have yet to be verified. The site's history also demonstrates the connections between Lakes Wales' mid-century tourist attractions and other local businesses, a synergistic relationship characterized by sponsorships, advertising, and printed materials.
 
Last updated: October 17, 2019