Place
South Carolina Society Hall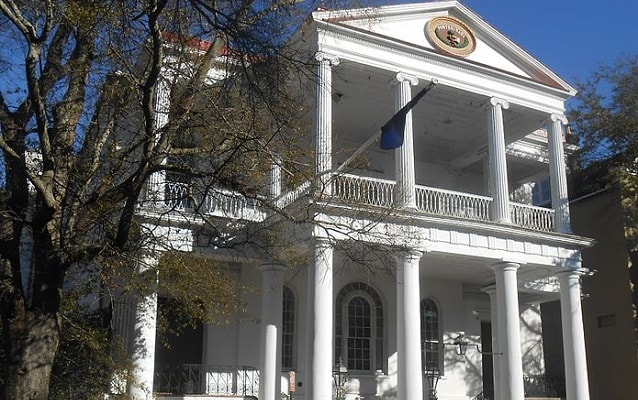 Location:
72 Meeting Street, Charleston, SC
The South Carolina Society Hall is considered one of Charleston's most valuable Adamesque buildings. Built in 1804, the Hall was designed by Charlestonian Gabriel Manigault, a gentleman architect who introduced the Adamesque style to the city after studying in Europe. Manigault's design for the Society's headquarters, of which he was a member, consisted of a two-story brick building on a very high basement, covered with stucco. The first floor contained three rooms used for billiards, a small school the society operated, and quarters for the schoolmaster. A large meeting room and ballroom occupied the second floor. The meeting room also contained a small musician's gallery and a decorative Palladian window, while the ballroom was ornamented with a Neoclassical canopy. In 1825, the portico with Doric and Ionic orders, designed by prominent local architect Frederick Wesner, was added along with the brownstone stairs and iron railings. As a result of damage to the building during the Civil War and the 1886 earthquake the interior was renovated during the Victorian period.

The South Carolina Society was first organized in 1737, mainly by French Huguenot businessmen and artisans. It was originally named "The Two Bit Club," as members agreed to weekly dues of two bits, or 15 pence, to the relief of a French Huguenot tavern owner. Later the benevolent association established schools for orphans and indigent children. The Society now donates scholarships to the College of Charleston. The Society still uses the Hall, along with the St. Andrew's Society. The South Carolina Society Hall is one of more than 1400 historically significant buildings within the Charleston Old and Historic District. 
Last updated: February 20, 2018