Place
South Carolina: McCrory's Five and Dime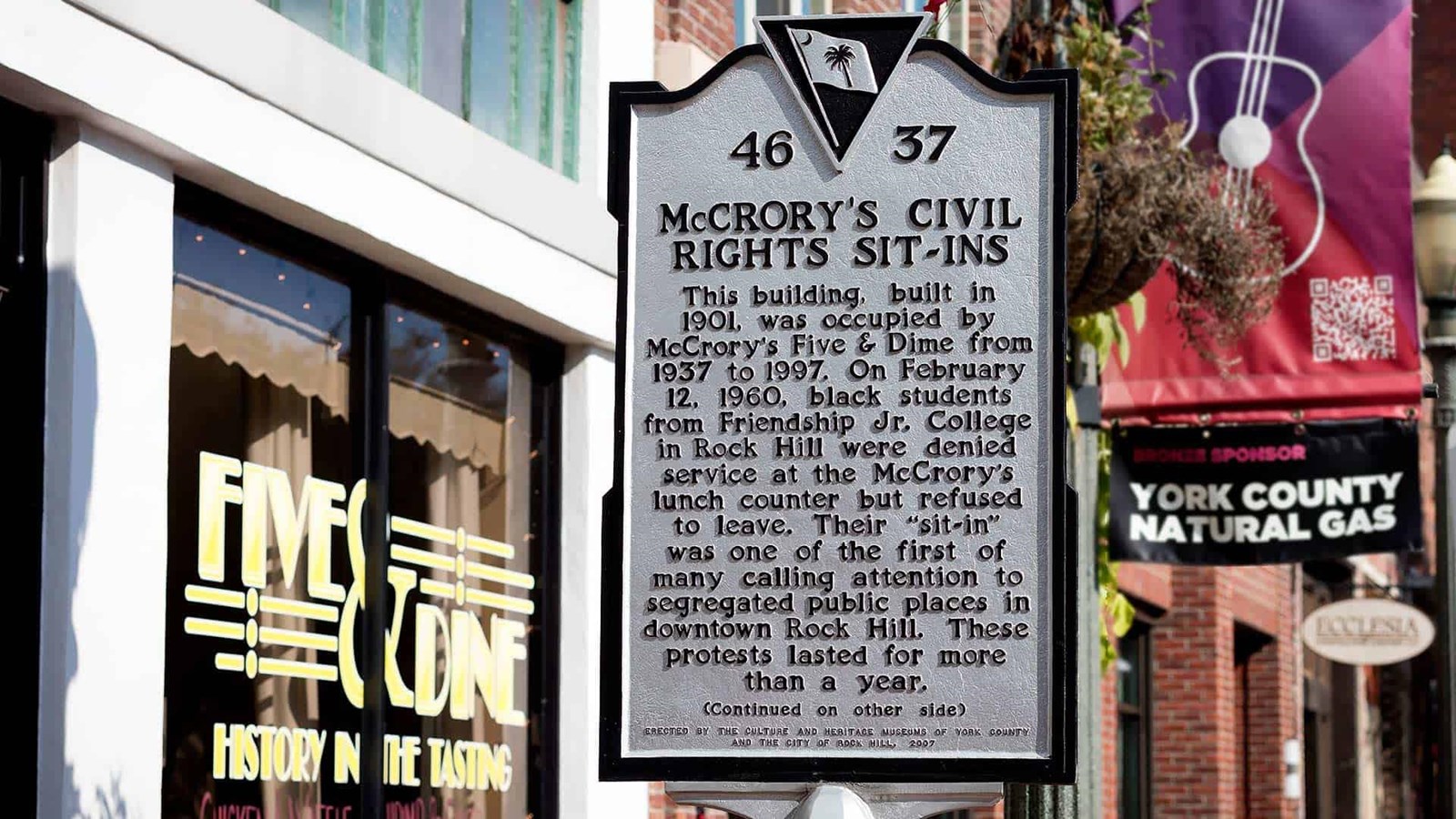 Location:
Rock Hill, South Carolina
Located in the downtown area of Rock Hill, South Carolina, McCrory's Five and Dime began operation in 1937. Originally built in 1901 and operated as the Rock Hill Supply Company, the structure was designed by local architect Hugh White, along with contractor A.D. Holler. The building's first floor was home to McCrory's, which at the time was a national chain of five and dime stores. Patrons could expect to find souvenirs, clothing, snacks, and other items of convenience when shopping the local chain. Each store included lunch counters, where hot meals were prepared for customers. This quickly became one of the store's main attractions. However, McCrory's prohibited African Americans from sitting at lunch counters to enjoy their meals. For African Americans, access to hot food was limited to take-out orders only.

A watershed moment in history occurred on February 1, 1960. Four African American students from North Carolina Agricultural and Technical State University of Greensboro, N.C., held a sit-in at a segregated Woolworth's store. The students sat at the lunch counter, which similarly to McCrory's, prohibited African Americans to take-out orders only. Ezell Blair Jr., David Richmond, Franklin McCain, and Joseph McNeil came to be known as the "Greensboro Four". Inspired by the stand for equality displayed by their Carolina neighbors, Black students at Friendship Junior College, a predominantly African American institution in Rock Hill, planned their own demonstration. 

Sit-in demonstrations kicked off on February 12, 1960, with an estimate of 100 Friendship students participating. The sit-ins split between Woolworth's, Good Drug Company, J.L. Phillips "Rexall" Company, and McCrory's store. Each store denied Black patrons the right to dine-in, and instead opted to close business for the day. The following day, stores opened for business with the omission of lunch counter use for two weeks. This continued until February 23, when counters reopened. To the dismay of store owners, Black students resumed their sit-in, which continued for nearly a year.

A climatic point occurred on January 31, 1961, with protests outside the McCrory building. Eighteen student protesters marched, carrying signs. Congress of Racial Equality leader, Thomas Gaither, along with nine Friendship College students, entered the store and took their seats. The nine Friendship students, Charles Taylor, Willie McLeod, James Wells, Clarence Graham, David Williamson, Robert McCullough, Mack Workman, Willie Massey, and John Gaines, were arrested. The next day, ten protestors were tried on the charges of trespassing. The protestors were represented by civil rights attorney Ernest A. Finney, who later became a South Carolina Supreme Court Justice. Each student was forced to either pay a $100 fine or serve thirty days labor at the York County Prison Farm. Some chose to carryout their days on the Prison Farm, as $100 was more than they could afford. Their sentences began on February 2 of that year.

Despite efforts by Rock Hill officials, the protests at McCrory's become a nationwide story. The original nine protesters become known in the national press as the "Friendship Nine",  reminiscent of the "Greensboro Four". This inspired another movement known as the "Jail no Bail" protest. Prior to the "Friendship Nine" accepting their charges from McCrory's, most posted bail when they could. As an act of solidarity, protestors had begun instead serving out their sentences. For protestors, this was an opportunity to continue the fight for equality in the most nonviolent manner. Further demonstrations and arrests followed in Rock Hill and throughout the United States, spurring national politicians to pass the 1964 Civil Rights Act, which desegregated public accommodations such as five and dime stores like McCrory's, along with department stores, restaurants, bus terminals, and government buildings. McCrory's Five and Dime store of Rock Hill, South Carolina is listed in the National Register of Historic Places. As of June 2021, the site became part of the African American Civil Rights Network.

The African American Civil Rights Network recognizes the civil rights movement in the United States and the sacrifices made by those who fought against discrimination and segregation. Created by the African American Civil Rights Act of 2017, and coordinated by the National Park Service, the Network tells the stories of the people, places, and events of the U.S. civil rights movement through a collection of public and private elements.
Last updated: July 2, 2021