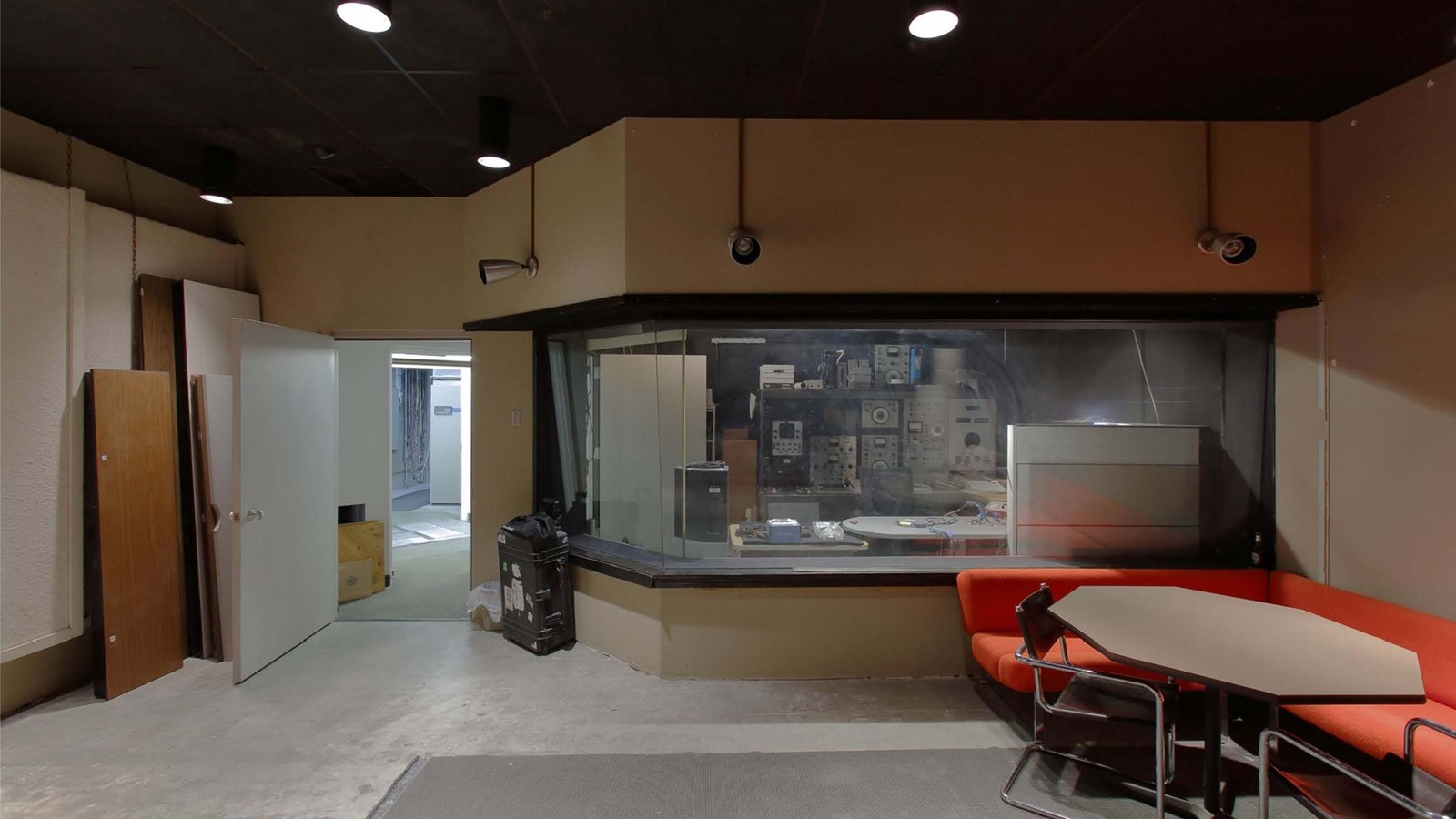 Location:
2709 East 25th Street, Minneapolis, Minnesota
Significance:
Performing Arts
Designation:
Listed in the National Register of Historic Places, ref# 100005399
The Sound 80 recording studio, built 1970-1971, is located in the Seward neighborhood of Minneapolis, Minnesota.  The minimalistic, one-story building is essentially rectangular in plan with two projecting bays angling out from the north façade at 45-degree angles. Five recording studios and support spaces are located in the rectangular portion of the building and offices are located in the projecting bays. The interior of the building is also minimalistic to accommodate the performance and recording functions. The interior walls are constructed of acoustic materials that reduce noise transmission. The studios also feature acoustic ceiling tiles and sound locks with sound retardant doors, and plate glass windows separate the live rooms from associated control rooms.
During the 1970s and early 1980s, Sound 80 was widely recognized as the top recording location in the Twin Cities, and amongst the best recording studios in the nation. Using the latest in acoustic engineering to design the studio spaces; investing in top recording and musical equipment; and employing technical experts in the areas of composition, recording and editing, the studio quickly gained a local and national reputation for excellence in recording. The state-of-the-art facility drew internationally famous artists, such as Bob Dylan (portions of
Blood on the Tracks
, 19759) and Cat Stevens (portions of
Izitso
, 1977), along with a diverse array of local musicians ranging from folk artist Leo Kottke, to the R&B/funk bands The Lewis Connection and  94 East  to the disco/funk group, Lipps, Inc., which included a single that would become the first Number One hit recorded in Minneapolis, "Funkytown."
A young Minneapolis musician, Prince Rogers Nelson, spent time at the studio in 1977, honing his studio engineering expertise while writing, engineering, producing and playing all the instruments and singing on his demo tapes that landed him a major recording contract in 1977 just after his nineteenth birthday. He also provided backing vocals and instrumentals on The Lewis Connection's song "Got To Be Something Here" and two 94 East singles. Performing only under his first name as a Warner Bros. recording artist, Prince returned to the studio in September of 1977 to begin recording his debut album,
For You
.
Sound 80 was founded by Herb Pilhofer and Tom Jung. Pilhofer and Jung were working at the Kay Bank studio, which did draw some top talent, but the studio had a lot of challenges. Frustrated by the unwillingness of Kay Bank's owner to upgrade to better equipment, Pilhofer pitched the idea to Jung about starting their own studio. Jung insisted that he be able to hire the technical experts he wanted to staff the studio. Pilhofer agreed, saying his only criteria was: "to build the best damn recording studio in the world, and do it in Minneapolis."
The new business wanted a catchy name. Sound 80 was suggested to Pilhofer by his advertising friend Brad Morrison, who also named Hormel's Cure 81 ham. "The number didn't mean a thing", Pilhofer later explained. Eighty just sounded right and it looked good."  In 1969, Sound 80, Inc. hired Minneapolis-based architect Douglas A. Baird and nationally renowned acoustical engineer Robert Hansen to design their dream studio.  The foundation for building was permitted on July 6, 1970 and the studio opened in early 1971.  The Sound 80 team's dream of building "the best damn studio" had come to fruition, and they let the world know about it through a full page advertisement in the international music trade publication,
Billboard Magazine
.
The studio's most secure income stream came from Pilhofer's corporate clients, such as 3M, General Mills, Exxon, American Motors, and Northwest Orient Airlines, for whom he composed music for advertisements.
PRINCE
Prince Rogers Nelson, who performed under only his first name or, for a seven-year period between 1993 and 2000, under his Love Symbol, was a local Minneapolis musical prodigy. He mastered the piano by age eight, song writing a few years later, taught himself the guitar and formed a band in his early teenage years, and began learning studio recording techniques in 1976. Owen Husney, a music and advertising industry executive in Minneapolis, who became his first manager, set up time for Prince to record demo tapes at Sound 80.
Between approximately December 1976 and April 1977, Prince worked at Sound 80 to record his demo tapes with no backup band. He sang all of the parts and played all the instruments himself. Prince asked Pilhofer and Jung if they would sign him to a recording contract.
Prince signed a contract with Warner Bros. on June 25, 1977. The state-of-the art equipment and professionalism at Sound 80 provided Prince with the tools he needed to demonstrate his remarkable musical abilities to the world and to launch his career to the next level. As to be expected, Warner Bros. wanted the young, untested artist to work with a seasoned producer and suggested Maurice White of Earth, Wind & Fire fame or his brother Verdine to mentor Prince and help produce the album. Warner Bros. did not doubt Prince's musical and studio abilities, but they wanted someone with "record sense" to be involved. Prince rejected the notion, saying that Earth, Wind & Fire's horn heavy music did not align with the musical aesthetic he was trying to create. He feared too much involvement from others could regulate his music to an R&B audience instead of the crossover to white audiences he sought. Prince confronted Warner Bros., saying, "Don't make me black. My idols are all over the place." A compromise was eventually reached. After putting Prince through the wringer and having him produce numerous demos to further demonstrate his ability to compose, perform, record and engineer the music on his own, they agreed to let him produce the album, making him the youngest producer ever for Warner Bros. at the time. However, they insisted on the involvement of veteran engineer Tommy Vicari, who previously worked with Santana, one of Prince's many idols.
Prince described his studio process at the time to Insider magazine:
For me, there's nothing like working in a recording studio. It's satisfying. It's like painting. You begin with a conception and keep adding instruments and laying tracks down. Soon, it's like the monitors are canvases. The instruments are colors on a pallet, the mikes and board are brushes. I just keep working it until I've got the picture or rather the sound that I heard inside my head when it was just an idea.
Prince would go on to international success and stardom in the 1980s, and was the principal architect of "the Minneapolis Sound," a blending of R&B, jazz, funk, new wave, punk, and rock 'n' roll. Prince's exposure to R&B, funk, and rock growing up in Minneapolis, along with his integration of music trends (punk and new wave) in the late 1970s and early 1980s, led to his development of a new musical genre that defined the sonic landscape of the 1980s.
Prince is cited as a major influence by wide-ranging artists today, such as Lizzo, Lady Gaga, Questlove, D'Angelo, Brittany Howard, Beck, Janelle Monáe, and St. Vincent. Over his career, Prince sold over 100 million records worldwide, received an Oscar for Best Original Song Score for the music in Purple Rain, and won seven Grammys, two for Purple Rain. Prince's discography consists of thirty-nine studio albums, five soundtrack albums, four live albums, five compilation albums, seventeen video albums, and twelve extended plays, plus a collection of hundreds, if not thousands, of unreleased songs, videos, and other recordings. Prince was a spectacularly prolific artist, collaborator, music, and business innovator. He left a lasting legacy on music, culture, and the recording industry.
Digital Recording 
Sound 80 was at the forefront of digital recording. Digital afforded a purer sound capture, since the audio is transferred to tape as binary data, meaning it is not subject to distortions such as hiss/noise and the sound distortion caused mainly by irregularities in tape drive speeds during recording or reproduction. Minnesota-based company 3M, in partnership with the British Broadcasting Company, developed one of the earliest digital multi-tracking systems and, in 1978, they chose Sound 80 as the studio to test their first two-track (stereo) prototype. The superior sound quality generated by the system created substantial interest by musicians and other studios, leading 3M to complete development of a 32-track model later that year. As with their prototype, the company selected Sound 80 as one of the incubators for the new system. By 1980, Billboard noted how many key artists were using digital, from Bruce Springsteen to Fleetwood Mac to Barbara Streisand to Heart. The innovations in digital recording that 3M, Sound 80 and the other studios began in 1978 quickly took root in the industry and dominate it to this day. 
Other Key Recordings
Bob Dylan – Blood on the Tracks, 1974
Dylan first recorded the songs for his album, which would be titled
Blood on the Tracks
, in New York. When Dylan listened to the final acetate, he knew something was missing and that his efforts did not pay off the way he had hoped. Zimmerman (Dylan's brother) called Sound 80, and asked if they could do a session at the studio the next day, he simply said that his brother wanted to record a few songs.  
The album was widely praised and heralded at the time as Dylan returning to his roots.
Blood on the Tracks
was inducted into the Grammy Hall of Fame in 2015 and, forty years after its release, is one of Dylan's most critically acclaimed and top-selling studio albums of his career. Five songs from the Sound 80 sessions ended up on the final release of the album, including the album's highlight, "Tangled Up in Blue."
Cat Stevens – Izitzo, 1977 
Typically classified as an acoustic folk singer, Cat Stevens' 1977 release
Izitso
was a dramatic departure from his previous work, namely through the extensive use of synthesizers and electronic machines.
Lipps, Inc., "Funkytown", 1979 
In the summer of 1980, one song dominated the airwaves—"Funkytown." Recorded by Lipps, Inc. (pronounced "lip synch") in studio 2 at Sound 80 in 1979, the song combines the declining disco genre with the upcoming new-wave sound. Minneapolis based Lipps, Inc. founder, producer and musician Steven Greenberg blended black and white music of the time to "create a crossover hit that knew no musical, racial or gender barriers. "Funkytown" is not only the most commercially successful song to have been recorded at Sound 80, it is one of the most successful singles of all time. The song relied on the technology that the studio was known for—drum machines, synthesizers, and a precursor to auto-tune to robotize Northside Minneapolis-based singer Cynthia Johnson's voice in portions of the song.
During the 1970s and early 1980s Sound 80 was widely recognized as the top recording location in the Twin Cities, and amongst the best recording studios in the nation. Designed and built using the latest acoustical engineering specifically for music recording, and employing technical experts in the areas of composition, recording and editing, the studio had a local and national reputation for excellence in recording. The studio was also heavily involved in the advancement of movie sound systems and digital recording through its partnership with 3M. Utilizing Sound 80s cutting edge design and technology Prince achieved international success and stardom, and was the principal architect of "the Minneapolis Sound," a blending of R&B, jazz, funk, new wave, punk, and rock 'n' roll.
Even while these accomplishments solidified Sound 80's national reputation, by the end of the studio's first decade of operation, the end was near. Jung and Pilhofer had different visions for the studio's future. Pilhofer yearned to write and produce film scores, using every technical trick available. Jung, on the other hand, had soured on the kind of intricately engineered, multitrack, and overdubbed music that Sound 80 was so good at producing. Jung quit Sound 80 in 1981 to take a job in New York and the Pilhofer's closed the studio. Sound 80 business manager Jan Erickson purchased the business name and opened a new business in downtown Minneapolis. AVC Systems operated a professional audio contracting company from the building in the 1980s. In 1990, current owner Steve Orfield purchased the building, where he now operates Orfield Laboratories, a perceptual and analytical research laboratory.
Last updated: May 24, 2022