Place
Soldiers' Memorial Fountain and Park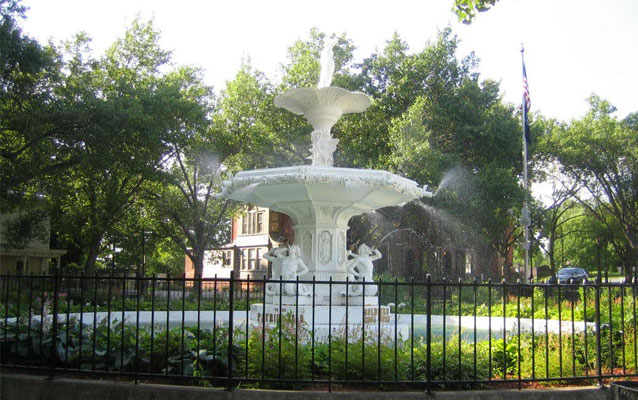 Location:
120 Market Street, Poughkeepsie, New York
Significance:
Community Planning and Development, art
Designation:
Listed in the National Register – Reference number 100000647
The Soldiers' Memorial Fountain and Park is significant for its association with local efforts to develop city parks in Poughkeepsie and to establish a Dutchess County Civil War memorial. In the years after the war, counties and communities across the country began commissioning and building monuments to local veterans and war dead. After an initial effort to fundraise for a Dutchess County war memorial stalled in 1867, Poughkeepsie community leaders banded together to purchase land for a park and memorial. They chose a centrally located but unsightly sunken wasteland on a triangular lot at the intersection of Montgomery and Market Streets. Community members helped fill and grade the land, which had previously been a trash-filled eyesore. The committee's choice to install a memorial fountain, rather than a more traditional war monument, and its decision to ultimately purchase a fountain lacking a strong military theme may reflect the committee's primary interest in creating a beautiful public park as well as a memorial. While the park was designed and completed by a coalition of private individuals, the intention was that the land serve as a public park; in 1878, the land was donated to the City of Poughkeepsie.
The fountain is additionally significant in the area of art as a rare surviving example of a Janes, Beebe & Company No. 5 cast-iron fountain based on a design by French sculptor Michel Lienard exhibited at London's Crystal Palace in 1851; the company first offered the fountain in 1855. Poughkeepsie's fountain is thought to date from this time period and is the least altered of the four known castings of "Model No. 5" still extant. In January 1870, the monument committee hired local architect J.A. Wood to design a memorial fountain. Wood's design was replaced at the last minute when a committee member discovered that a fountain cast before the Civil War was available at the Janes, Beebe & Company foundry in the Bronx. While J.A. Wood's design featured a military theme, the No. 5 fountain is capped by the Goddess Demeter and features sculptural elements with cranes, marsh plants, and water creatures. Small eagles perching on cannons were added to the fountain to offer a military reference and 24 jets were imported from Paris. The fountain was officially unveiled on July 4, 1870; the following spring, deaccessioned cannons and triangular piles of cannonballs were placed around the fountain and a stanchion and chain fence was erected.
Last updated: June 14, 2018