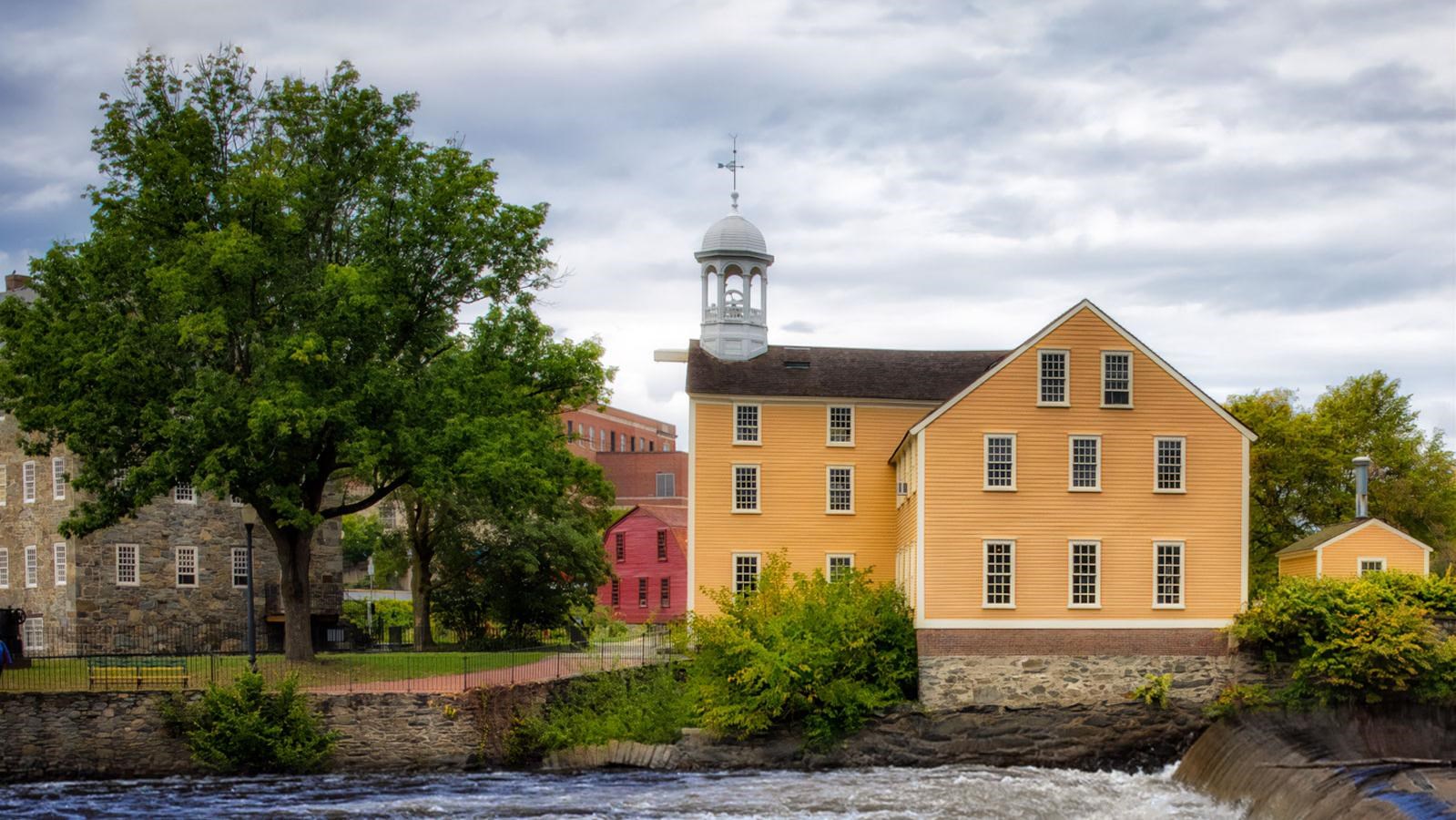 Location:
67 Roosevelt Ave Pawtucket, RI 02860
Significance:
Birth place of the American Industrial Revolution
Designation:
National Historical Landmark
Accessible Rooms, Fire Extinguisher, First Aid Kit Available, Historical/Interpretive Information/Exhibits, Information, Information - Maps Available, Information - Ranger/Staff Member Present, Information Kiosk/Bulletin Board, Parking - Auto, Picnic Table, Public Transit, Restroom, Restroom - Accessible, Restroom - Family, Scenic View/Photo Spot
Visit Old Slater Mill, the birthplace of the American Industrial Revolution. Originally constructed in 1793, this mill stands as an important reminder of the changes brought on by industrialization. It was here that Samuel Slater first successfully implemented Richard Arkwright's water-powered cotton spinning technology in America. Slater Mill is the beginning of everything from machine made goods and hourly wages, to planned communities and labor unions.
Winter Schedule:
The Park grounds are open daily from dawn to dusk. Take a self-guided walking tour of the site with the NPS Mobile App or walk the grounds and read the interpretive wayside panels. The visitor contact station is closed for the winter months.

Click here to view our calendar and see what exciting events will be available this winter.
Spring and Summer Schedule:
The mill will reopen for normal programming on Thursday, May 11, 2023.

Visitor Contact Station: Open Thursdays - Sundays, 10:00 A.M. - 4:00 P.M.
Watch an 8-minute video, learn more about the Park, or earn your Junior Ranger badge. Park staff are available to answer questions. Bathrooms and drinking water are available.
The Visitor Contact Station is located inside of Old Slater Mill.

Guided Tours: 10:30 A.M., 12:30 P.M., and 2:30 P.M.
Join a Ranger for a tour of Old Slater Mill. These 30 - 45 minute programs talk about the the legacy of the Industrial Revolution in America's first cotton-spinning mill. Tours leave from the patio in front of Old Slater Mill.
The mill is accessible but does have uneven floors. Special accommodations can be made by contacting 401-725-8638.

First Fridays (June - October):
Join us for special evenings at Old Slater Mill. On the first Friday of the month (June 2, July 7, August 4, September 1, and October 6), the mill will be open late with special programming. Concerts, movie nights, special tours and more are offered on the first Friday evenings of the month from June to October.
Last updated: February 23, 2023