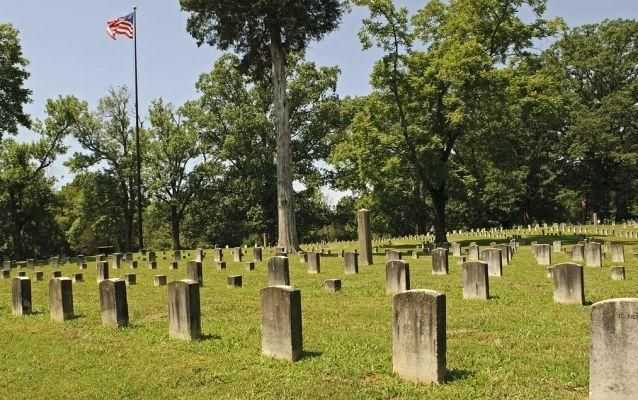 Quick Facts
Location:

Shiloh, TN

Significance:

Final resting place of 3,584 Union and 2 Confederate soldiers who fell near Shiloh, Tennessee

Designation:

National Park, National Register of Historic Places

OPEN TO PUBLIC:

No
In 1866, the War Department established a cemetery on the battlefield of Shiloh, in southwestern Tennessee. In order to bury the dead not only from the April 6-7, 1862, battle of Shiloh but also from all the operations along the Tennessee River, workers began building the "Pittsburg Landing National Cemetery." Changed to "Shiloh National Cemetery" in 1889, the cemetery holds 3,584 Civil War dead, 2,359 of them unknown. In the fall of 1866, workers disinterred the dead from 156 locations on the battlefield, and 565 different locations along the Tennessee River. Headboards of wood first marked each grave, but were replaced in 1876 and 1877 by granite stones. Tall stones marked the known dead and square, short stones denoted unknown soldiers.

Workers built a stone wall around the cemetery in 1867, and fashioned ornamental iron gates at the entrance in 1911. A superintendent cared for the cemetery until it was officially consolidated with Shiloh National Military Park in 1943. The results of so much labor produced what one observer called "the handsomest cemetery in the South."

Although established as a Civil War burial ground, the Shiloh National Cemetery now holds deceased soldiers from later American wars. Many World War I and II, Korea, and Vietnam burials are in the newest section of the cemetery. There is also one Persian Gulf War memorial. Total interred in the cemetery now stands as 3,892. Although the cemetery was officially closed in 1984, it still averages two or three burials a year, mostly widows of soldiers already interred.