Place
Alabama: Selma to Montgomery National Historic Trail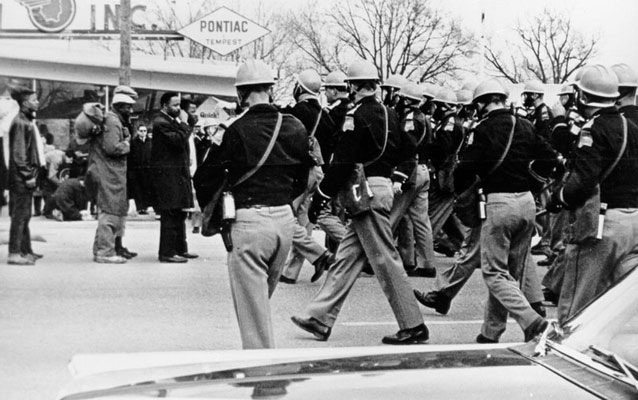 Significance:
Traces the route of the 1965 Voting Rights March in Alabama
Designation:
National Historic Trail





The Selma to Montgomery National Historic Trail was established by Congress in 1996 to commemorate the events, people and route of the 1965 Voting Rights March in Alabama. The route is also designated as a National Scenic Byway/All-American Road. Visitors are encouraged to drive the historic route from Selma to Montgomery Alabama, view the significant sites along the 54 miles trail, and take part in the trails' year-round special events.

The 54-mile-long national historic trail begins at the Brown Chapel African Methodist Episcopal (A.M.E.) Church in Selma and then follows the 1965 historic routes of the Selma to Montgomery voting rights marches through the city and eastward along US Highway 80 through Dallas County and Lowndes County. Crossing into Montgomery County, the Trail continues into the city of Montgomery and ends at the Alabama State Capitol. Interpretive centers are located in Selma and White Hall (midway along the route in Lowndes County) and a third center is scheduled for development in Montgomery to provide visitor services and interpretation of the national historic trail and the story of the Selma voting rights movement.
The Selma Interpretive Center opened its doors to the public in March 2011 and serves as the welcome center to the trail, located at the foot of the Edmund Pettus Bridge. The center offers a video, exhibits, and a small bookstore. In addition, the center provides a breathtaking view of the Edmund Pettus Bridge which is famously known as the scene of Bloody Sunday and serves as the focus for Selma's annual Bridge Crossing Jubilee.
At the trail's midpoint in White Hall, Alabama, visitors to the Lowndes County Interpretive Center can learn the history of the Selma to Montgomery March by watching a 25 minute film inside the theater, and connect the stories and events through eh museum exhibits, photographs, and outdoor walking trail. The center was the first of three planned National Park Service visitor centers along the trail route and has been open since August of 2006. 

Several surviving historic buildings, structures, and sites are also intimately associated with the national historic trail including the Brown Chapel A.M.E. Church in Selma (the starting point for the voting rights marches and designated a national historic landmark in 1982); the First Baptist Church (Student Nonviolent Coordinating Committee headquarters during the Selma voting rights movement); the Edmund Pettus Bridge which includes the "Bloody Sunday" confrontation site (designated a national historic landmark in 2013); the Dallas County Court House (the destination for the majority of the marches during the Selma voting rights movement); "Tent City" in White Hall; four camp sites along the march route (notably the City of Saint Jude, a Catholic social services complex that was the site of the last encampment and the "Stars for Freedom" rally); the Alabama State Capitol; and the Dexter Avenue King Memorial Baptist Church in Montgomery (staging area for the concluding rally).

Today, the Selma to Montgomery National Historic Trail stands as an enduring testament to the long struggle and sacrifices made by many individuals to preserve the right to vote as a fundamental cornerstone of American democracy. The Selma to Montgomery National Historic Trail was selected for inclusion in the African American Civil Rights Network in October 2019.

The African American Civil Rights Network (AACRN) recognizes the civil rights movement in the United States and the sacrifices made by those who fought against discrimination and segregation. Created by the African American Civil Rights Act of 2017, and coordinated by the National Park Service, the Network tells the stories of the people, places, and events of the U.S. civil rights movement through a collection of public and private elements
Last updated: June 26, 2020