Place
South Dakota Air & Space Museum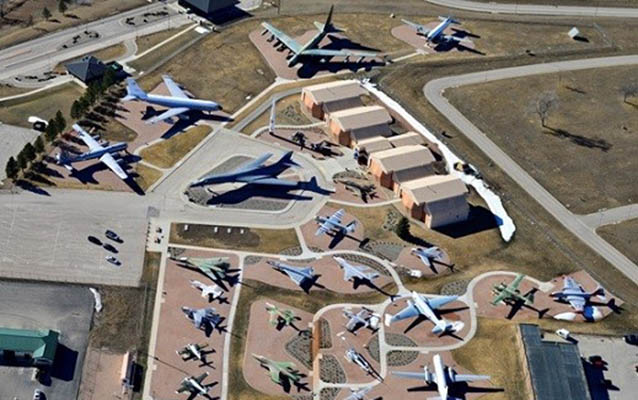 Location:
Box Elder, South Dakota
Significance:
Extensive collection and archive of Cold War aircraft, artifacts, and documents related to Ellsworth AFB and the Cold War era in South Dakota.
Designation:
United States Air Force Field Museum
The South Dakota Air & Space Museum boasts an extensive collection of artifacts and documents that capture the distinguished history of Ellsworth Air Force Base, the 44th Strategic Missile Wing, and the 28th Bomb Wing throughout the Cold War. Ellsworth AFB played a crucial role in national defense during this time period with an arsenal that included bombers such as the B-29 Superfortress, B-36 Peacemaker, B-52 Stratofortress, and B-1 Lancer along with Intercontinental Ballistic Missiles including the Titan I and the Minuteman. The museum includes examples of the B-29, B-52, B-1, and both the Titan I and the Minuteman. In addition, the museum offers tours of an intact Minuteman Missile Launch Facility (missile silo) that was used to train maintenance personnel from the 1960s through the 1990s. This silo, which includes an inert training missile, provides visitors a rare opportunity to go inside an underground launch facility and get a feel for what it was like during the years these powerful missiles were on alert defending the nation.

The museum also has four large inside galleries of artifacts covering the history and heritage of military and civilian aerospace achievements covering the past century. The museum itself is housed in four aircraft alert hangers in which Air Defense Command fighters sat on alert waiting to engage penetrating Soviet bombers during the height of the Cold War.  

The museum is open year round (although the indoor galleries are closed during January and February) and the tours of Ellsworth AFB and the Missile Silo are offered from mid-May through mid-September. Admission to the museum is free, but there is a small charge for the bus tours to the Missile Silo.
Last updated: October 21, 2020