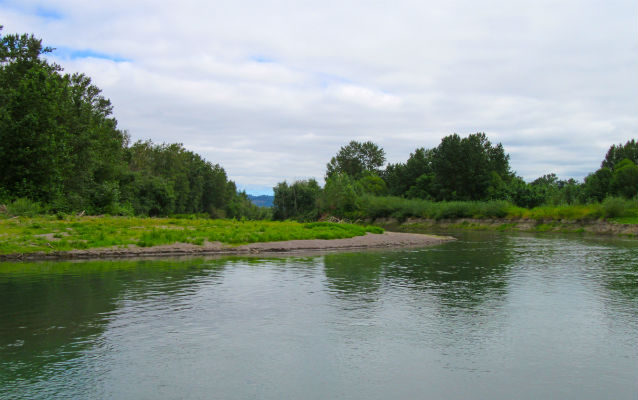 Quick Facts
Location:

Washington, Oregon

OPEN TO PUBLIC:

Yes

MANAGED BY:
Sandy River Delta
is a
High Potential Historic Site
on the
Lewis and Clark National Historic Trail.
On the morning of March 31, 1806, Lewis and Clark arrived on the north side of the Columbia River oppo­site the mouth of the Sandy River. They had briefly visited the area on November 3, 1805, and named the tributary "Quick Sand River." Lewis now noted there was one "large wooden house" of the Watlala Nation nearby, remarking, "when we decended the river in November last there were 24 other lodges formed of Straw and covered with bark near this house; these lodges are now distroyed and the inhabitants as the indians inform us have returned to the great rapids of this river…" They learned a great deal about Sandy River from area villagers and sent Sergeant Pryor to explore as far upriver as possible within a day. With game relatively plentiful, the captains resolved "to remain at our present encampment or some where in this neighbourhood untill we had obtained as much dryed meat as would be necessary for our voyage as far as the [Nez Perce]." During this time they also made detailed celestial and natural observations. By April 6, the food supply was adequately restocked, and they continued upriver.
Much of the
Sandy River Delta
lies within the eponymous 1,400-acre USFS park, which includes an extensive trail system through forests, fields, and wetlands. Immediately upstream the Sandy River is the
Lewis and Clark State Recreation Area
, a 54-acre park that offers a wide range of recreation opportunities and limited interpretive signage. North of the Columbia River is the
Captain William Clark Regional Park
, managed by
Clark County Public Works
. This 93-acre park was established during the Bicentennial to commemorate the 1806 camp, which is interpreted through signage and outdoor exhibits
Lewis and Clark NHT Visitor Centers and Museums
Visitor Centers and Museums along the Lewis and Clark National Historic Trail