Place
Sabbathday Lake Shaker Community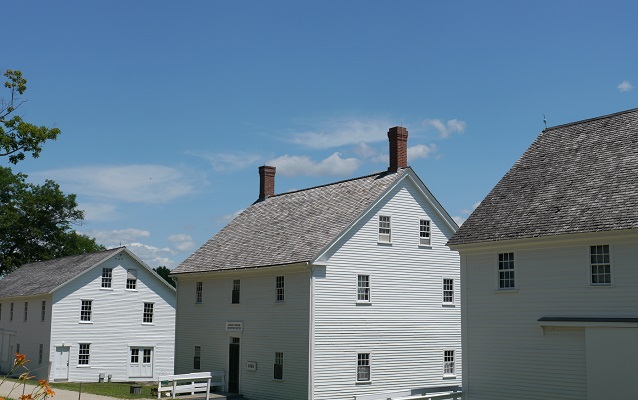 Location:
Shaker Road, New Gloucester ME
Significance:
Religious Community in Maine
Designation:
National Historic Landmark District
Sabbathday Lake Shaker Community, in New Gloucester, Maine, was founded in 1782. It was formally organized in 1794 with the construction of the Meetinghouse. The Meetinghouse is a
common element of all Shaker communities
, where members of the families gathered to worship and pray.
Undaunted by harsh New England winters, Sabbathday grew to include 26 large buildings and several smaller buildings on approximately 1900 acres of land by 1850. Among these was the Brethren's Shop, a blacksmith and woodturning complex. They also established a mill and farm used to produce goods to sell to "the World" - a substantial source of income for the society. Sabbathday persevered through several decades of financial instability, even expanding in the 1880s. It remained a stable presence in the Shaker world throughout the 20th century.
Today, the Sabbathday Lake Shaker Community has been reduced to 14 buildings and three structures. It remains the only active Shaker community and holds Public Meeting (worship) services on Sundays in the historic Meetinghouse. The community has responded to increased interest and is open to the public, first welcoming visitors to their Shaker Museum and Library in 1926. The museum and library illustrate all phases of Shakers' daily life and practices.
Last updated: February 7, 2018