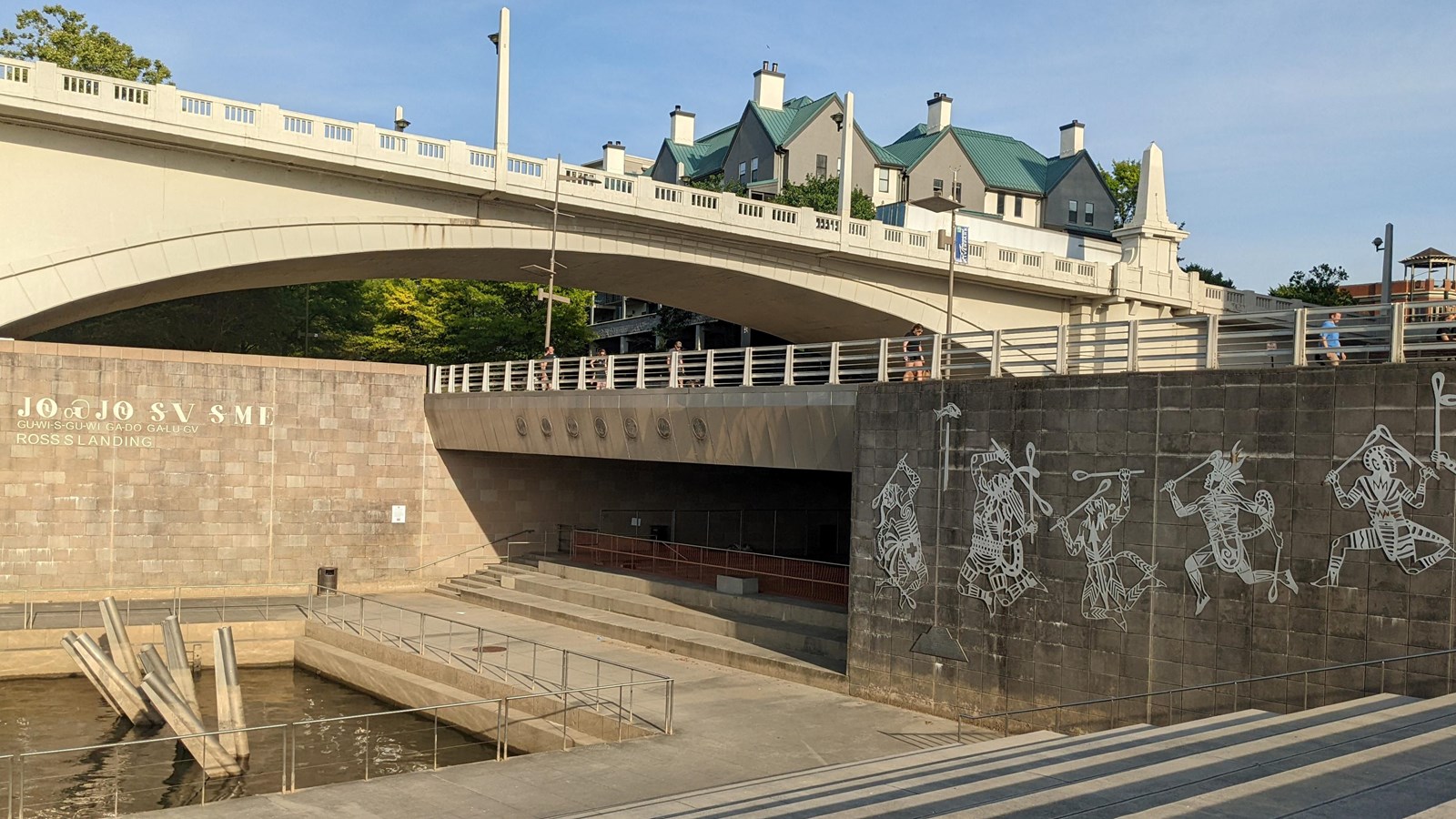 Location:
201 Riverfront Pkwy, Chattanooga, TN 37402 Along the Tennessee River in downtown Chattanooga.
Significance:
Site of Cherokee businessman John Ross's ferry operation, and the location of departure for the first groups of Cherokees forcibly removed in 1838 on the Trail of Tears. Ross served as the Principal Chief of the Cherokee Nation from 1828 – 1866.
Designation:
National Register of Historic Places
Benches/Seating, Dock/Pier, Pets Allowed, Picnic Table, Playground, Restroom - Accessible, Wheelchair Accessible
From 1819-1838, the Tennessee River served as the border between Cherokee lands to the south and United States lands on the north side of the river opposite Ross's Landing. John Ross, a Cherokee businessman and later Principal Chief (1828 - 1866), established a ferry crossing and warehouse here between 1813 and 1816. In 1827, Ross moved to Georgia to serve his people as President of the Cherokee National Council. Ross opposed the Indian Removal Act of 1830 and the Treaty of New Echota, but his efforts were ultimately unsuccessful.
Ross's Landing became a designated departure point for Indian deportation. In May 1837, approximately 350 Muscogee (Creek) Indians who had taken refuge in the Cherokee Nation were rounded up at gunpoint and brought to Ross's Landing where they were put on boats and forced west. In 1837, two detachments of Cherokees left from Ross's Landing by boat under their own accord. In 1838, the landing was a holding camp and launching point for the first three detachments of Cherokees forced from their homelands on the Trail of Tears. In the first two of these detachments, over 1,300 Cherokees were crowded onto flatboats pulled by steamboats. In the third detachment, 1,072 people crossed the Tennessee River on Ross's swing ferry and traveled overland to Waterloo, Alabama, where they boarded boats for Indian Territory. 216 deaths were recorded in these first 3 detachments.

Ross's Landing also played an important role in the Civil War,, opening up a critical supply route known as the Cracker Line. Supplies from as far away as Bridgeport, Alabama flowed to forces in the Chattanooga area across a pontoon bridge at Ross's Landing. Thanks to the Cracker Line, US Army forces ended the siege of Chattanooga and began an offensive to take Missionary Ridge and Lookout Mountain from the Confederates in November 1863.

Today, Ross's Landing is downtown Chattanooga's signature park along the south shore of the Tennessee River. This popular recreational area features a natural amphitheater, marina, and handicapped accessible playground, as well as Chattanooga Green, the river pier, and numerous walkways along the river. The park lies at one end of the 13-mile Tennessee Riverwalk, which extends from the riverfront at Ross's Landing to the Tennessee Riverpark and Chickamauga Dam. The path is used for bicycling, in-line skating, walking, jogging and includes several canoe/kayak launch points. An art installation at the waterfront recognizes the culture of the Cherokee people.
 
Site Information
Location (201 Riverfront Pkwy, Chattanooga, TN 37402 Along the Tennessee River in downtown Chattanooga)
Available Facilities
Dock/Pier, Restroom - Accessible, Wheelchair Accessible, Boat Ramp, Benches Seating, Pets Allowed, Picnic Table, Playground
Last updated: January 24, 2023