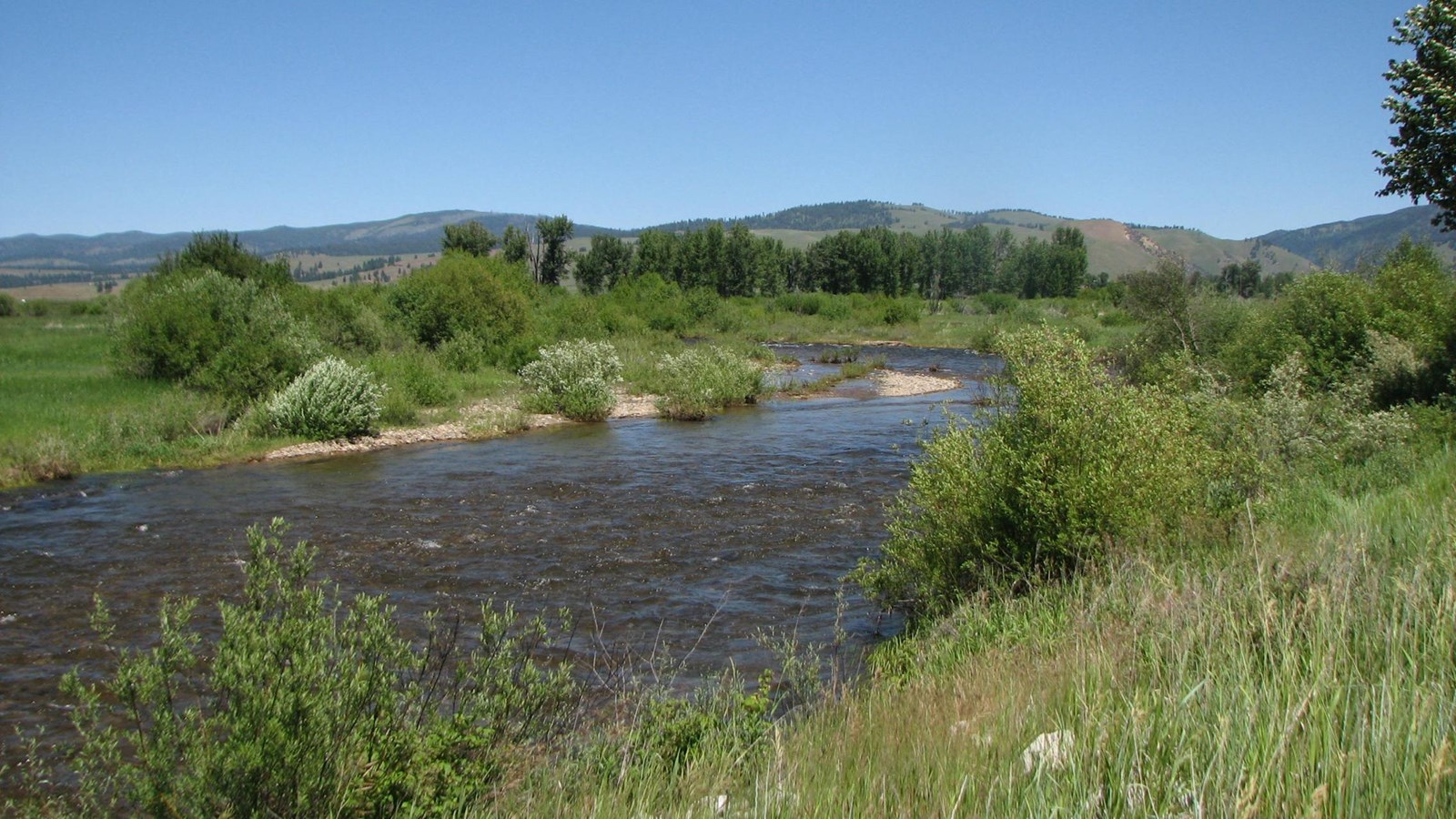 Location:
Sula, Montana, Viewable at Roadside Pull Out
Lewis and Clark NHT Visitor Centers and Museums
Visitor Centers and Museums along the Lewis and Clark National Historic Trail
Ross' Hole is a
High Potential Historic Site
on the
Lewis and Clark National Historic Trail.
On September 4, 1805 the expedition had crossed near modern-day Lost Trail Pass and descended into an open valley, now called Ross' Hole, where Clark estimated there to be 400 Salish Indians with 500 horses encamped. The Salish, called "Flathead" by members of the expedition, gave them a warm welcome. Ord­way wrote, "when our officers went to their lodges they gave them each a white robe of dressed skins, and spread them over their Shoulders and put their arms around our necks instead of Shakeing hands as that is their way they appeared glad to See us. they Smoaked with us, then gave us a pleanty Such as they had to eat…" Lewis and Clark spent the next day communicating with chiefs (complicated by the task of translat­ing across several languages), exchanging gifts, bartering goods, and purchasing horses. Rested and refitted, on the afternoon of September 6 the Corps of Discovery continued north along the Bitterroot valley.
Ross' Hole was later named for Alexander Ross, a fur trader with the Hudson Bay Company who camped there on March 12, 1824. The site is currently experienced as a wayside stop along US Highway 93, next to the Sula Country Store. A roadside pull-off is lined by an array of interpretive signage that detail the story of Lewis and Clark's visit, later exploration and development, and the settlement of Sula. Despite prominent modern intrusions in the foreground, this vantage point allows expansive views of Ross' Hole and conveys the timeless quality of the natural landscape.
Last updated: November 27, 2020