Place
Rosie the Riveter Memorial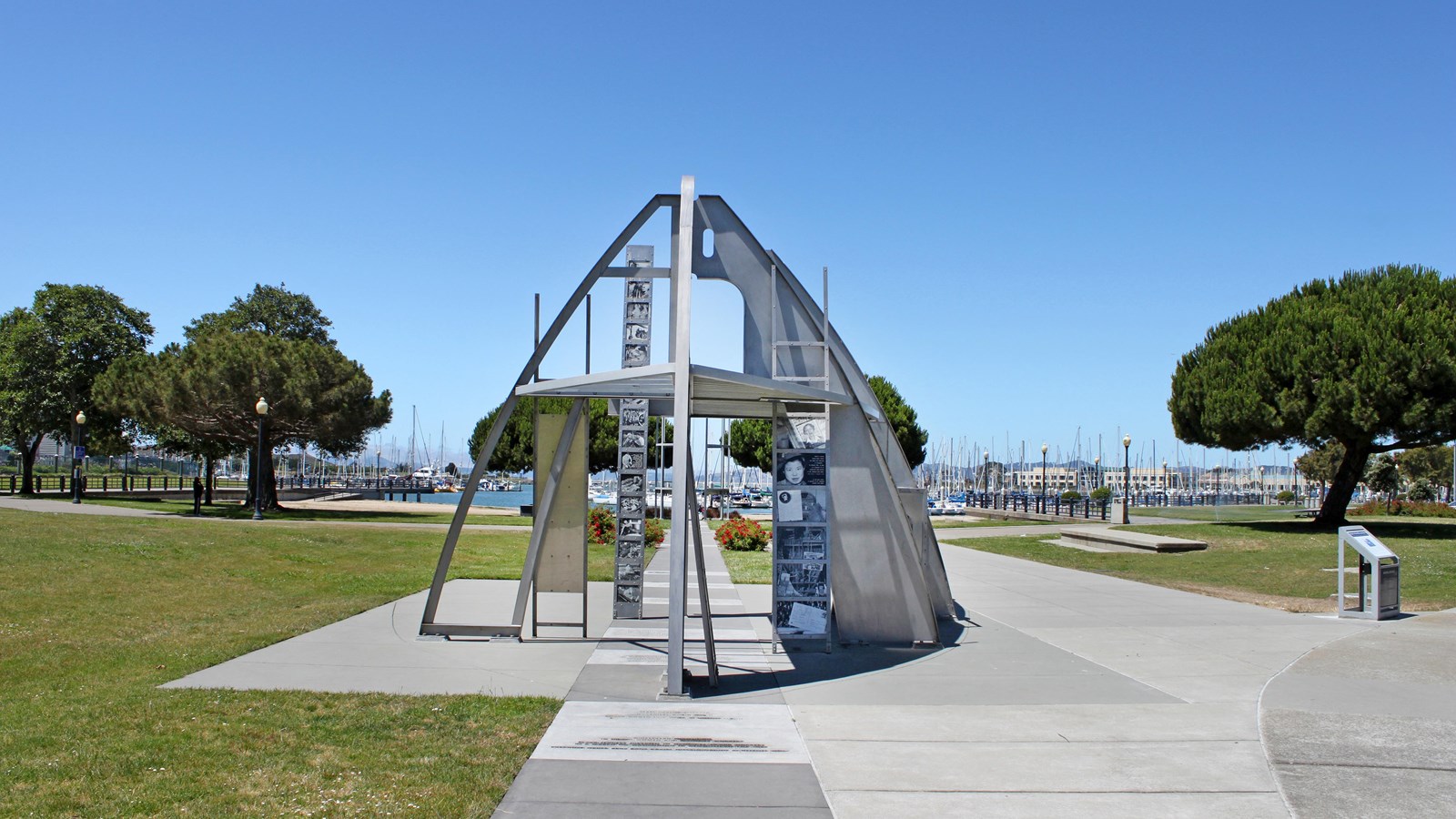 Location:
Marina Bay Park, Regatta Blvd, Richmond, CA
Significance:
Rosie the Riveter Memorial
MANAGED BY:
City of Richmond, California
The Rosie the Riveter Memorial began as a public art project for the City of Richmond in the 1990's. During the creation of the memorial, the National Park Service was invited to participate, and this partnership led to the founding of the National Park in Richmond, California.

Designed by visual artist Susan Schwartzenberg and landscape architect/environmental sculptor Cheryl Barton, the Rosie the Riveter Memorial: Honoring American Women's Labor During WWII is the first in the nation to honor and describe this important chapter of American history. Chairwoman Donna Powers led the campaign to establish the Memorial and the sculpture was commissioned by the City of Richmond and the Richmond Redevelopment Agency.

The principal component is a walkway, the length of a ship's keel, which slopes toward the San Francisco Bay and aligns with the Golden Gate Bridge.The path is inscribed with a timeline about the home front and quotes from women workers sandblasted into white granite. Sculptural elements of stainless steel encountered on the walkway are drawn from ship's blueprints and suggest the unfinished forms of hull, stack and stern under construction. Two gardens - one of rockrose and one of dune grass - occupy the location of the ship's fore and aft hatches. Porcelain enamel panels on the hull and stack reproduce memorabilia and letters gathered from former shipyard workers during the course of the Memorial project, along with photographs of women at work in jobs across the nation.

The panels, quotes and timeline illustrate the complex opportunities, challenges and hardships faced by women during the war years, including gender discrimination, hazardous working conditions, food rationing, and shortages of housing and childcare.

Donna Powers was inspired to create the Memorial by two women in her family. Her mother-in-law Ruth Powers was a teacher at the Richmond shipyards daycare centers and her great aunt Clarissa Hicks was a riveter at Douglas Aircraft in Tulsa, Oklahoma. Their wonderful stories led her to ask other women around Richmond what their jobs and lives were like during WWII, and the project grew under the leadership of historian and cultural planner Donna Graves.
 
How to Listen to the Audio Program
NPS App: If you are using the official NPS app, please click on the "Start Audio Tour" button. If you don't see it, you may need to click the back arrow at the top of the app. 
Web Browser: If you are viewing this page on a computer browser, you may listen to or download the audio file in the audio player that will be visible, below.  
Rosie the Riveter Memorial

This program is part of an introduction to the history of the park and the WWII Home Front. You can listen to it at home, while driving, before your visit to the park visitor center or as part of the official NPS App driving tour. These files are also available as a free download on our website and can be a great educational tool for your classroom.

Credit / Author:

NPS/Luther Bailey

Date created:

07/18/2023
Last updated: August 29, 2023