Place
Rosa and Raymond Parks Flat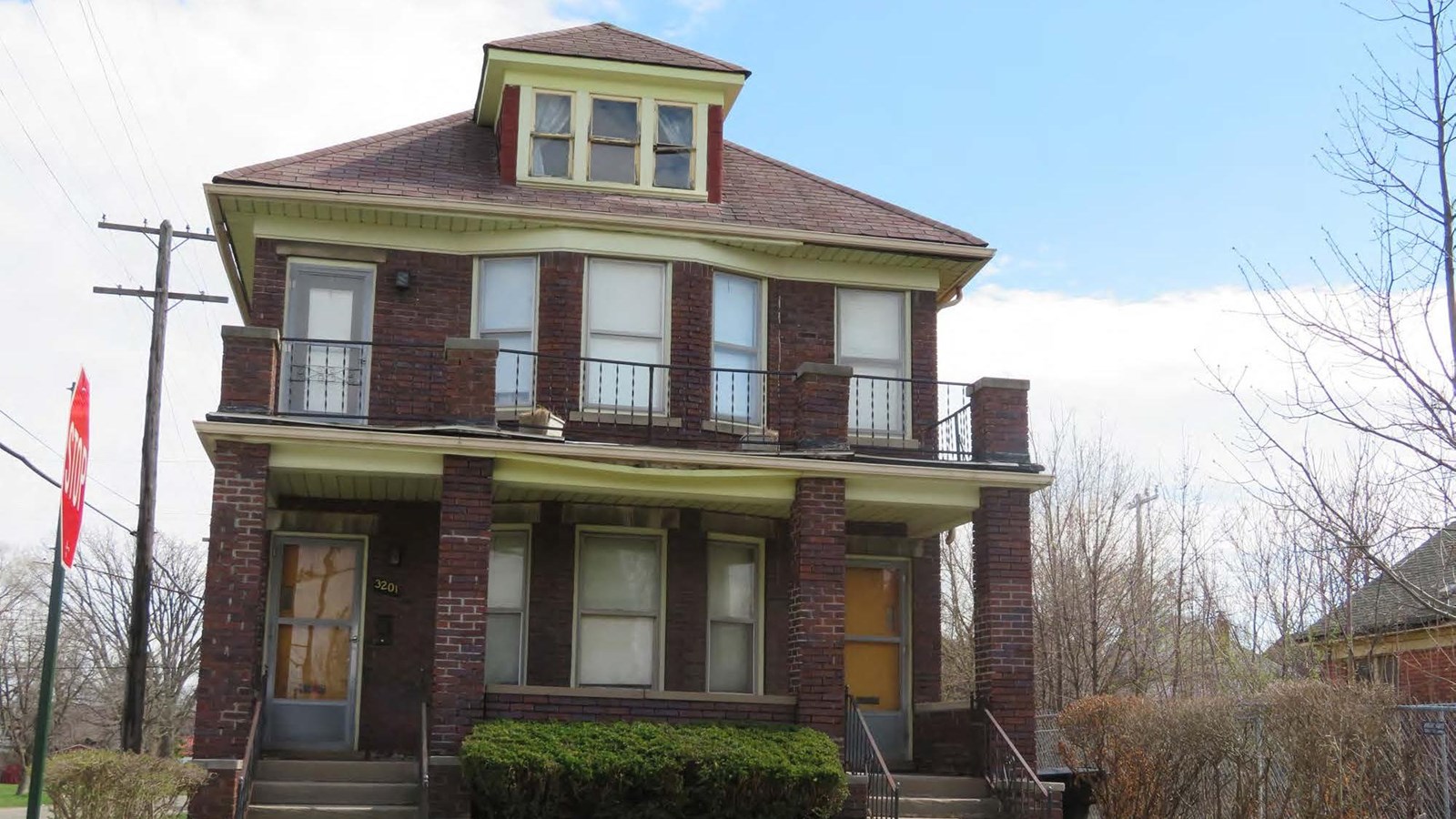 Location:
3201-3203 Virginia Park Street, Detroit, Michigan
Significance:
Social History, African American History, Rosa Parks
Designation:
Listed in the National Register – Reference number 100006131
The Rosa Parks (McCauley) and Raymond Flat, in Detroit, Michigan, was listed in the National Register of Historic Places in 2021. The building is significant as the home of civil rights icon Rosa Parks, who lived in the first floor flat with her husband Raymond from 1961 to 1988. The property is located at the southwest corner of Virginia Park Street and Wildemere Avenue in what is currently known as the Wildemere Park (sometimes known historically as Virginia Park) neighborhood.  

The flat is within the Twelfth Street neighborhood, one of the first of Detroit's neighborhoods that opened to middle class Blacks in the post-World War II era. Two blocks east on Linwood Street is the Shrine of the Black Madonna, where Reverend Albert B. Cleage, Jr. led the militant Black Nationalist movement. New Bethel Baptist Church, where Reverend C. L. Franklin preached and his daughter Aretha Franklin sang, is several blocks north of the Shrine, also on Linwood Street. To the south is the Northwest Goldberg neighborhood, where a number of prominent Black businesses, including Motown Records, relocated in the 1950s and 1960s as Black Bottom and Paradise Valley were razed for urban renewal. Southwest is one of the original Black neighborhoods of the city, the West Side, settled by middle-class Blacks in the 1920s.

Rosa Parks is most well known for her refusal to give up her bus seat to a White man in Montgomery, Alabama, in 1955. That moment forever fixed Parks as the "mother of the civil rights movement" and as a powerful symbol of resistance, strength, and freedom. Parks' actions launched the Montgomery Bus Boycott, which ultimately ended in the desegregation of public buses. Since that day, Parks' symbolism has often overshadowed her work, both in Detroit and nationally. The significance of Rosa Parks cannot be limited to one day, nor one action. Her work for equality began well before December 1955 and continued well beyond. The flat at 3201 Virginia Park Street is the property best able to illustrate the importance and contributions of Rosa Parks during her time in Detroit.

After meeting Raymond Parks, who was already a civil rights activist, Rosa married him in 1932, and began working for the Montgomery, Alabama, chapter of the National Association for the Advancement of Colored People (NAACP) by traveling throughout Alabama working on voter registration drives and documenting instances of racism and persecution. After the bus boycott of 1955 Rosa and Raymond were subjected to hate and harassment. They left Alabama for Detroit in 1957. However, in their first years in Detroit the couple experienced economic and health struggles.  At one point in 1960 the Pittsburgh Courier had featured a story describing their need. By 1961 their situation had improved somewhat and they were able to move into the first floor of this flat, where Rosa stayed until 1988. 

In Detroit, Parks found "(t)he northern promised land that wasn't," where racism "was almost as widespread as Montgomery." It may not have been as overt as the segregated buses and schools of the South, but in Detroit Blacks were definitely second class, and the excuse that "this is not the South" was used to dismiss charges of discrimination. She almost immediately encountered the inequalities faced by African Americans in securing equal employment and housing, as evidenced by her difficulties in finding a job and a permanent place to live.

Parks was aware of her status as a symbol, she was often a part of significant events, yet did not have a prominent role. Rather than a reflection of her significance, she identified the cause of this as the result of a patriarchal system. It was a time, she observed, when "women's rights hadn't become a popular cause yet." At the same time, Parks did not seek a prominent role and did not care to a be a public figure. In August of 1963, Parks traveled to Washington D.C. to participate in the March on Washington. Although she was prominently featured on the dais at the Lincoln Memorial and was among the six women honored in the "Tribute to Women" at the event, Parks and her fellow women activists were shunted into a different march route, and it was not lost on her or the other women that they were being marginalized despite their prominent role in the movement. 

After nearly twenty years in the civil rights movement, Parks secured her first paid political position when newly elected Congressman John Conyers hired Parks to work in his office in March 1965. Conyers later said that Rosa Parks was the first person he wanted to hire for his congressional staff, considering her the most important civil rights activist in the state. While Parks was officially an administrative assistant, and she did perform tasks like filing and answering the telephone (greatly surprising some constituents), she also served as an informal legislative aide, traveling around the city to visit constituents, gather information, and represent Conyers at meetings. As a Black Congressman, Conyers often received communications from constituents reporting discrimination in housing and employment, and his office was reported to be a "hotbed of local and national black political organizing," an atmosphere that may have appealed to Parks from her days working for the NAACP in Alabama.

According to biographer Douglas Brinkley, "The Parkses' flat functioned as a bit of a salon in Virginia Park, filled with robust discussion and debate. Many of the young men who came by greatly admired Malcolm X, like the Parkses did, and shared their feelings about the importance of the continued struggle." The flat was just a few blocks from Reverend Cleage's Central Congregational Church, where in October 1966 she attended Stokely Carmichael's speech on Black Power; during that speech, Carmichael singled her out as his hero. Edward Vaughn, a leader of the radical Black Consciousness movement, later remembered that Parks was highly active in the movement. "Honest to God, almost every meeting I went to, she was always there," he said. Vaughn had opened the first African American bookstore in Detroit not far from the Parks flat, and it became the intellectual center of the movement. Parks and her husband supported the bookstore and often participated in the intellectual and political discussions held there.

The role of Rosa Parks in the civil rights movement before and after the Montgomery bus boycott has often been overshadowed by that event. Her image has, in the collective conscious, been fixed by that moment and solidified by the fact that those who interviewed her or wrote about her in the decades between the boycott and her death focused almost exclusively on her experience and the legacy of that event. Yet, as her biographers have pointed out, Parks spent more than half her life in Detroit, not Alabama, and she used the fame she had acquired following the boycott to bring attention to racial inequality in employment, housing, and public accommodations in Detroit and across the country. From the March on Washington in 1963 to boycotts in the 1980s, from the NAACP to the Black Power movement to anti-apartheid, Parks made her presence felt as a leader of the civil rights movement. Throughout those years, she lived at 3201 Virginia Park Street.
 
Last updated: April 16, 2021