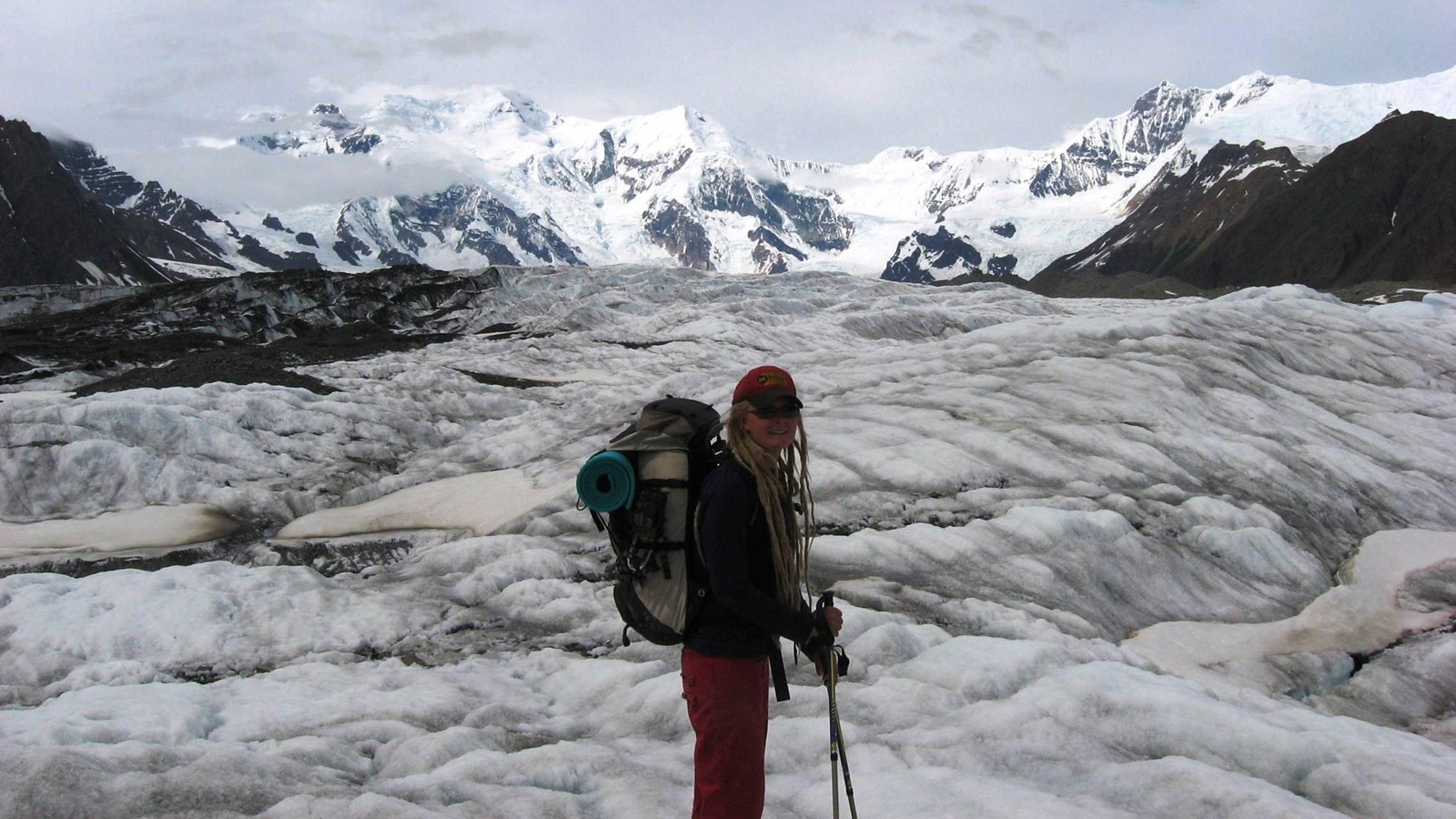 Location:
Root Glacier, Kennecott, Alaska
Significance:
Glacial geology
Designation:
National Park and Preserve
Animal-Safe Food Storage, Scenic View/Photo Spot, Toilet - Vault/Composting, Trailhead, Water - Non-Potable
Of the 5,000 square miles of glacial ice in Wrangell-St. Elias, the Root Glacier is the most accessible. A moderate 1 ½ mile walk from the historic mining town of Kennecott along the 
Root Glacier Trail
 leads you onto the glacier.
Be aware that glaciers can be dangerous. It is recommended to wear crampons or ice spikes on your shoes and go with an experienced guide. 
Trailhead
Latitude: 
61.487114 
Longitude: 
-142.890863
Access: Trail departs from Kennecott Mill Town. You can access Kennecott from McCarthy - walk the road between McCarthy and Kennecott (an extra 4.5 miles), take the commercial shuttle, or ride a bike. This trail does NOT access the Erie Mine.
Distance: 4 miles round-trip from Kennecott to the glacier or 8 miles round-trip to the Erie Mine tram cables.
Time: 2-6 hours round-trip (hiking duration).
Maps: USGS Maps, McCarthy 1:250,000, McCarthy (B-6), (C-6) 1:63,360
Difficulty: Easy to Moderate. Terrain is relatively level with moderate elevation gain and loss.
Highlights: Glacier viewing, mining artifacts, views of Mt. Blackburn, Regal Mountain, and Donaho Peak. Route: From the Kennecott Visitor Center, walk through the Kennecott Mill Town, north towards the Root Glacier. About a half-mile beyond the visitor center, the road will split. Stay straight. (The right hand trail leads to Jumbo and Bonanza Mines.) The trail will soon cross over Bonanza Creek and Jumbo Creek and then wind its way through the lateral moraines of the Kennicott and Root Glaciers. Approximately 1.5 miles after leaving Kennecott, the trail reaches the Root Glacier access trail. (Primitive campsites, along with an outhouse and food lockers, are available in this area.) To access the glacier, turn left at the sign and follow the trail as it winds down the moraine to the toe of the glacier. This trail crosses Amazon Creek, which is a seasonal stream. Depending on recent rainfall or spring melt, you may need to cross this stream.
Hazards: The Root Glacier can be very slippery and dangerous. Crampons are strongly recommended. Avoid walking along the edge of Root Glacier as rotting ice and swift, cold water are potentially dangerous. Bears are present along the entire route. For maximum safety, travel in groups, be noisy when you are walking, and never give any food to a bear.
Notes: If you are camping at the Jumbo Creek Camping Area or Donaho Basin, it is required that your food is stored in the bear-resistant food boxes or your own Bear Resistant Food Container (BRFC).
Last updated: April 22, 2021