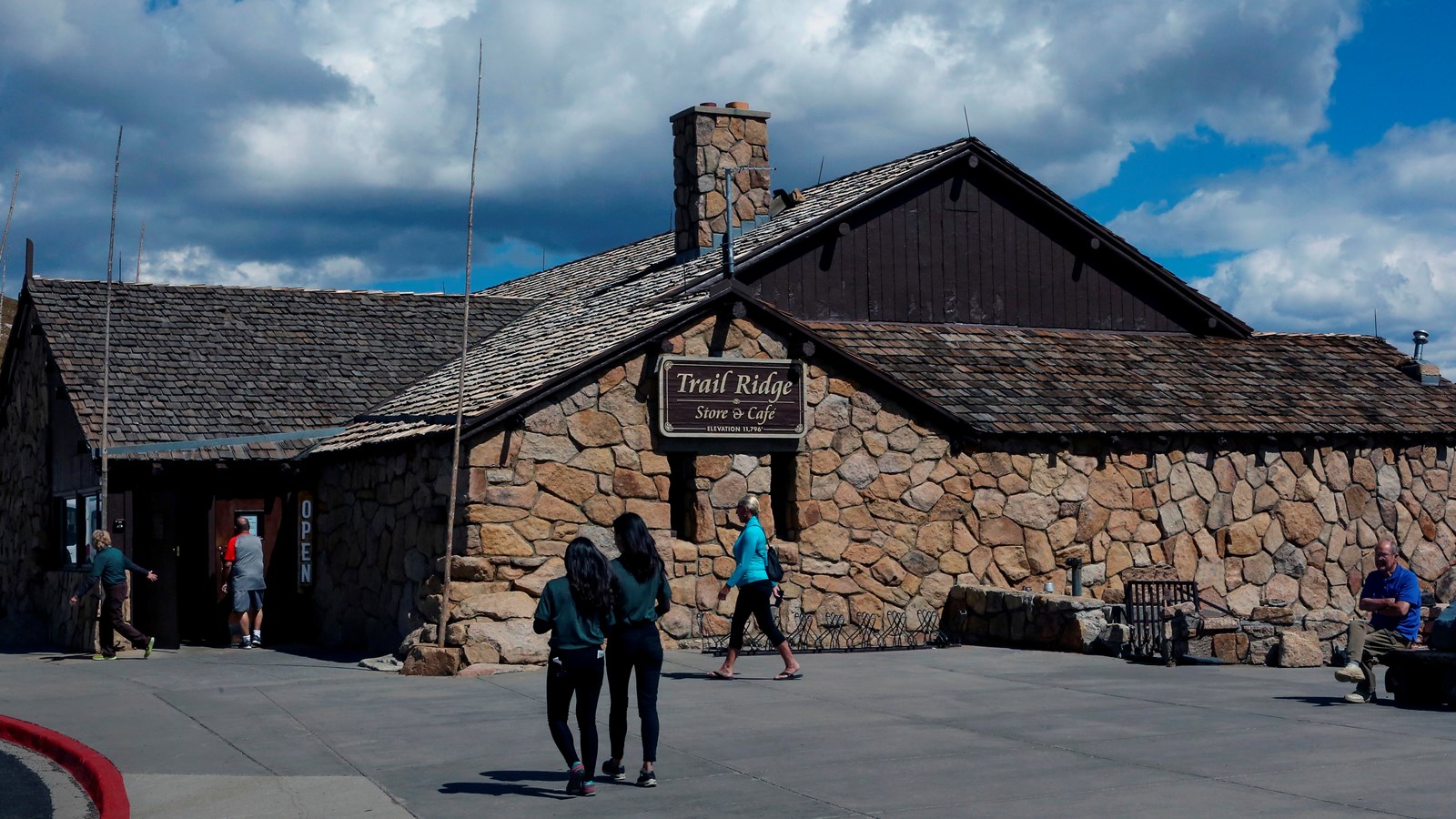 Food/Drink - Snacks, Gifts/Souvenirs/Books, Toilet - Vault/Composting
At 11,796 feet, the Alpine Visitor Center is the highest visitor center in the National Park Service!
Usually only open from May to October, it is chilly even in the heart of summer, so make sure to bring layers or even a hat. Located on Trail Ridge Road in the alpine tundra, the area is subjected to extreme winds, especially in the winter. The heavy logs on the roof of the center are permanently attached to prevent shingles from being blown away. Trail Ridge Store is the larger building next to the visitor center, and offers a small café, gift shop, and shelter from fast-approaching storms.
The glacial cirque seen below is ideally situated to collect enormous amounts of snow, and usually has snow still present well into August. There is a viewing area of this between the buildings, as well as interpretive signs and benches. Accessed from this parking lot is Alpine Ridge Trail and the Ute Trail to Milner Pass.  
Note: Extreme weather can change the status of Trail Ridge Road at any time—be ready to adjust your travel plans if needed, and always check the weather before you start your drive.
Help keep wildlife wild. Never approach or feed wildlife. Animals that learn people are a source of food can become aggressive or stop hunting or foraging on their own. Keep your distance - it's the law! You could be hurt or issued a fine.
Weather Warning: Weather in the mountains can turn in an instant! Be prepared for changing weather conditions. Check the forecast before heading out. Lightning can strike anywhere in Rocky. Watch for building storm clouds and be aware of your surroundings.
Altitude Warning: Altitude sickness affects many visitors every year. Symptoms include headache, nausea, fatigue, dizziness, vomiting, and even unconsciousness. Altitude can also aggravate pre-existing conditions like heart and lung disease. Take your time, drink water, eat, and rest. The only cure for altitude sickness is to go down to a lower altitude.
Last updated: October 16, 2020