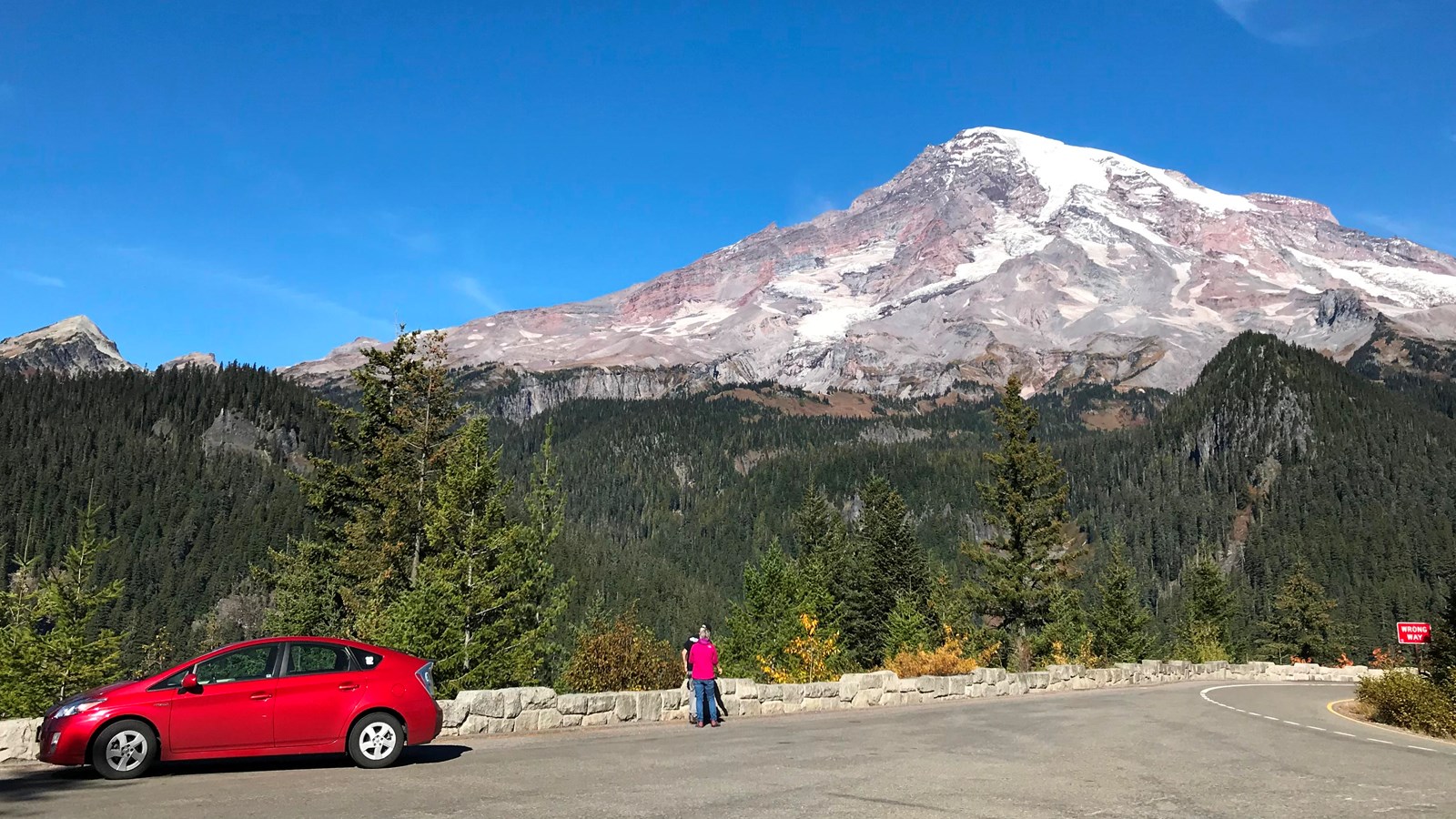 Location:
Ricksecker Point is located approximately 6.5 miles from Longmire and 5 miles from Paradise along the road to Paradise.
Significance:
Contributes to Mount Rainier National Historic Landmark District
Historical/Interpretive Information/Exhibits, Parking - Auto, Scenic View/Photo Spot
Season: Summer Only (May - October)
Ricksecker Point is a promontory ridge between Rampart Ridge and the Tatoosh Range. The Nisqually River valley lies to the northwest of the ridge and the Paradise River valley is to the southeast. A one-way scenic loop drive traces the edge of Ricksecker Point. The third of a mile-long road has two main pullouts featuring views of Mount Rainier, the Nisqually and Paradise river valleys, and the Tatoosh Range. Both pullouts have wayside exhibit panels about the glaciers and lava flows that have shaped the geology of the mountain. Ricksecker Point is accessible by vehicle during the summer only. The road closes during the winter, typically from early November through mid-May.

Ricksecker Point is a contributing component to the Mount Rainier National Historic Landmark District. Ricksecker Point is named for Eugene Ricksecker, an Army Corps of Engineers supervisor who surveyed the route to Paradise in 1904. The survey team originally named the feature "Gap Point", but it was renamed after a road was constructed in 1909. Part of the original road to Paradise, the section around Ricksecker Point was considered one of the most dangerous stretches. It was narrow, bordered by steep cliffs, and prone to rockfall. Over the years the road was widened, resurfaced, and parking was included at viewpoints. A detour constructed in 1930 replaced the original route and became the main Paradise Road, while Ricksecker Point Road was left as a scenic bypass. In addition to providing excellent views, Ricksecker Point is an example of rustic style architecture that sought to blend with the natural environment. The road follows the curve of the ridge and guardwalls along the road use roughly cut, native stone. The stone guardwalls were constructed during the 1930s in part by the Civilian Conservation Corps.
Last updated: April 15, 2021