Place
Pompeys Pillar National Monument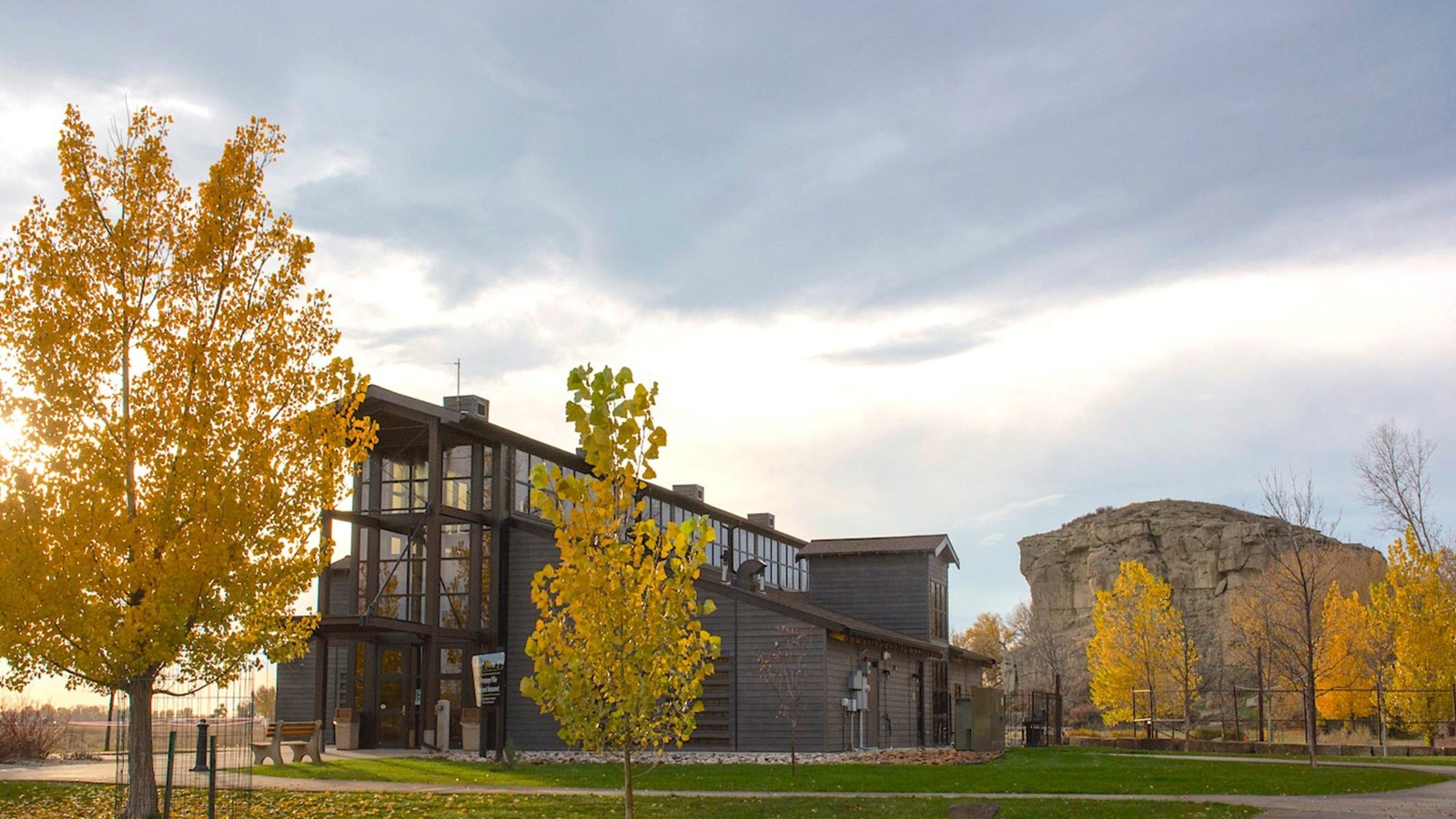 Location:
25 miles east of Billings, MT
Significance:
The only remaining on-site physical evidence of the Lewis and Clark Expedition.
Designation:
National Monument
Benches/Seating, Gifts/Souvenirs/Books, Historical/Interpretive Information/Exhibits, Information, Information - Maps Available, Information - Ranger/Staff Member Present, Information Kiosk/Bulletin Board, Parking - Auto, Picnic Table, Restroom, Scenic View/Photo Spot, Toilet - Flush, Trailhead
Lewis and Clark NHT Visitor Centers and Museums
Visitor Centers and Museums along the Lewis and Clark National Historic Trail
While several Native tribal names translate the name of the river in mid-Montana as "Elk," the French named it "Rochjhone" which translates to "Yellowstone."  William Clark and his exploratory party came to the Yellowstone in mid-July 1806, anxious to rendezvous with Captain Lewis and his small group.  
On Friday, July 25, Clark wrote in his journal, "This rock which I shall Call Pompy's Tower is 200 feet high and 400 paces in secumphrance… The nativs have ingraved on the face of this rock the figures of animals &c. near which I marked my name and the day of the month & year."
The only remaining on-site physical evidence of the Lewis and Clark Expedition, Pompeys Pillar National Monument is managed by the Bureau of Land Management, and is about 30 miles northeast of Billings, Montana.
Today, in addition to Clark's engraving, Pompeys Pillar is marked with over 5,000 of other etchings, petroglyphs, and pictographs.  The Pillar was used for centuries as a favored campsite by Crows and other Native peoples as they traveled through the area on hunting, trading, war, or other expeditions.  Ethnographic and archaeological evidence suggest that the Pillar was also a place of ritual and religious activity.  Then throughout the 19th century, fur trappers, military expeditions, railroad workers, and early settlers used the sandstone as a registry of their passing. 
The Interpretive Center presents the journey of William Clark and his detachment down the Yellowstone River in 1806.  It also addresses native culture, flora and fauna, the Lewis and Clark Expedition, and the historical significance of Pompeys Pillar throughout the 19th and 20th centuries.  A number of J.K. Ralston paintings and sketches are on display, and an adjacent gift shop provides artwork, books, jewelry, and toys. 
The day-use area is perfect for picnicking, relaxing, and enjoying the Yellowstone River.  The 51-acre monument is open daily, with hours changing seasonally; a per-vehicle fee is charged.  Even when the Monument is closed, visitors may still walk into the site during daylight hours.  The walk from the gates to the Pillar is about 3/4th of a mile. 
For fees, current hours, and other information about the area restrictions, or for general information about Pompeys Pillar, go to: 
https://www.blm.gov/programs/national-conservation-lands/montana-dakotas/pompeys-pillar
Photo:  Bureau of Land Management  
Last updated: September 22, 2022