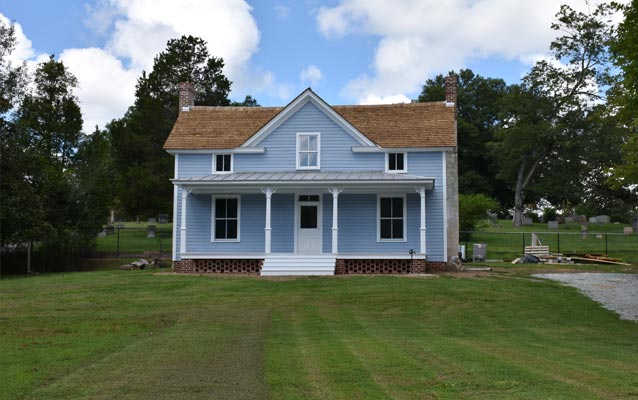 Quick Facts
Location:

906 Carroll Street, Durham, North Carolina

Significance:

LGBTQ, Social and Humanitarian Movements, Women's Rights, Civil Rights, Law

Designation:

National Historic Landmark

OPEN TO PUBLIC:

No

MANAGED BY:

Self-Help Ventures Fund
The Pauli Murray Family Home is associated with ground-breaking civil rights activist, lawyer, educator, writer, and Episcopal priest Pauli Murray. Her scholarship and activism are nationally significant in American legal history and the women's and civil rights movements. She served as a bridge figure between American social movements through her advocacy for both women's and civil rights.

Pauli Murray's efforts were critical to retaining "sex" in Title VII, a fundamental legal protection for women against employment discrimination. Her innovative and imaginative solutions to long-standing disputes within the women's movement paved the way for the movement to champion all aspects of women's legal equality. 

Murray's vision for a civil rights association for women, manifested in the National Organization for Women (NOW), arose from her decades of work for Black freedom. On the vanguard of Black activists in the 1940s, she advanced the cause of equal rights for African Americans by experimenting and promoting nonviolent types of activism that would become mainstays of the later civil rights crusade.

She became the first ordained African-American female priest in the Episcopal Church in 1977. She struggled throughout her life with her gender and sexuality identities.

As she did not maintain a long-term residence or office, this home is the only extant building closely associated with her life. Beginning in 1914, when Murray went to live with her grandparents and her aunts in Durham, until 1948, when her aunts moved to Brooklyn to reside with her, Murray's time here imbued her with fortitude, resilience, and a propensity for extraordinary achievement. Her writings and personal correspondence indicate her strong emotional connection to the property.