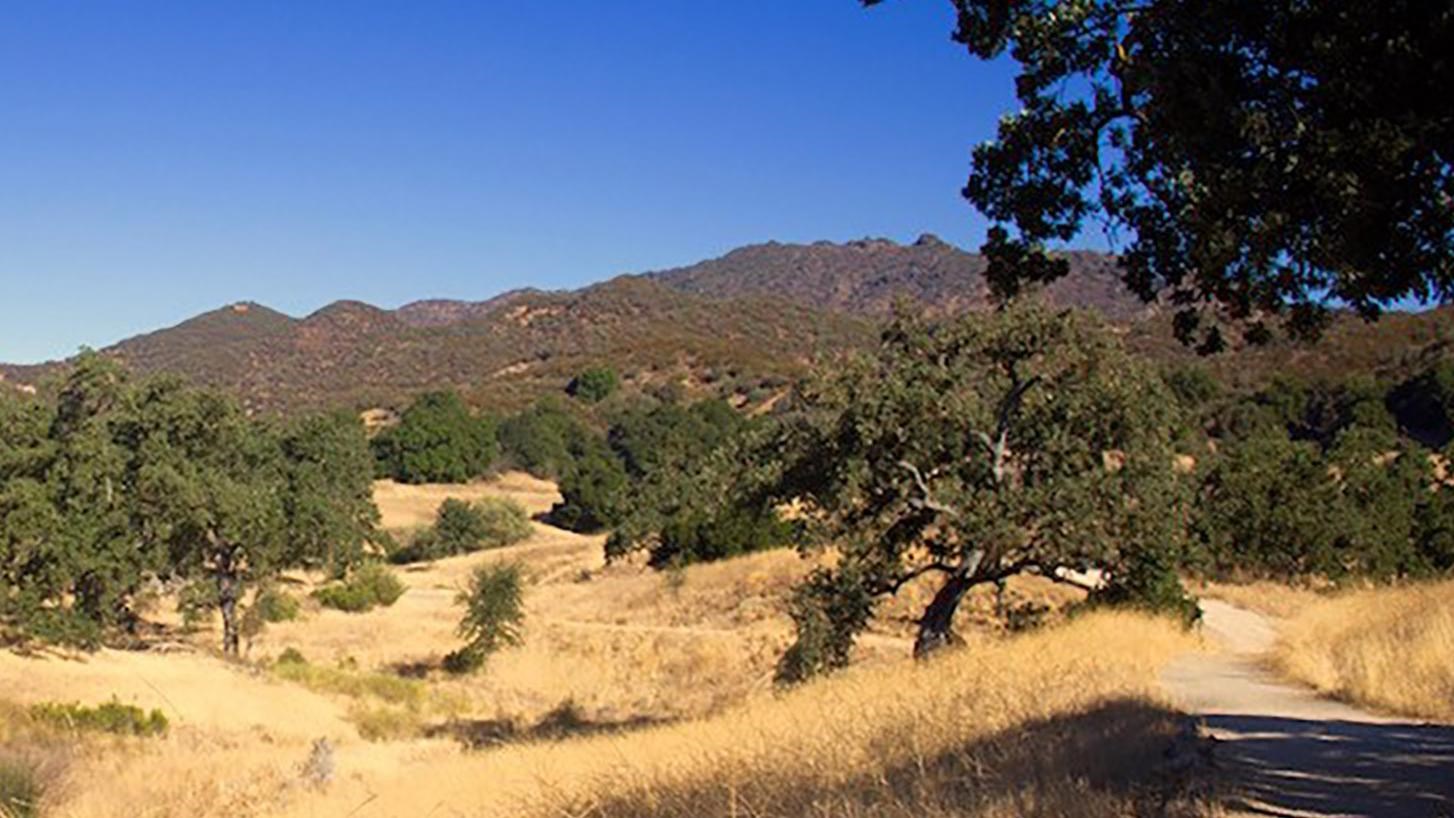 Location:
Santa Mountain National Recreation Area
Significance:
Filming site of many important movies and TV shows
Benches/Seating, Information - Maps Available, Parking - Auto, Picnic Table, Restroom - Accessible, Scenic View/Photo Spot, Trailhead, Trash/Litter Receptacles
With the rise of vertically integrated movie studios in late 1920s Hollywood, many motion picture companies sought out proprietary parcels of land to film outdoor scenes. Until this time, most studios either spent large sums to rent properties, or filmed outside gurerrilla-style, obtaining no rights or permits. The mild Southern California climate lent itself to year-round outdoor filming, and the large areas of undeveloped land around Los Angeles led movie studios to seek outdoor lots in their own backyards. With the boom in popularity of the western genre, studio backlots were unable to provide the wide-open undeveloped spaces in which to film. His-torical epics and battle scenes also required spacious outdoor locations to film. 
Paramount Studios was one of the predominant motion picture studios from the mid-1920s into the 1940s. Following popular convention, Paramount produced films and quickly and efficiently as possible, and a total of 162 movies were filmed at Paramount Ranch between 1927 and 1943, when Paramount Pictures sold the prop-erty. 
Many motion picture companies quickly sought to develop their own Southern California movie ranches, the earliest in 1912; with the heyday ending in the 1950s. Not all movie ranches were equal, but "Paramount built an extensive infrastructure - including a headquarters area, furnished with water, electricity, telephone, and sewage system - and a production facility, complete with set construction and prop storage buildings, a live-stock barn and corrals, that created a production-oriented facility at the ranch that was an important counter-part to Paramount's central production studio in Hollywood."
However, it was the diversity of the landscape that made the Santa Monica Mountains an ideal backdrop for the film industry. Paramount Ranch's variety of scenic qualities, landscapes, plant communities, and natural fea-tures offered a myriad of scenery available to represent outdoor landscapes nearly anywhere in the world
Paramount Pictures sold the property in 1943, but continued filming at the ranch for several more years. Sev-eral long-standing sets were removed at this time, and a new era of recreation and television filming began. In 1953, Paramount Ranch was sold to William Hertz, who constructed a fictional "Western Town" at the location it stands today. 
Paramount Ranch was sold again in 1955, and renamed Paramount Sportsman's Ranch. A track for car racing was built in 1956, and though abandoned only two years later due to high driver fatality, remnants from the racetrack exist today and remain an integral part of the current landscape. A summer camp for boys, Camp Longhorn, constructed a swimming pool, basketball court, and cabins southwest of the current Western Town in 1958. Other areas on Paramount Ranch include the North Gate Area, Marco Polo set, Salem Town Set, Macienda Set, German Street Set
The National Park Service acquired Paramount Ranch in 1980, along with several parcels to the east of Cornell Road to protect the historic viewshed from the ranch. Through its integration into the Santa Monica Mountains National Recreation Area, both film and television production have continued at Paramount Ranch to this day. 
In November of 2018, Paramount Ranch was severely damaged by the Woolsey Fire.  
Directions
2903 Cornell Road, Agoura Hills, CA, 91301
GPS Coordinates: N 34.1181 W -118.7525
Take Ventura Freeway (U.S. 101) to Kanan Road exit. South on Kanan 0.5 mile. Left on Cornell Way and veer to the right. South 2.5 miles, entrance is on right side of the road.
Last updated: April 13, 2022